I would like to apologise to 1fish2fish, I feel that my initial comment hijacked the thread into a political conversation regarding Pit Bulls.

I love all animals and just wanted to add my concern to the way Pit Bulls are treated in society these days. The suggestions I made were only suggestions as a way to ensure that the breed would still exist in the future for all to love without any possible dangers to those who feel the breed is violent.

My sincerest apologies 1fish, I hope you return to us feeling refreshed.
This thread can still be a positive, and about Pit bull awareness. I'm not sure if anyone caught my attempt at lighting the mood with an adorable picture. It's not too much to ask that people keep things positive and not turn this into a debate. I was looking forward to seeing other informative posts from you that shine a positive light on pit bulls.
Quote:
she was the most obnoxious dog I've ever known.
You have never spent an hour with my dog...very cute, but not so very well behaved.
I have heard of Sgt. Stubbins before, I think it was in a documentary I watched about war dogs. Pit Bulls are popular dogs in Fairbanks. When I was a kid I though all "bully" breed dogs were ALL males because I didn't find them "pretty" so logically they can't have any females. I was a weird kid
Here is a video of them by ANimal Planet's dogs 101 show
http://youtu.be/8Jh2_2z92mw
---
i love pit bulls!! my best friend has 2 of them that i dog sit a lot..they are the most wonderful dogs i have ever met. these 2 dogs live with a 7 and 5 year old kids as well as a cat.
meet daisy and dafny
---
"We can judge the heart of a man by his treatment of animals."
1 new betta vt boy..Romeo
1. Ghost shrimp-Oscar
R.I.P Prince(my 1st ct betta)
4-cats- Mike,Lucy,Tina,Sam
Video of romeo my happy betta boy :)
http://www.youtube.com/watch?v=L18D2JOjRUM
Banned
Join Date: Jul 2008
Location: Central Texas
Posts: 27,607
We had a member here a few years ago who used to volunteer at a shelter and there was a pitbull there that she just loved. She would visit him once a week and bring him a big mac. lol
awwwwies! The doggie ate Big Macs! i'd love to see the faces of her co-workers when she gave the burger to it! :D Plus, when i was about 10 or so, me and my mom went to an animal shelter. I saw a cage of adorable, energy-filled puppies. i pointed them out to my mom, and her reply was: "no, we're not getting a pit bull." without even giving them a second look. i don't blame her, because it IS illegal to own them where im from, so it's best not to fall in love with something you can't have :(
---
Dogs: Rufus
R.J.
Neige
Cats: Tabby
Beauty
Fish: Fishy
EVERYDAY I'M SHUFFLIN'
Rip Akemi.
---
Last edited by CrowntailTwitchy57; 10-06-2011 at

02:20 PM

.
Does this look aggressive?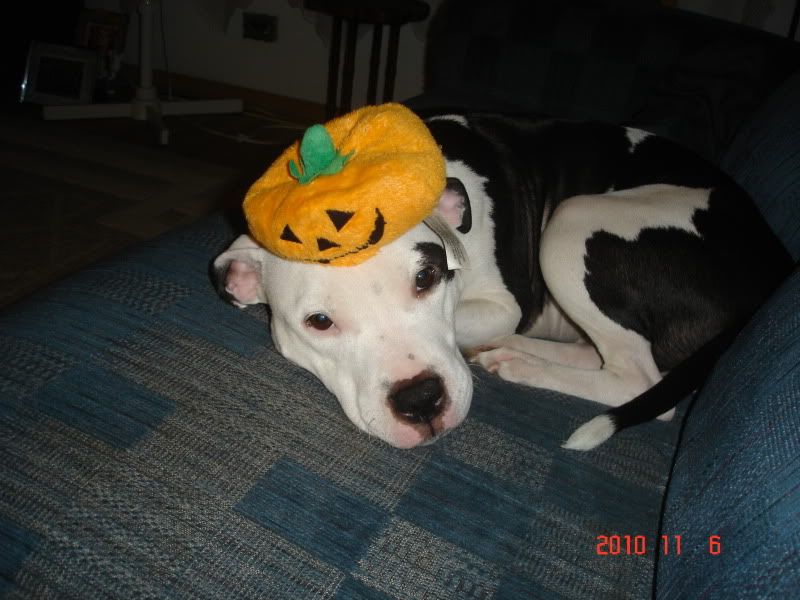 I hate reading these types of threads on Pit bulls because it always turns negative. But, I will say the APBT was bred to have no Human Agression and were likely culled for that. I blame the downfall of the breed on Back Yard Breeders and the need to make money off of them. They don't care about the genetics of the dog or where that puppy is going. They just need the money.
---
1 VT-Cypress 1 HMPK-Jimmer
RIP
King Betta-Neptune
5*Plakat-Tyson
---
Miami Ice- a unsocial butterfly who swims away from me everytime i pass his tank.
@TonyK d'aaaaawwww! he's ADORABLE! he looks like a big softie, am i right? :)
---
Dogs: Rufus
R.J.
Neige
Cats: Tabby
Beauty
Fish: Fishy
EVERYDAY I'M SHUFFLIN'
Rip Akemi.
---
Miami Ice- a unsocial butterfly who swims away from me everytime i pass his tank.
Similar Threads
Thread
Thread Starter
Forum
Replies
Last Post
My entry for this month...

Learn To Fly

Betta Fish Contests

6

02-28-2011

10:54 AM