Member
Join Date: May 2011
Location: Elk Grove, California
Posts: 10,782
She has such a gentle expression on her face. What a talented girl. And you, too, learning all the various disciplines. I've never attempted dressage.
Teehee not always gentle
...but to her credit my aunt's mare was squealing and striking at the wall at her. But in all actuality she is a very sweet mare. Not much of a fan of other horses and surprisingly enjoys the company of people over her pony pals.
She originally was going to be my western pleasure mount when I first bought her. We both got sick of western pleasure very quickly. From there we've tried almost everything. She's definitely the border collie of the horse world and needs a job. She's so athletic, and I'm blessed with some many experts in the different areas as friends that it isn't too hard to try a new discipline.
If you didn't live across the country I would invite you for a ride. Three of my friends who rode during their childhood and took a break came out to ride. All three of them have horses now...it's highly contagious.
Member
Join Date: May 2011
Location: Elk Grove, California
Posts: 10,782
Haha, that's a great pic. Don't mess with the mare.
She's so gorgeous. I really do love her coloring.
Aww, thanks for the invite. It's too bad I live in CA. My uncle lives in IL, though. Evansville, I think it was? Just outside Chicago.
Not too far from me at all. Chicago is about an hour and fifteen minutes away from where she is boarded.
I'm definitely a supporter in you picking up riding again. I'm a college student and fully believe I would have lost my hair all to stress if it wasn't for having my horse.
Member
Join Date: May 2011
Location: Elk Grove, California
Posts: 10,782
:) Thanks. I've got to look around for a good school. Horses truly are therapeutic.
---
Betta-less at the moment :(
"Some people are like slinkies... completely useless. But they still bring a smile to your face when you push them down a flight of stairs."
I is GaB. Blessed Be. (GaB is a girl)
Member
Join Date: May 2011
Location: Elk Grove, California
Posts: 10,782
I love Percherons. Charlie is amazing. Genuine April is a gorgeous color. I think my favorite color is bay.
I love the markings on your paint filly. She's gorgeous.
I used to have a horse. I miss her a lot. She was deemed crazy, partially due to past abuse. Between that and a horrible skin condition that made her very uncomfortable I made the decision to have her humanely euthanized instead of selling her off to be a broodmare, or worse, dog food. At least she had a good life with me. Then my family also had a couple of very old Arabians that eventually coliced (due to age). Ah, every time I deal with horses it ends up a tragedy it seems. :/
On the other hand, I was very interested in natural horse keeping. No shoes, no forceful methods. So I like to think the horses that came and died with us had peaceful final days. Some day I will have a horse again, but that will be many years from now.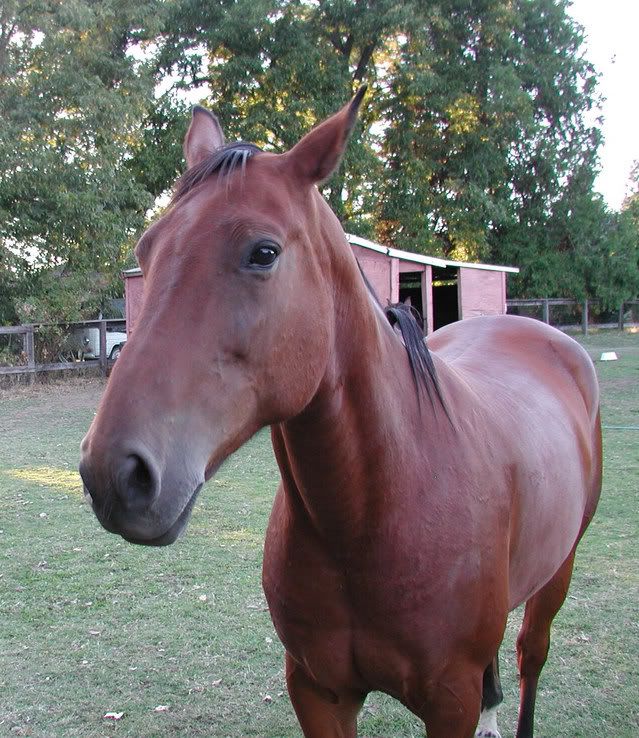 ---
Remember that the tank your fish lives in is his or her's
whole
world. Ask yourself this question, and answer it honestly: would you
choose
to live there?
I love horses. My great cousin has two geldings and a pony that I learned to ride on and I love riding...It's my favorite thing ever and I wish I could ride again.
---
Lelouch of the Petsmart Rebellion
- Orchid VT
Yugi - German Sheperd/Pitbull mix. The real King of the house.
There are no coincidences in this world...Only the inevitable.....
http://i778.photobucket.com/albums/y...f/vocaloid.gif
To the Betta's whom passed on: I'll never stop loving you...Take care of each other under the rainbow bridge....
Similar Threads
Thread
Thread Starter
Forum
Replies
Last Post
horses anybody?

BlueEyedBettaBoy

The Lounge

8

06-22-2011

08:11 PM

Help with Horses!

Betta Slave

The Lounge

35

07-28-2010

09:07 PM