What to do, what to do..What to get!
---
Really in the process of deciding which new friend(or friends) to add into my life now... Yes, we're interested in a new pet.
We have almost all the supplies we'd need for a lot of animals. We have 9 or so spare 10 gallon tanks, 2 55 gallon tanks, a 20 gallon tall, and a 35 gallon hex tank. Ah, and I guess the 5 gallon as well now (sadface
) Not to mention we can build our own enclosures.
The first and easiest idea--tarantulas. There are a few I'm interested in. If we were to choose Ts, we would likely get two. They don't take a lot of space(when they are babies they are in a deli cup, lol), in nathan's room they would require no additional heating, and they'd eat very little(they are small) and females live for many years--a good plus!
These are the species I am looking at for now:
(Look away, those with spider fears)
The orange baboon tarantula:
One of the hardiest spiders out there. Very strong and very easy to keep. But also one of the MEANEST spiders on the planet, with a well earned nick name "Orange bitey thing"!! This would be a look-don't touch animal for sure. I would have fun naming it after some kind of demon LOL!
The brazilian giant black tarantula: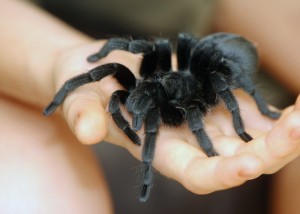 A big, slow moving teddy bear. These guys are known for being easy and sweet, and are very good handling Ts. Calm and chill--and giant and impressive with their huge size. They grow slow, however, so I would expect to have him in a small container for a long time before he gets big enough.
The Green Bottle Blue:
Another good beginner tarantula. Beautiful and available in many places. They start out a vibrant blue as babies and turn to these gorgeous colors as adults. Some mixed views over whether they are docile or not. Seems to depend on the T! These guys are known for spinning incredible and intricate webs.
The Texas Tan tarantula: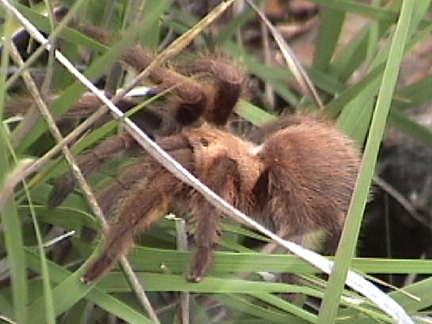 Not the prettiest of the tarantulas, but still lovely in a classic sense. Docile, big, and native to my area. Nathan had his own once when he was younger and loved him. His name was Roosevelt! I know he wouldn't mind having another one someday.
But then other than that, we have considered what to do in the 35 gallon tanks! Geckos, lizards, frogs, small arboreal snakes...
White's tree frogs
Sweet, long living, and have an amazingly funny croaking sound. Good beginner frogs and just darn cute.
Poison Dart frogs
A real centerpiece could be made of a well planted 35 gallon tank with a few gorgeous PDFs.. Beautiful colors, cute calls, and small little critters that wouldn't cost too much to feed.
Amazon Milk frog
Come on...just look at that face? :) A unique frog I've always loved.
Tokay gecko
Beautiful..fiesty...and a funny little voice. Tokays are little fighters with a big bite and are an incredibly fun gecko to have. Little punks with nothing better to do than look awesome. I love these guys, they are really gorgeous animals!
Crested gecko
Adorable..cute... EAASY to care for.. easy to feed.. And did I mention cute?
Day gecko
Elegant. A true 'claassic' gecko.
Leaf gecko
A bit more unique..and crazy looking.. Would love to make it like a fun game to find him hidden in his enclosure.. :)
Red eye croc skink
One of the few 'social' lizards, I would LOVE this adorable little red eye croc skink or a pair of them. So cute. So precious.
Axolotls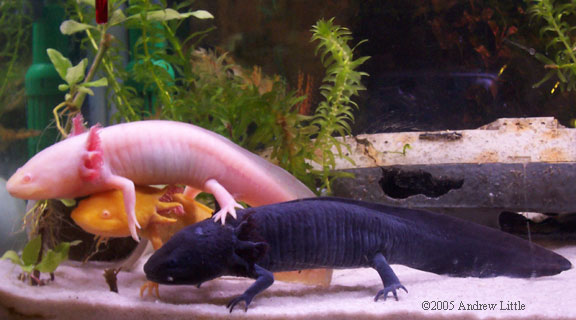 Cute..cute..cute.. and an aquatic animal that doesn't die in only a few years. I would love to have 2 or 3 in a 55 gallon :)
Brazilian rainbow boa
A dream snake for years.. iridescent, beautiful, and awesome.
Mexican Lined Pine
A bit fiesty.. but GORGEOUS!! :)
Western Hognose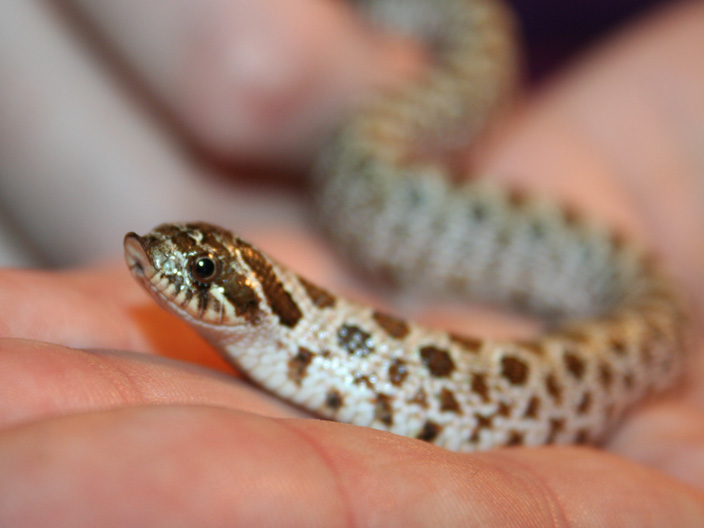 Cute and small..and cute.. :)
Kenyan Sand boa
Same as above. Cute and small!
Then..Of course there are options of fish. I'd love a betta sorority. I'd love another male betta. I'd also love a little goldfish tank in my 55 gallon.
Part of my sadness in thinking of other bettas is how short their lives can be. If I knew mine would live to 7, yes, but they are so fragile. I know how to help a reptile, I can take a reptile to the vet. It's harder with a betta. I do want more, but I have to think about if they will be my immediate next pet.
So many options. Not to mention I'm sure just mentioning the tank sizes we have available just sparked a few ideas in some of your minds, so I'm sure some of you have your own ideas to give me as well.
Which ones sound interesting to you? :) I'd love a fun discussion and a few ideas.
---
Last edited by purplemuffin; 11-28-2011 at

01:49 AM

.
Ahh, wow... That rainbow boa is Gorgeous! We had a baby one at our store a while back. I guess when they become adults the iridecence shows better? I never noticed the real rainbow they shine... then again, I never had the time to really look at him while at work.

I'm a sucker for vibrant colors, so you know those Poison Dart Frogs, Baboon Tarantula, and the colorful geckos and such have my vote. ;)
What I find really fun though is the Leaf Gecko. What's their behavior like/handling? (Or are they more of a look-don't-touch type of lizard?) I'm just curious... but he'd make for an interesting and different pet to have around.

And about the Tokay Gecko... How'd they get their name exactly, if you know?
I had a customer walk up to me and ask if they got their name from the sound they made. His apparently chirped "Toh-kaaay! Toh-kaaay!" at night.

Red Eye Croc Skink reminds me of a mix between a Crocodile and Triceratops. Miniaturized.
---
Yeah! Reptiles! I love talking about reptiles!
I don't know if I'd personally want a tarantula. I'm a little hesitant about spiders. Not so afraid of them anymore, but I don't know if I'd want one as a pet. I definitely love looking at them though, they come in such beautiful colors! I like Rose Hair tarantulas especially. Out of the one's you listed I like the brazilian giant black tarantula. Very cute and teddy bear looking (as teddy bear looking as a tarantula can be lol).
Axolotls are AWESOME. I wanted one a while ago, they apparently have very big personalities and are very fun to watch. They come in very pretty colors as well.
White tree frogs are awesome as well, very cute and friendly I've heard. :) I have an american green tree frog, and he is full of personality. He's escaped twice, but he seems to think its hide and seek. Once I find him he jumps happily into my hand and goes back in his tank with no fighting! lol!
PDFs are cool as well, but I personally like something a little bigger, as they are so TINY.
Never heard of milk frogs before, but OMG they are gorgeous! I'd name it like Bessie or even just Cow. lolol
Tokay's are awesome! They are fiesty little things! Holy smokes! Angry little buggers, definitely one to just look at it. They are sooooo pretty though.
I LOVE cresties. Have you ever had one? I have 3 at the moment, and I'm planning to breed them when they are older. They are SO much fun. They like to jump from hand to hand, and they are SO easy to care for. I adore mine so much.
Here is one of my baby cresties:
Day geckos are lovely as well. Very pretty colors.
Leaf geckos are AWESOME. My friend just got one a few days ago (she got a giant leaf tailed gecko), and now I want one. I want a satanic leaf gecko, but I'm having trouble finding them around here. ): They are seriously soooo amazing though. Beautiful, stunning creatures. Fairly easy to care for as long as you keep up with mistings otherwise they get sick very quickly. The only thing is, many of them are WC, so the chances of them having parasites is high. As well, WC obviously don't live as long. Spend the little extra money and try to get a CB one if you choose one.
Red eye croc skinks are soooo cute!!! I don't know much about them though :P
Rainbow boa is gorgeous! Holy smokes!!
Western Hognose <3 OMGGG I want one so bad! I've been looking at them for a few months, I love their noses. Sooo cute!
Kenyan Sand boas are soo cute, I love them. Its so cute how they poke their heads out of the sand. :)
What about a blue tongue skink? I have one and I adore him. He likes to sit in his blankys on my bed and fall asleep as I pet his head. :3 One could live quite happily in your 55 gallon. Here is mine:
Chinese water dragons are also SOOO awesome. I love them, want one of them one day for sure!!
I know what you mean about the bettas short lives. I had a betta disease outbreak and lost almost all my bettas. I only have 1 left of my own. My mom has 4. I've moved onto reptiles, as they just live so much longer. I became too attached to my bettas and was too devastated when then passed on. Reptiles last a lot longer.
Blackbird - I'm pretty sure thats how they got their name, from the sound they make. They do yell TO-KAY out loud. :P
---
Life with Lupus is still a life worth living.
Dishing out the truth one post at a time


I think you should get a pet that you can handle/enjoy... IMO, pets to "just look at" aren't nearly as much fun! I also don't know much about these kinds of pets, so I'm going off what you have posted. (I'm just posting the ones I like.)
Spiders;
I would go for the giant black. That one is SO gorgeous. There's not a lot of color, but hey, he's still a beauty! A black beauty!
You can also handle him/her and enjoy them as an actual pet.
Frogs;
I LOVE that Amazon Milk Frog! I wouldn't get PDFs... You have to set up fog, humidity, etc and you can't even hold them at all or barely! The Milk Frog looks crazy cute!!
Geckos;
I'm kind of partial to Crested Geckos.. I love them!! But if you're going for a more "unique" type of pet, I would go with either the Leaf Gecko or the Croc Skink. Both of them are by far the most unique thing I've ever seen! I would choose between those which ever one is easier to handle or enjoys being handled.
Many people have said Axolotls are great pets, so keep them on my list! They are definitely cuties!
Snakes;
Definitely the Brazilian Rainbow Boa... If it's a dream snake of yours, good to handle, and THAT gorgeous, then of course it's my pick!!
I think you should get a Tarantula or a snake. So that's easy... I think you should get a Brazilian Giant Black or a Brazilian Rainbow Boa! I think reptiles are your thing, but the tarantula is something you've really wanted, and Nathan is obviously on board. So there's my opinion!
---
Kaida- CT Female 2.5 Gal.
Julep- HMPK Male 2.5 Gal.
Fandango-HM Male 10 Gal.
Red eye croc skinks are so cute.
They are like mini dinosaurs.
Red eye croc skinks are really insanely cool, look them up for sure!
Chinese water dragons are awesome as well, but they are so prone to health issues, lol. I swear on my herp forum there is always someone who has a CWD who nearly poked his eye out or did something horrifically crazy or is just a picky eater. Plus, no room for a refrigerator for a cage! But I do love them. I think I like australian water dragons better though!
Thanks so much for the responses guys!! I love hearing and talking about animals~it's fun to see what other people think of them!
Well I can play with my bettas while they stay IN the water! I mean, c'mon, they're so full of personality!

Ts would be super easy to care for after purchase. It'd be a fun little pet with low cost/maintanence. How much does it cost for the Brazilian Rainbow?
---
Kaida- CT Female 2.5 Gal.
Julep- HMPK Male 2.5 Gal.
Fandango-HM Male 10 Gal.
Well, we feed our snakes frozen thawed, so that's pretty cheap. One meal once a week--and a meal is just a few cents until the snake gets huge! They don't need much heat, so just being in the snake room would be warm enough, so no need for heat..So not too bad :)
Quote:
Hahah, I was horrified of them at first as well, but I decided--I get tired of people who are so scared of my snakes, I might as well give T's a chance. And now I LOVE them! One good thing to know is no tarantula can kill a healthy human. You'd need to have a severely messed up immune system AND ignore the problem and probably like stab yourself, lol. So it's not like having a black widow around or anything!
Haha, thats how I feel with my reptiles! I'm like, if I can handle this and this and this, I can handle a little snake that can't kill me. Psshh. Haven't held one yet, but maybe one day I will. They intrigue me. Knowing m, I'll probably end up getting one, just because I want to be adventurous and because it will get in my head about having one.
Thats how I got my other pets. lol
Quote:
I've heard the same thing! That's why I want a community of a few guys and gals. The coolest thing--their eggs can be shipped safely! So if mine ever bred, I could mail out baby little axie eggs or little babies to give and sell to friends. I now have the supplies to keep them cold enough to be healthy, so I am really thrilled about the chance to get them!
Definitely! I wanted one so much, but then I rescued my first leopard gecko, and got hooked on leos and reptiles. I kinda got tired of water changes on the fish tanks all the time. I'd like to get one again in the future though. Check out
http://www.caudata.org/forum/
thats where I was getting all my info on them. They are super nice on there.
Quote:
I agree, big is really nice for me. I love the PDF colors and calls, but I like something I can hold. They are so small that one tiny moment of handling just adds too many toxins to their system if they touch you somewhere where you didn't wash your hands well enough!
Definitely agree! I prefer animals you can handle, but I do like a few non-handleable pets (like bettas lol). But PDFs are soooo colorful its hard not to want to touch them O_O
Quote:
Hahaha! I know I LOVE them! I saw them by luck in a reptile convention and was just floored by how cool they are. Supposedly not too keep either.
Aaahh don't tell me that! Cause then I'll want one!!
Quote:
I have never had cresties, but I ALWAYS recommend them as a first-time gecko. They are cute and easy and fun! With a little bit of knowledge on how to keep in humidity, I think they are probably the easiest gecko out there, even compared to the leopard geckos(and I have three of those) and yours is adorable!
Seriously consider them, they are soo much fun. I could play with them for hours. They are so cute. And I feed my male from a spoon, its the cutest thing ever. He eats his repashy diet straight out my hands. They are so goofy and so personable. Thank you! Thats one of my unsexed babies. I have 2 unsexed babies (they aren't old enough to be sexed yet), and one male. I have five leos, and am planning to breed this coming season. I was gonna suggest them, but I was pretty sure you had leos :P
Quote:
I had never been too into the day geckos, they never caught my eye. Lately though I've really enjoyed looking at them..we'll see! Satanic leaf geckos are so amazingly evil looking, I love it! Trust me, I had my own bad experiences with wild caught animals, we'd be going for CBB for sure!!
Red eye croc skinks are really insanely cool, look them up for sure!
Same here, they never caught my eye, and then one day I was just like "huh. They are PRETTY." Wouldn't really want one though. I had a golden gecko, but she was very shy and I hardly ever saw her. I ended up selling her to someone with golden gecko experience, and honestly glad I did. She's happier now, she's got a boyfriend ;).
Quote:
Snakes are just cute, aren't they? These guys are no exception. We only have two, but I swear, I want like 30, LOL. One day I want a boelens python and an olive python, but we don't have the room for either yet, especially with our female boa's big cage she needs! My friend might be getting a hoggie soon as his first snake! I'm so excited for him!
I want a snake sooooo bad! But my mom doesn't like them. I really want to get one one day though. I'd like to start off with a corn snake or western hognose, but one day I want an albino Burmese python <3 They are GORGEOUS. I LOVE their colors. ahh I'm jealous of you!! I saw pics of your boa on here, she's soo gorgeous!
Quote:
Trust me, BTS's are on our WANT list for sure! That might be an option as well come to think of it... I keep accidentally putting them in the same category as the other 'large' lizards we want (argentine b/w tegu and argus monitor trio) and thinking it will need a giant cage. Now I remember they are sort of little for a big lizard!
Definitely look into getting one then! They are sooo fun! I adore mine. I got him from my aunt who didn't want him anymore (I don't know why, he's amazing). Her twin sons named him Skinky lol, and its stuck, I can't stop calling him that xD He's really smart too. He LOVES superworms, and if I don't handfeed them to him fast enough he spits at me. lol Here's a video of him:
http://www.youtube.com/watch?v=dspODKyltkc
For such big lizards they don't actually use that much of their tank. He's got a big 55 gallon and he uses about half of it. Its mostly for temp gradient. They aren't very active in their tanks, but take 'em out and they are ready to go. VERY territorial in their tanks though. My friend has 2 and she says hers are the same way.
Quote:
Chinese water dragons are awesome as well, but they are so prone to health issues, lol. I swear on my herp forum there is always someone who has a CWD who nearly poked his eye out or did something horrifically crazy or is just a picky eater. Plus, no room for a refrigerator for a cage! But I do love them. I think I like australian water dragons better though!
I didn't know that about them, thanks for telling me! I still really want one, but gotta keep that in mind. I think they are soo awesome though. So pretty!
Quote:
I agree. Even though I know it will be devastating to lose them 30 or so years in the future(depending on the species), I just can feel more justified in spending so much money on an animal that will be around longer. I know I will probably always have at least one betta, but my collection will just primarily feature reptiles and amphibians.. plus a few kitties and a dog. And a bird. LOL. We should just open a zoo I guess.
Completely agree! I feel more comfortable becoming attached to my reptiles, as I know they'll live longer. And spending more money on them too. Especially knowing if they get sick I do have the option to taking them to the vet, unlike fish. That's a huge relief to me.
Haha, my friend says I should charge for people to enter my "zoo". xD
What do you already have?
---
Life with Lupus is still a life worth living.
Dishing out the truth one post at a time


We currently just have a few basics...three leopard geckos, a pacman frog, a ball python, a common boa, and we help care for his sister's pyxie frog. We've had them all for about 3 years now and have been learning as much about other animals as possible from forums, meeting breeders, and helping our friends with their own pets! :)