No, I don't know who the parents are unfortunately. :/
---
oh well it doesnt matter he is so adorable.. A vet may be able to have a guess?
---
Reddy: Red Veil Tail
Dragon: White/Blue and Red Dragon
Tiny: Red Cambodian Crown Tail
3 Neon Tetras
2 Snails
R.I.P 'H' xoxo
Quote:
No, I don't know who the parents are unfortunately. :/
Pit bulls.
---
RIP Russell
RIP Quicksilver
RIP Dominic

RIP 4 cories, 23 Ghost Shrimp, and a snail
I just don't see lab, of if there is, it is only like 1/4 or something. He doesn't have the jowls that a lab gets, and his ears look like they want to stand up. He also seems too tiny to be lab... Though there are some smaller labs out there, so size doesn't help too much.
---
Remember that the tank your fish lives in is his or her's
whole
world. Ask yourself this question, and answer it honestly: would you
choose
to live there?
Can you get some pictures of him standing an a profile of his face?
He is DEF. not a pitbull or a pitbullmix
Pitbull puppy --->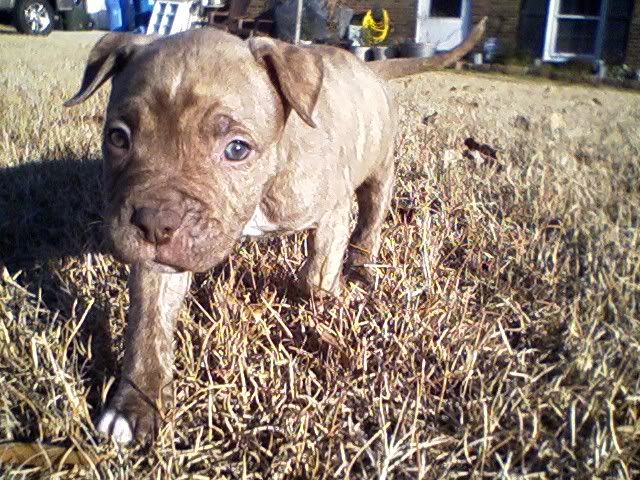 Honestly, when I first saw he shape of his forehead, I though of a chihuahua... but his muzzle is off
http://www.puppy-4-sale.net/brown-chihuahua-puppy.jpg
I see a Jack Russel as a serious possible mix also
If we can get more recent pics that would be awesome!
---
19 Bettas:
Hercules, Finn, Flagg, Sammy, Jackpot, Anchovy, Gotham, James, Honey, Echo, Ender, Merle, Orpheus, Dancer, Peanut, Dragon, Omen, Eurydice, Smudge
PLUS
My
FIRST
spawn!!!!
Unknown number of fry... HM marble + HM marble
3 Corys:
Ned, Lucky, and Dusty (AKA Nemo)
3 Dogs:
Chai, Punk, Pandora
1 Turtle:
Monty
Banned
Join Date: Jul 2008
Location: Central Texas
Posts: 27,607
I don't think we're ever going to solve this mystery but it's fun guessing. He sure is cute, no matter what he is.
Member
Join Date: Oct 2011
Location: Michigan, USA
Posts: 462
Hmm I could definitely see some sort of border collie/lab mix with maybe some jack russell mixed in depending on how big he gets. It's sorta hard to tell from pictures. No bully breeds in this pup though! What a cutie, regardless of what breeds he has. They do say mutts make the best dogs, and rescues are always a fabulous thing in the animal world. I know you're supposed to be fostering him...if I were you, I'd be stuck with the little fella!
Kytkattin yeah it looks like his ears are going to stand up. For now I wanna guess Chihuahua/JRT or Chihuahua/Border Collie.
---
Quote:
I don't think we're ever going to solve this mystery but it's fun guessing. He sure is cute, no matter what he is.
He a pit bull. don't Trust me!
---
RIP Russell
RIP Quicksilver
RIP Dominic

RIP 4 cories, 23 Ghost Shrimp, and a snail