Ah, I forgot about the Celestial. But I got Ranchus and Lionheads!


Darn you, you're giving me ideas, Muff! Its easy to get cool water where I live. Warm water? Not so much. So my little guy would be in heaven.

So its a big no-no to keep them with other fish? Like would they do well in a pond with Goldies?
---
*2 Bettas (for now RIP Ryu) *2 Goldfish *9 Guppies *1 Gourami *2 Chinchillas *2 Budgies *2 Dwarf Frogs *1 Dog *1 Cat *2 Hermit Crabs *2 3gs *1 10g *1 Pond *2 2gs
goldies would nibble on their gils. With axolotls--small fish become food, big fish bully them! Snails are even a bad idea (axolotls have tried to eat them and choked, or worse, a small one tried to eat a large apple snail--it pulled into it's shell and brought the head of the axolotl with it, where it got really cut up. Neither of them made it :( )

Axolotls go with axolotls, and that's it! And they go alone as babies(when they are young, they will nip each other!) so I am going to cycle my 55, and get 3 dividers set up so I can have my 4 babies grow up and then when they are big enough the dividers will be taken down! :)
---
:D the glowing is genetic. "GFP" is a protein in jellyfish that was introduced into a few axolotls. The interesting thing about this protein is it becomes one with the genetics and is then passed on to their children like any other trait. Some people breed axolotls for the brightest green possible, or to have spotty patterns where the green shows up. The COOLEST part of GFP is their eyes!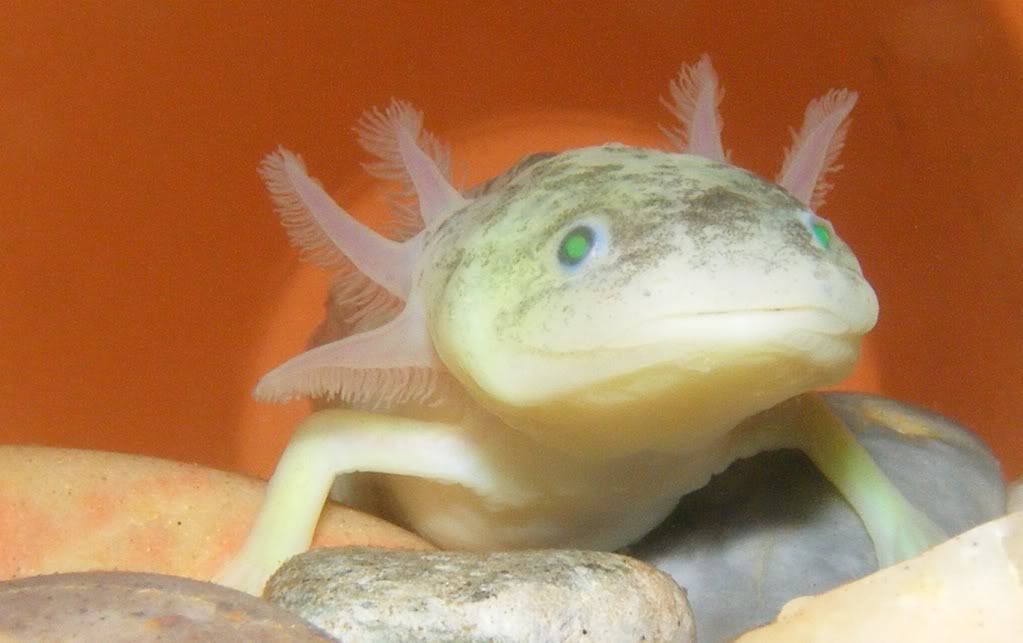 ---
Ooh, cool eyes @.@ I believe they used the same protein in making the Green Glofish. Its super had to decide........the bettas have so many colors and have many possibilities to be with, but Axolotls are awesome........I believe my water is too soft for Goldfish.....
---
6 Betta Splendens
It's not the big part that's a turnoff for me, it's their compability. Just a single one in a 29 gallon seems a little bit of a waste. Do you figure a 15 gallon would be OK for 1? I have a bunch of empty tanks :D
---
6 Betta Splendens
Yeah it's a squeeze but it'd work. Picture a 15 gallon like a 2 gallon for a betta.. Big enough, but you'll have more water struggles than if it was bigger. But I know you'd be willing to change the water.

And of course when it's a 3 inch baby it's plenty of room! Just take a 12 inch ruler and imagine a 10-12 inch thing swimming around in the tank. It'll have plenty of room in the 15 gallon, but you will want a filter--a good sponge filter is best. The filter will also help keep your tank cool!
---
Aw, that might not work, then. It's only 8 inches wide :(
---
6 Betta Splendens
It still might. They do bend their bodies and tails. I know several people who keep them in 10 gallon tanks, but really after 2 years that's just asking for trouble.
On an axolotl forum I recently asked to see pictures of axolotls in their tanks and for people to tell me the size of them.
So for instance. This is a HALF grown axolotl in a half size tank. A 5 inch animal in a 10 gallon
You can't see the whole animal, but you can see how their is about as much room as we would give our bettas to swim in a 5 gallon. If that axolotl was 10 inches you can imagine it would get a little cramped--but in a tank twice as big, a 20 gallon, it would be about exactly the same dimensions! And a 15 gallon would even still be a decent amount of space.
You could honestly start out the baby in the 10 gallon if you wanted, you can see how tiny they are (and this isn't even an itty bitty baby size)
---