Pics of Other Tanks
---
I thought it would be cool to see pics of "other" fish tanks that people keep.
Here are two of mine. The big one is a 55 gal and the small guppy tank is 20 gal.
Here's my only other non Betta tank.. our 29g community (which was to be upgraded to a 50g L but my Dragon stole it lol)
Love both of your tanks! I want your 55g, but I love the wood trim on the 20g :)
---
Thanks! I cant wait till they look grown in and mature like your tank. Is your big tank occupied by a bearded dragon or a monitor like dragon? I learned tonight from a fellow poster that most of my plants are not fully aquatic and will die. That was a bummer. Maybe I'll start another thread where people can post pics of their favorite plants to get inspiration for the inevitable replanting of my tanks... :(
This is my 20 gallon long tank. 1 betta, 3 platty, 4 spotted cory and 3 south american bumblebee catfish [ATTACH][ATTACH]
IMG_0150.jpg
[/ATTACH][/ATTACH]
---
I don't know what are you talking about! Me and the voices inside my head will prove you
wrong!
Ohhhh, you have Golden Ribbon plants! I see them now, I bought them for mine as well and took them out. I have a mix of live/silk and plastic plants in mine... we are pretty low here on live plants unless you buy online. Your tanks look so clean and neat to me, mine looks like a clear mess! haha My java moss is WILD.

I have a bearded dragon :) She's 7.
---
Oh I'm just going to say it now, I want everyone's tanks... all posted before and after this comment!
---
Member
Join Date: Mar 2010
Location: USA
Posts: 10,951
Here are a few of my soil based very heavy planted tanks.....more pics in my album....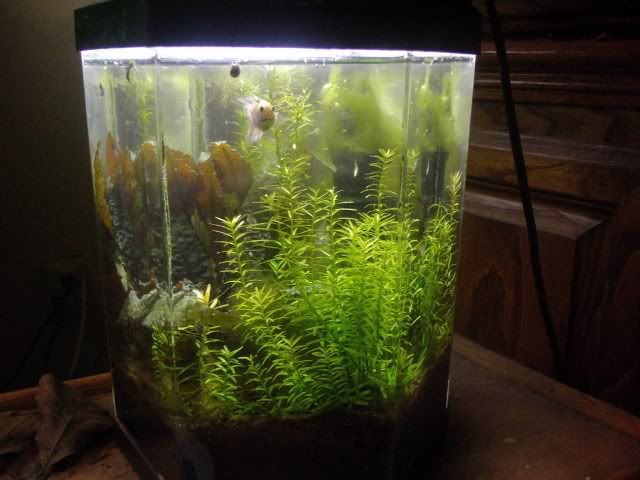 My NPT's soil based tanks range from 1gal to 75gal.....
*droooooooooooooooooool*

*and suddenly this thread is flooded!*

Hah, I'll post my two after I get back
OFL, you are the goddess of tanks. I drool too. :(

I'd post mine but they don't really count as non-betta tanks...my 16 gallon is a community, but it's a sorority too.
---
Life.