Lebron. Looks. AMAZING!!!
Thanks, I really like it!!! :DDD
How do I change it to be my Avatar? Or does this only be possible if I make it?
Which you did.
---
Over hundreds of bettas die in their small, dirty cups each day. Only you can help them live. Research and then save them, today!

You can use a URL as your avatar, you just need to change the setting for it
---
WITH FINS:
Kevin Fisher, Blue VT Betta
Hera, Wild Color VT Female Betta
Aphrodite, Light Purple VT Female
Artemis, Steel/Blue VT Female
Persephone & Galene, Yellow VT Females
Hephaestus, Marbled HM Betta
Calypso & Halia, Blue w/red VT Females
Demeter, Cambodian VT Female
Uther, Sky Blue w/White Fins DT Male
Want to try Anderson?
---
1 Lovebird-Littlebird
2 Dogs- Frisbee (lost Frisbee 7/31/12 age 14
) Rose
3 African Greys-Max, Sammy, and Magic
4 Chinchillas- Freckles, Curly, Buddy, Baby
5 Bettas- LuckyBlue, LittleBlue, Nebula, Ember and Anderson
:)
You didn't give me a theme so I just went with whatever seemed to look good ;)
Hope you like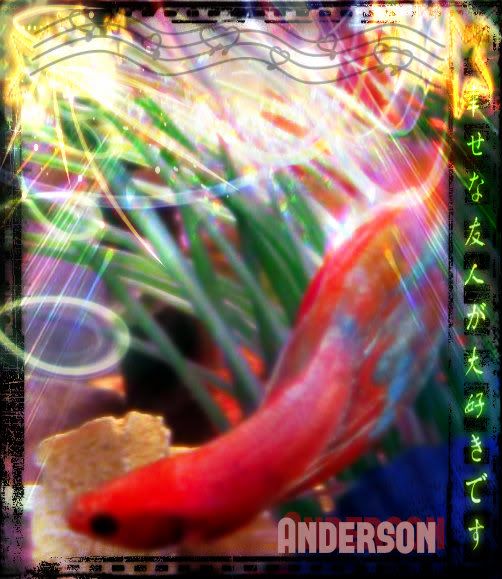 ---
WITH FINS:
Kevin Fisher, Blue VT Betta
Hera, Wild Color VT Female Betta
Aphrodite, Light Purple VT Female
Artemis, Steel/Blue VT Female
Persephone & Galene, Yellow VT Females
Hephaestus, Marbled HM Betta
Calypso & Halia, Blue w/red VT Females
Demeter, Cambodian VT Female
Uther, Sky Blue w/White Fins DT Male
Similar Threads
Thread
Thread Starter
Forum
Replies
Last Post
Signatures

Abby

The Lounge

3

07-25-2011

08:13 AM