I can tell that anime is more your style but who is your main influence?
---
Be a master of water and the fish will follow
My self XD remember how we had that We dont copy conversation...? my style really fluctuates. Cos I take bits from here and there that Ive seen and perhaps those become my unintentional influences. :)
So I really never saw any one artist's work and said.. I want to draw like that!
lol
I know what you mean but there are several influences, like you said, that you don't consider because it has been part of your life or it just appealed to you as a young one.

Like for me I never really took a single artist and said, "I will forever draw like this person". Over time I've grown to enjoy the works of certain photographers and realism artists because of how breath-taking their work is (can't for the life of me remember their names); and incorporated their style into my own. For instance you inspired me a little to try some water color type drawings.
---
Be a master of water and the fish will follow
XD do try. I actually suck at real water color.. I really just dont like to get messy :P
Member
Join Date: Sep 2012
Location: Virginia
Posts: 257
I'm a little late, but your drawings are really beautiful... Have you thought about putting them on products and selling them? Zazzle.com is a site where you can upload pictures and put them on hundreds of different products (shirts, phone cases, pillows, etc etc...) and you make a small commission. Just a thought!
New Member
Join Date: Sep 2012
Posts: 19
Very nice piece, I have to say that I'd be interested in a piece like that. Well done.
---
Crimson (Red CT)
Grimace (Pastel HM)
@
aokashi
c: you have such a beautiful style
---
Apple
Baby
New Member
Join Date: Jul 2012
Location: Winter Park, FL
Posts: 11
Ying yang fish for Nickdolin :)
Took me a lot longer than planned XD around 4-5hours >.>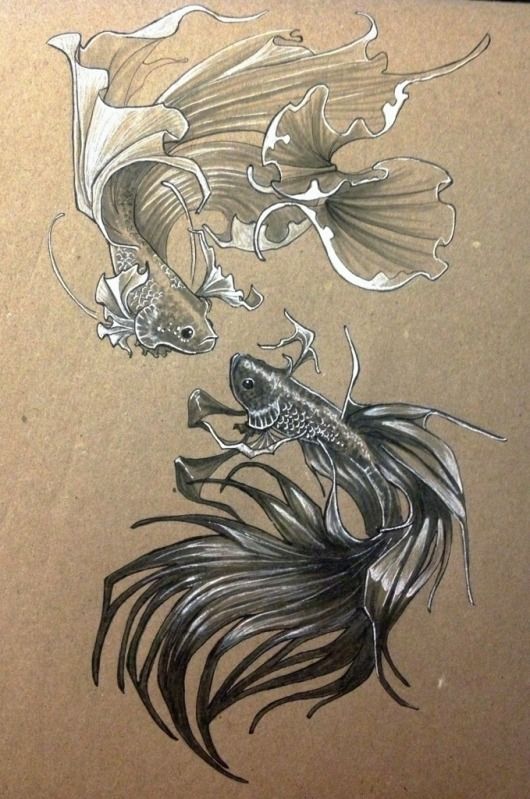 Similar Threads
Thread
Thread Starter
Forum
Replies
Last Post
One turned in to three

wolfdreamer

Betta Chat

5

09-04-2010

08:24 PM