Member
Join Date: Mar 2013
Location: The middle of nowhere
Posts: 142
Here is a (kinda) better picture of Marius
---
Female Elephant ear: Modry
Male Multicolor VT: Dante
Male red veiltail: Marius
R.I.P Male CT red devil: Xavior
R.I.P Female VT cellophane multicolor: Tsunade
Wow, this is so cool!
If you have the time, could I ask that you make one of Mako for me?
I would really appreciate it! :D
(For some reason I can't seem to upload a photo...)
---
Hello. I am Kanra. My betta is Mako the Shark. He enjoys hiding in his cave, and lying on his side when he thinks no one is looking.
Whenever you somehow get your files back, or happen to have the time, there is NO RUSH but I would adore a picture of my fishie, Hermes, to put in my signature.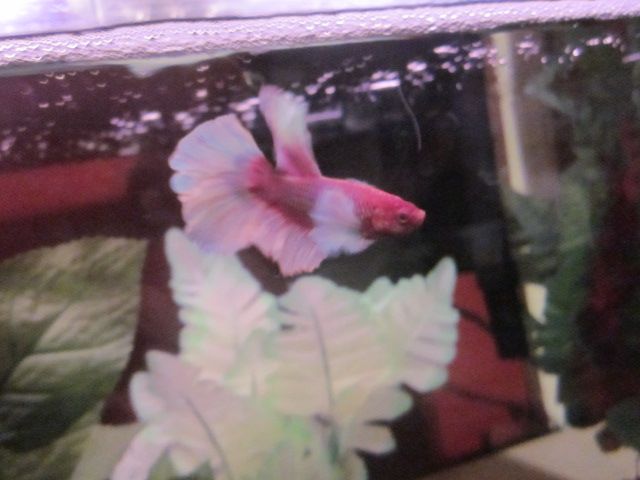 Yes, I am still taking requests.
However, requests will be closed as of Tuesday, March 14th. I'm going on a two week trip and won't be back until the end of May. Requests may resume after I return.

This is what she posted earlier.
---
Boys:Miracle; Pasodoble;Blaze;Girls:Sapphire;Dodie;Queen B;Jewels;Pretty Bird;Sweetheart;Trouble;Blessing;
These are adorable. I would love one of Pontus Rex if you start making them again.
---
Pontus Rex "Ponty"-HM Male (SIP) General Agrippa- DT Male (SIP) Emperor Catullus "Tully"- Dragon Scale, Feather Tail, HM Male (SIP) HRH Prince Helios Remus "Remmy" of Whales- Dragon Scale, CT Male (SIP) General Camillus "Cammy"- HM Male
Can you PLEASE PLEASE PLEASE do me?? I have seen much of your work on other signatures and greatly admire it!!
Sparkey is the red one, and he is a veil tail. Thor is the other one, and he is a half moon. If you can do both, I would be pleased to pieces, but if not that's ok :)
DSC_0082.jpg
DSC_0090_2 (9).jpg
---
I either talk to my fish when I'm mad, or I'm mad because I talk to my fish.
Also, can you make the scales in both the fish more defined?? I just love those design's!
---
I either talk to my fish when I'm mad, or I'm mad because I talk to my fish.
Shiverdam, my Miracle has colored up considerably since I got him. Do you think you could deepen the color blue on mine? Thanks!
---
Boys:Miracle; Pasodoble;Blaze;Girls:Sapphire;Dodie;Queen B;Jewels;Pretty Bird;Sweetheart;Trouble;Blessing;