Oh my. Glad he's okay though Arrow! They just love to scare us. But we love em. Lol.

Despite having a name that would suggest being agressive, Sparta is actually a very gentle fish. When February got in with him February was taken out unharmed. Sparta didn't even touch him.
---
10G Divided - Taz (Teal/Black/White Dragon Scale VT) & Sky (Red/Black/Blue CT) 6 Panda Goras

29G - Two Jack Dempseys (Yet to be Named)
Member
Join Date: Sep 2012
Location: Lincolnshire UK
Posts: 2,019
Quote:
Thankyou so much I'm proud of my boy
i'm looking forward to seeing Fenghuang draw him:D
---

If I have drawn a picture for you, full size versions are available on my DA page
http://candyfloss-unicorn.deviantart.com/gallery/48603004
Bleh. Colours and I just aren't getting along tonight.
Sorry, I kind of smeared it when I tried to erase some of the colour pencil. /:
Darki: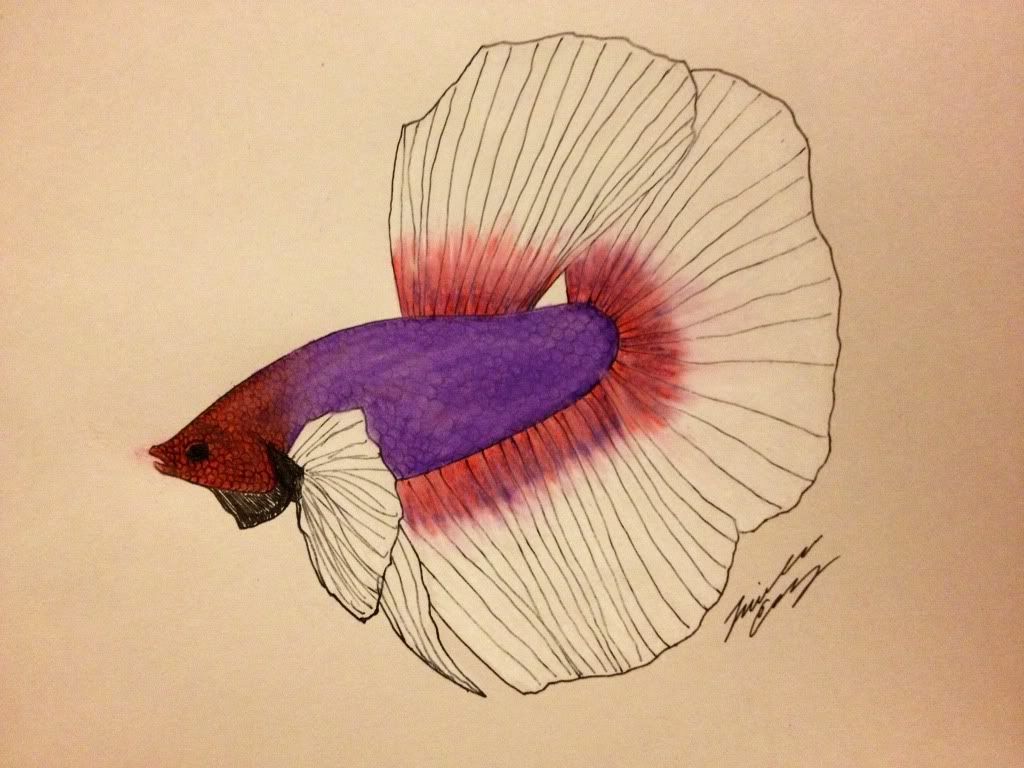 ---
Quote:
Don't tease your daughter too much. xD
I couldn't really get the colour. >< I whipped out the Prismacolors to do some blending, but it looks sloppy.
justmel: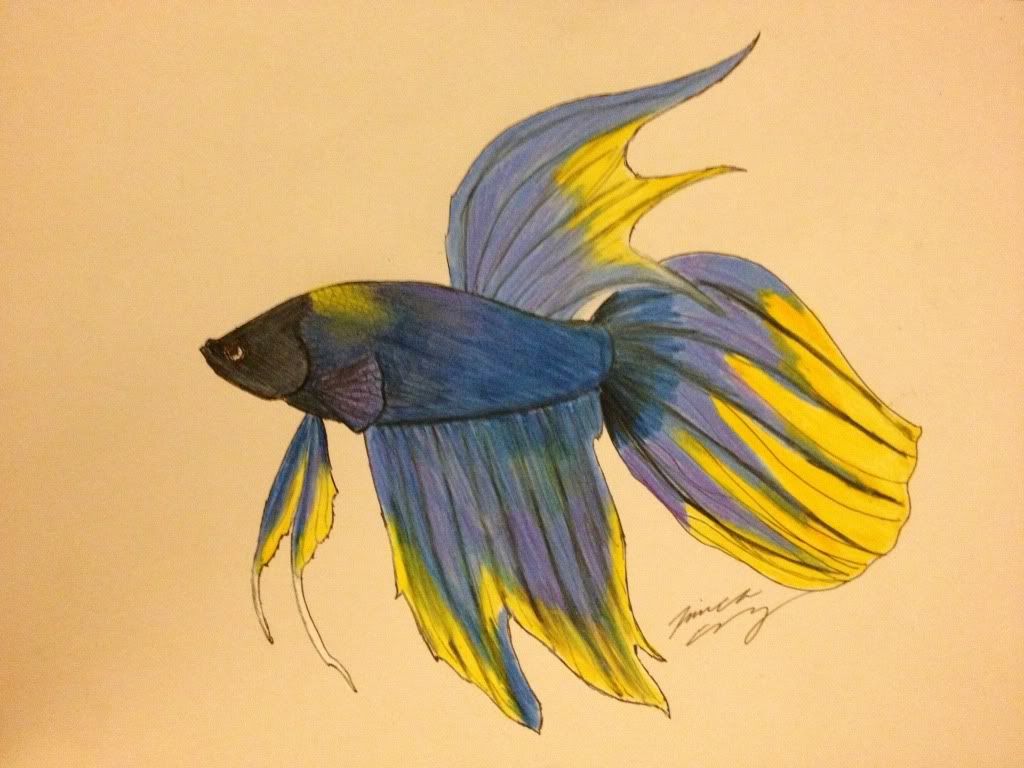 This is great Feng! After the long day I had it was great to see this. My daughter is absolutely thrilled with it too! I love the colors & the way you blended them. I think Vivian has some prismas too, I'll have to tell her what you use & see if it works better for her too. Absolutely beautiful.
---
Dream Bettas: Pure white HM or VT (for my daughter), new 'spikey' fish (CT for my son), blue & orange betta male (for my fiance), and more live plants (for my bettas
)



Boy, do I know what you mean about long days... Thanks, justmel. Your comment is breath of fresh in itself.

Tell your daughter I'm relieved she likes it. Bet she's a got a pretty critical artist's eye already. xD
---
Member
Join Date: Feb 2013
Location: Alberta, Canada
Posts: 542
Hi feNg. Justmel's fish is so lovely! It's hard for me to pick a fish but I've decided on my new aquabid boy, as yet unnamed. He arrived today (along with 9 others lol) safe and sound. *big sigh of relief* I'm acclimating them to candian water right now. Fortunately, I have some really nice pix of him thanks to Aquastar, the seller. You can pick the pose! I'd love a color one but if your creative process suggests otherwise feel free to do him however you like. I sure I will be thrilled with whatever you do. And please take your time! Thank you!
My crappy pix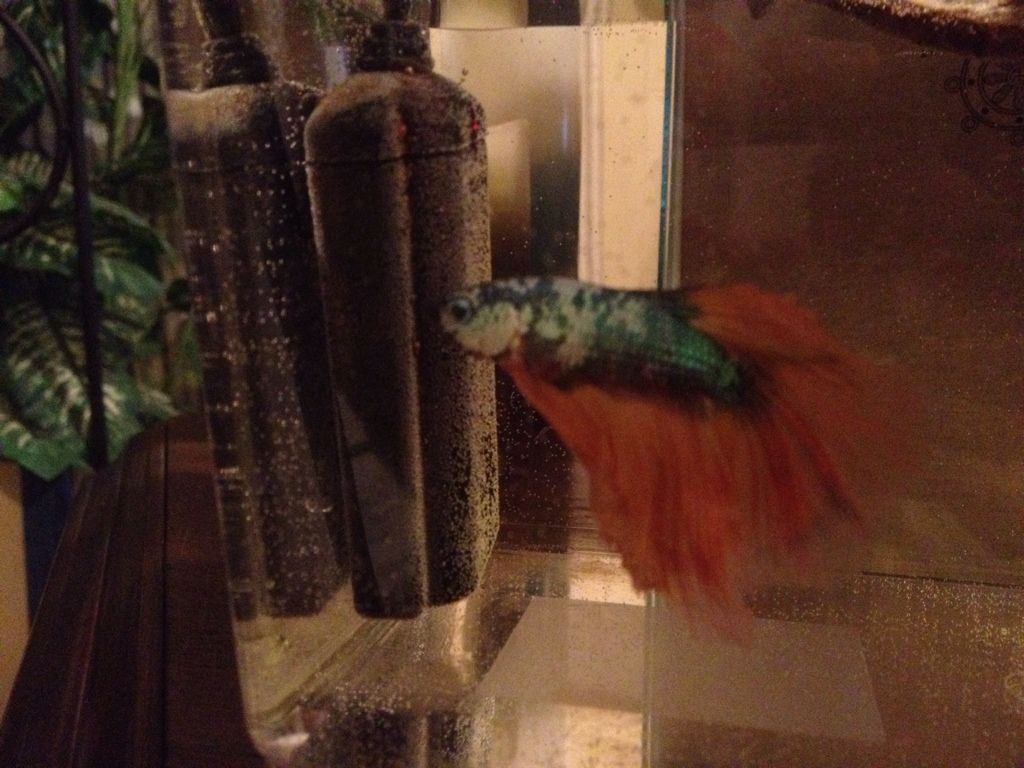 Aquastar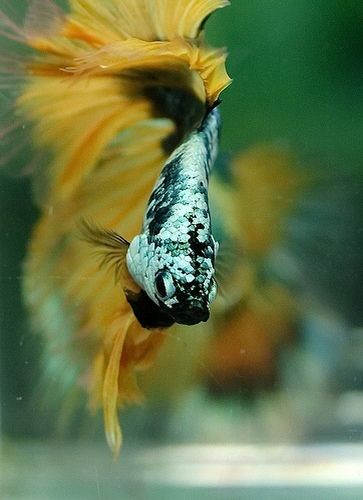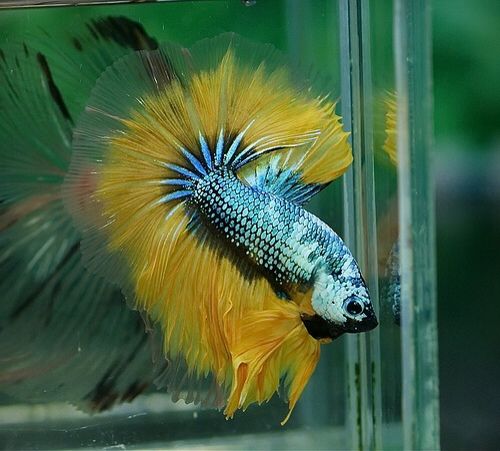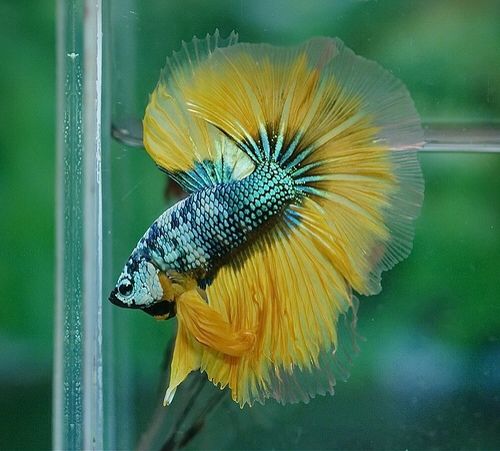 You're lucky I don't live in Canada, Percy. Or he may go "missing." ;) Gosh, I really hope I can do him justice... He's beautiful!
I'm working my way through the list slowly, but surely. Just finished trilobite's PK. I really like the colours on this guy. Now, let's see if trilobite thinks my colouring is up to par with his fish...
trilobite: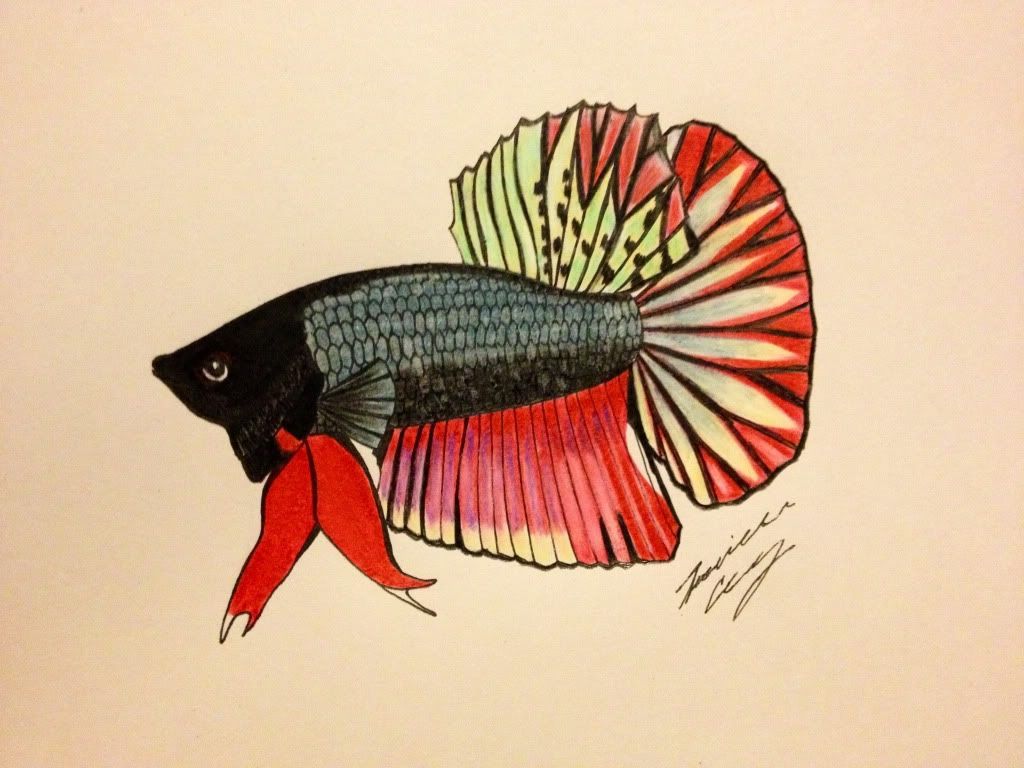 ---
Member
Join Date: Feb 2013
Location: Alberta, Canada
Posts: 542
Oohhh nice, love how you did the eye on that one, very expressive (re trilobite's PK) Thanks for your compliment on my fish... Not that I had anything to do with how he looks, I just bought him lol. He is gorgeous though, isn't he? I can't stop looking at him, and he seems to like the attention. He was a bit pale when he arrived, but now that he's in clean warm water he's colored right up again. I'm sure you will do him honor with your art!
Quote:
bleh. Colours and i just aren't getting along tonight.
Sorry, i kind of smeared it when i tried to erase some of the colour pencil. /:
Darki:
omg i love it thank you so much <3
Wow amazing fish Percy. Luky I live a whole country away from Canada.

And can't wait to see your take on Sparta Feng. Though please take your time. He himhimself is doijg better. I no longer really fear for his life but he's got some serious bloating issues like if I disnt know better I'd think he was a really eggy female. He's HUGE. In some Epsom salt/stress coat/conditioner water. He's taking a while to heal I think due to crappy heater. But he is making a come back.
---
10G Divided - Taz (Teal/Black/White Dragon Scale VT) & Sky (Red/Black/Blue CT) 6 Panda Goras

29G - Two Jack Dempseys (Yet to be Named)