Yeah, I thought of acrylics because they are a tad bit brighter, but watercolors are just easier. I think I will. My trip is just an overnight trip, so I'm heading back later today, and "going for it" :)
---
I either talk to my fish when I'm mad, or I'm mad because I talk to my fish.
Quote:
Originally Posted by
alwaysaBettaLover
View Post
Yeah, I thought of acrylics because they are a tad bit brighter, but watercolors are just easier. I think I will. My trip is just an overnight trip, so I'm heading back later today, and "going for it" :)
I by no means call myself a painter, since I rarely use it because I am so impatient. I have issues waiting for the paint to dry before I can move on to the next step XD'' S' why me+markers=yes.
But I have experimented a little ;D
Thick paper is definitely good. The paper will curl and bubble up otherwise, though sometimes I've had even thicker stuff curl up from the water I put on it. I find it easier to use painter's tape or masking tape or something to tape the paper down to a hard flat surface, which helps keep it from curling up. Won't always stop the 'bubbling,' but I've also pressed my watercolored pieces in or under a heavy book and left it there for a while to flatten out.
I've also used acrylics like watercolor - I really water them down. I also mix acrylic and watercolor together, because I'm a weirdo and defy the logic of not intermixing them XD WOOOOOT!
Dunno if that'll help you any, but I'd say go for it and experiment - It wouldn't be a bad idea to try painting on paper without a drawing on it, so then you can see how it'll react and whatnot.
Feng:
FINALLY. HERE. TAKE ITTTTT. *Flails*
I hope that worked ._.'' I attached the picture of Barti. Guess we'll find out! xD I did take some pictures of Shark, but they turned out horrible. The camera wasn't liking it when he moved, so they'd be all blurry.
Oh, how beautiful. And life-like. Thank you, Arrow. I'll cherish it. :)
---
The only annoying part is I have the actual drawing Dx If you ever randomly meet me in person or something
I'll give it to you XD
Quote:
Oh, how beautiful. And life-like. Thank you, Arrow. I'll cherish it. :)
Arrow, it's beautiful! You are just as talented ad Feng & a lot of the other artist on here. You all make me SO jealous, but then again I can sit back and enjoy the beauty you all produce without all the hair pulling, grumbling, and crumpled bits of paper you have to go through. :)
Feng, as always, your work leaves me speechless. Don't ever give up your hobby. Life has a habit of becoming to busy for hobbies, but for you to give up art would be such a waste of talent. I understand not making a hobby a career (it can loose a lot of it's pleasure then), but make sure you never stop drawing. And congrats again on your graduation. Glad it went well for you.
---
Dream Bettas: Pure white HM or VT (for my daughter), new 'spikey' fish (CT for my son), blue & orange betta male (for my fiance), and more live plants (for my bettas
)



Arrowheadshark: nice drawing!! You should try coloring it:)
---
I either talk to my fish when I'm mad, or I'm mad because I talk to my fish.
Are you still taking requests?
---
Tiny and Squirtle (squirt)

RIP:To all my sweet bettas swimming under the rainbow bridge. Shall miss you all.
Yes, I am. I just need a picture of the fish/whatever kind of pet you want me to draw. :)
---
Could you also add Catullus to the list? I would love a picture of him!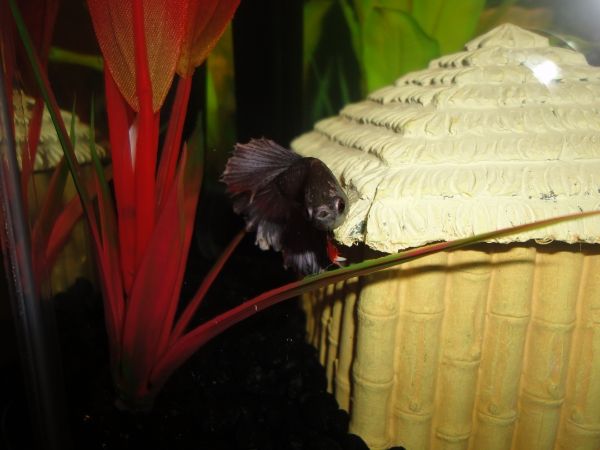 ---
Pontus Rex "Ponty"-HM Male (SIP) General Agrippa- DT Male (SIP) Emperor Catullus "Tully"- Dragon Scale, Feather Tail, HM Male (SIP) HRH Prince Helios Remus "Remmy" of Whales- Dragon Scale, CT Male (SIP) General Camillus "Cammy"- HM Male
He looks just like one of the boys we used to have. Pretty. :)

I'll add you and him in.
---