Quote:
if you don't mind them then
heres Ellis The Elephant Ear Betta
and Garry The Gourami, Garry's a little bit shy but I'll get better photos of him when he settles in.
here's more photos of garry:) best I can get of him I think he's going to take a while to tame
I'd like them colored please:)
---

If I have drawn a picture for you, full size versions are available on my DA page
http://candyfloss-unicorn.deviantart.com/gallery/48603004
I couldn't resist squishing in line, can you do kuro with his chewed tail? i think its going to be a permanent look anyway XD
Sent from
Petguide.com Free App
Breme is GORGEOUS!

Thanks so much for taking the time to do this. :') That looks so much like him!
---
Over hundreds of bettas die in their small, dirty cups each day. Only you can help them live. Research and then save them, today!

Will do, guys. xD

Current line:

*is done

1. wah543 (coloured)
2. Indigo Betta (coloured)
3. Mashiro (coloured)
4. MattsBettas (tribal)
5. BeautifulBetta123 (coloured)

6. justmel (coloured)
7. Darkicydevil (coloured)
8. trilobite (coloured)
9. LucidSong (coloured)
10. Janan (coloured)

11. littelboyblu (coloured)
12. Skyewillow (coloured)
13. percyfyshshelley (coloured)
15. mersf559 (coloured)
16. jona31 (coloured)

17. charislynne (coloured)
18. Janan (coloured)
19. justmel (coloured)
20. LucidSong (coloured)
21. peachii (coloured)

22. kateee (coloured)
23. Haleigh (coloured)
24. alwaysaBettaLover (coloured)
25. crowntaillove3 (tribal outlined in yellow)
26. Susukihotaru (coloured)

*27. LebronTheBetta (coloured)
28. cowboy (coloured)
29. eemmais (coloured)
30. Haleigh (coloured)
31. a123poof (coloured)

32. PeetaTheBetta (coloured)
33. ismintis (coloured)
34. PonyJumper101 (coloured)
35. Indigo Betta (coloured)
36. Seki (coloured)

37. Redthebetta (coloured)
38. Hail0788 (coloured)
39. aokashi (coloured)
40. Jarick (coloured)

14. ArrowheadShark (picture needed?)
---
---
Last edited by Fenghuang; 08-12-2013 at

10:47 AM

.
Oh! I would like mine colored if that's ok. :)
Lebron: You're welcome. :)

Jarick: No problem. I usually go with coloured if someone doesn't ask for anything for specific.
---
Quote:
Thanks, ismintis.
So, uh... I learned from experience that I always mess up when I try to colour a cello or a white betta. So, I went with something different. This style is why I started using pens. It's messy and spontaneous. Not too had, I hope. Supposed to be Yumenoke, since the other two pictures didn't show.
Susukihotaru: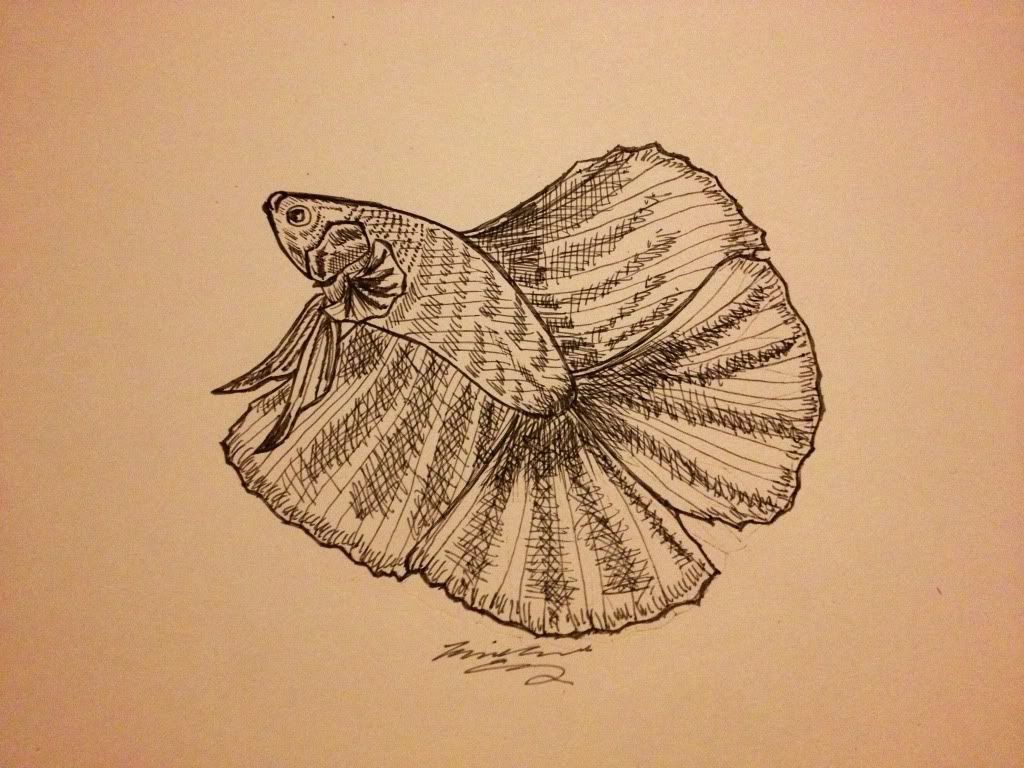 Thanks Fenghuang, I love it!
You're welcome.

Hey, guys. I am moving to Georgia this weekend for college. I'll continue with the drawings once I settle.
---
Sounds good, have a good trip.