You do great work! I have two fish that I think might be really great for color studies! Neither are decisively named yet, but here are their photos: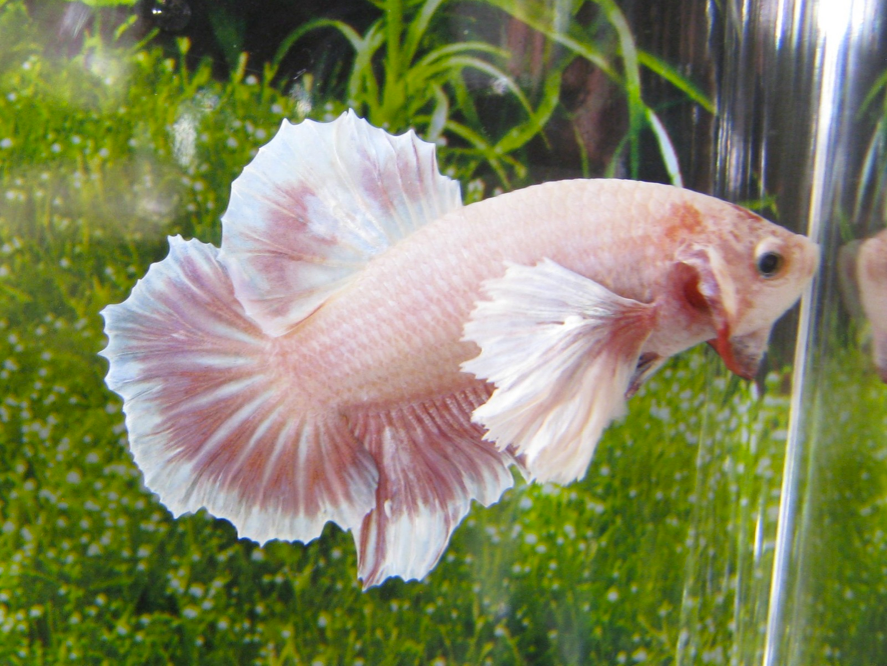 Here's a clearer photo of the halfmoon/plakat. He's flared in the one above, so it's a nicer pic in my opinion, with the red from his gill. Feel free to use this picture for reference on the head details that got blurred though!
I'd love to see what you do with these two!
New Member
Join Date: Jun 2013
Posts: 28
---
Hey everyone!! I first want to apologize that I've taken soooooo very long to get back to you guys with the sketches. My life got a bit complicated with a family emergency, but I have squeezed some art time in there, and I have 3 so far [Out of the first 5]. I'm back on track now that my time will be my own, and I really hope you all enjoy them! I definitely appreciate the compliments about my artwork, and the free sketches help with my colors and blending. I've always been terrible with colors and paint ect, but I'm hoping this really helps me inprove, and most of all I hope you guys like them!

Here's Ellis, Mazeppi, and Q-Tip [in no official order]. =] I apologize if they're absolutely horrible and you don't like them lol I was having a hard time getting the colors right and scales are very difficult to get right, so that's why I chose to do these 3 first, they either had basic coloring or ones that I was able to figure out. On some I did improvise a bit and they probably look nothing of the real color/fish but I hope they're alright to your eyes! =] Anyway, I should finish the 4th and 5th I've collected then I'll get to the rest! I'll make something of a list now in a second post. Enjoy, and again I'm so sorry!
New Member
Join Date: Jun 2013
Posts: 28
Okay, so here's my list so far, just so I can get somewhat organized. I'm terrible at keepin track, so this will help. I'm gonna add the 9 people that have posted so far. After the 9 are finished, I'll add another few or whoever else is left. As one poster said, don't be afraid to say I'm overwhelmed, so now I'm saying that I am a bit overwhelmed! haha But I'm glad that all of you have asked me to sketch your fish for you and I do appreciate all the lovely compliments. As you've probably noticed it does take me some time to get them finished, and sent out. It's because I'm always trying to get them just right and sometimes I do end up having to settle, so of course some will be easier than others, but either way, I hope you all enjoy them. Anyway, Here goes the list.

1.LebrontheBetta - Breme Currently working on him! His color is very hard to get right, because he's transparent. I might have to settle on some pale yellows.

2. a123andpoof - I actually had to start him over because I messed up the scales.

3.tilli94 - She's a beautiful fish! I LOVE the orange. I'm not sure what I'd name her. I'll get back to you on that. =]

4. ismintis - I'd love to draw her =] She's so pretty. Different design of colors and such on her body!

5. Bettacrab - Nice Bettas! I'll get them to you when I can. =] I'll probably do them one at a time, and post in between others who have one sketch. Sound alright?

6. Peetathebetta - I'd love to sketch him for you too! I'm just posting a list down so everyone knows that I can be organized and aren't sitting here wondering why I'm taking forever haha.

7. BailMint - He's a very awesome looking fish! I've yet to draw a crowntail but I'm sure it'll be both challenging and cool. =]

8. Mybabyjets - Just send me a larger, detailed photo of your boy or girl and I'll get to it.

9. Critternut - Thanks for the awesome compliment! =] I love love love the colors of your fish. I'll get them to you sometime soon, hopefully! lol. And thanks for posting the 2 different sides of the 2nd fish, that really helps me determine the obvious details and whatnot. Thanks!

Anyway, thanks again for the beautiful/lovely compliments! Please keep in mind that it takes me some time to get them finished considering Bettas have many different colors and characteristics. They'll be finished eventually though, so please try to stay patient! =]]
Thanks so much I can't wait, they are all beautiful! Take your time though it's no rush :)
---
~Išmintis-Iz/Mint~
~Kruša-HMPK fancy slough dragon female~
~Nerim-VT fancy baby female~
~Micah-half mainecoon/half persian male~
~Milo-half mainecoon/half persian male~
ミ[°°]ミ
thanks for the drawing of Q-Tip. I like your colors, even though i think Q-Tip is more purple than red. Great work!!!
---
Kai- blue-green halfmoon male
Mistletoe- red female
I am inspired now I think. Once I'm done cleaning my iguana cage and sweeping the house I think I'll try to do some work with my own betta photos. I've used watercolors before, as well as acrylics and pastels and colored pencils, I think pastels might look really lovely. Or watercolor pencils, those could be pretty neat for bettas. Maybe I'll draw something up!
critternut, your first betta is soooo beautiful, if you entered it in a contest of the month, you might win. I'd vote for you.
---
Kai- blue-green halfmoon male
Mistletoe- red female