20 minute betta paintings
---
I made these paintings a few months ago. Each painting was complete in 20 minutes. The blue marble is my young male hm from A Betta Love Story. The plakat is a painting I made for a friend of one of his fish.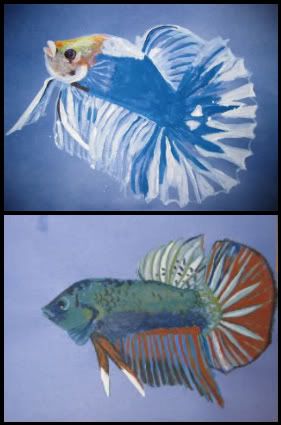 Nice! I like the first one!
---
I only have 1 betta left, but he's a cool blue marble!
皆さん、こんにちは!私は一匹のベタを飼っています。
Wow, 20 minutes? Awesome. :D
---
"Life is an adventure full of beautiful things, and a treasure worth more than gold."
I like the top one better too. For some reason, my paintings tend to turn out better if I am painting the fish in person or from a video. The second painting was made from a still photo where I could not see the entire fish or watch how it moves. Thanks for the nice comments.
Beautiful paintings! :)
---
~Bettas~
Sterling: Male Crowntail
Scarlet Blossom: Female Veiltail
---------
R.I.P Tinsel: Male Veiltail
Amazing!
---
Who am I? Well I am a Junior Member of the International Betta Congress and a breeder of white HMPKs, red dragon HMPKs, black/red dragon HMPKs, metallic multi HMPKs, blue masked HMPKs, and now multi color HMs. Soon to add black HMs. I will be showing in New Breeder class in fall of 2012.