Got a Great photo of a Gorgeous Fish?
---
I need practice with scales and fins, so if you've got good photos of pretty fishes, put em' up! :) I'll be choosing four.

Any tail type, any color!

If you want samples you're gonna have to check my album because I don't want to post them all again. :P
---
BETTAS:
Robert Falcon Scott - Red salamander HM plakat
Passed on- Friedrich "Freedy"

OTHER CRITTERS:
Four African Dwarf Frogs - Dorkus, Sporkus, Baron(ess), and Bubbles!
my fave pic of little lorenzo!
he has large pectoral fins but they are clear so hard to see in pictures.
I love your samples! Here are a couple that might help with scales and/or fins... Faye doesn't have the greatest finnage (she likes getting into fights and getting nipped), but Winston has some pretty sweet fins:
You're welcome to do either or both if you need 'em! :)
---
~Madi
4 Males
Winston~ Damian~ Twitch ~ Evans
1 Female
Mini-Fish
The picture is a little big,but you could do Dobby,you could really do any of my others if you want (like Mizu *hint hint*)
---
Dobby - HM
Absolem - DeT
Fez - Metallic OHM
Tomato - HM
Thor - HMPK King
Sorrority tank - 1 Det - 3 CT's
Goldfish Tank - 1 Orange Oranda - 1 Calico Fantail - 1 Clown Pleco - 1 Dojo Loach
R.I.P my original three
Carlisle.Mizu.Anardil
---
Last edited by naturegirl243; 02-14-2011 at

12:23 AM

.
---
Stamps - M White/Blue/Yellow Fancy HM Plakat; 2.5gal; 80ºF; Hikari Food Products - Loves Parcel

Parcel - F Blue/White Marble Dragon Fancy HM Plakat; 1.5gal; 80ºF; Hikari Food Products - Loves Stamps

Astaire - M Blue/Red Veiltail; 2.5gal; 80ºF; Hikari Food Products

Latté - M "Panda" DT Plakat; 2.5gal; 80ºF; Hikari Food Products

Aquarium Items:
Aqueon Water Conditioner
API Aquarium Salt - Medical Treatment Only
Indian Almond Leaves



These show off dragon scaling much:
---
I am a male sapient being.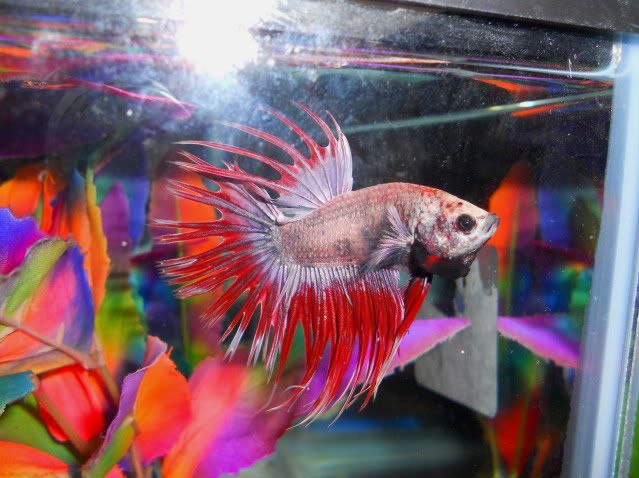 Crowntail :D
---
SAPPHIRE (Blue Mustard Gas OHM) / Quill (Brown Tabby and White Pancake Monster)[/FONT]
Oooo I hope fleetfish's is accepted, so pretty! I'll post mine, but I see 4 already up above that you could do :)
I've been trying to get any of my plakat boys drawn and I miss Helios (RIP) so much, so here's a one of him!
---
http://www.wix.com/bettafly/bettas
Proud member of the IBC!
My blue HM plakat would be great full ^_^
---
*Forever Fish Mom*
[COLOR=Blue][B]In the 10gal:
*Chrome: Metallic HM Male
*Banner: Pink Marble HM Rose Male
*5 Ghost Shrimp
In the 135gal:
*10 Cory Cats
*5 Tiger Barbs
*3 Khulie Loachs
*1 Zebra Spiny Eel
*1 Half Banded Eel
*1 Sail Fin Pleco
*1 Bichir
*4 Gouramis
*2 Koi Angels
*7 Ghost Shrimp