Betta Mugshot
---
Even they can be criminal...
I knew Bloom was up to something sinister! *Looks back to check on fish*
---
I am a male sapient being.
Lol!
:D

Yea, I agree my betta was stealing food from it's former tank mate, even though he was eating it.
---
"Life is an adventure full of beautiful things, and a treasure worth more than gold."
---
Last edited by BlueHaven; 02-19-2011 at

04:21 PM

.
lol! put Nick Nolte's hair due on him lol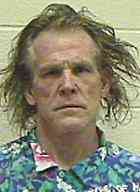 ---
Five Boys:
Red, Casanova, Habanero, Falkor, Eragon

Five Girls:
Thelma, Babycakes, Black Sheep, Mystique, Dew
Lmao! That is hilarious and cute!!
---
19 males all but 1 in 5 gal tanks
1 giant in a 16 bowfront
52 female sorority, 15 raspboras, 6 corydora sterbia and BN pleco in a 72 gallon
Other tanks - 135 gallon african cichlids, 48 breeder SA cichlid, 30 gallon hex goldfish, 30 gallon community fish and shrimp tank, 12 gallon hex growout
2 Chihuahuas, 2 1/2 lab 1/2 weim dogs and 2 cats
1 Husband and 1 3 year old princess
Hahaha! The grumpy-pants face makes it all the more perfect!
---
Sequin (m), Shortcake (f), Westley (m), and Sir Righty of Walton (m).
That's so cute! Great idea.
---

In the hobby for 9 years.