Avatar requests
---
I think someone else had a thread up in the recent past, but I cannot find it anymore.
In any case, I'm offering to make a few for those who want them. :) Here are some examples of the ones I've done (including the one I'm using currently).
Computer wallpaper, shrunk to smaller size of course for posting reasons:
These were all done using
my own images,
so same rules apply for anyone else who wants one. I will not use software to edit images that do not belong to you.
They were all done using open source free software, called Paint.net. Depending on the complexity; I can have them done in a few hours, or a few days. Alpha masking takes quite some time to get right (lots of masking in my current avatar). And I can really only alpha mask images that are very clear; the fuzzier it is the less I can do with them, at least in that regard.
If you are interested, please post one (or more, if you want different layers as in my avatar) of your best photos, along with your desired colors, whether you want something more realistic or more abstract, as in pencil drawings or pastels, or ink drawings (these are ALL plugins with paint.net, no freehand). Also post whether you want the name of the fish in it, or your login name, or anything else you can think of that you want included.
Depending on the complexity of them, some of these can take alot of time; so please be patient if you are interested. :) Oh, and of course it's first come first served. ;) I will do my best to get them done as quickly as I can, but I do have a 7 year old.
Photo editing is a fun hobby for me. Thanks for your interest!
Can you do something with this? It be cool, with the girl infront of pink plant.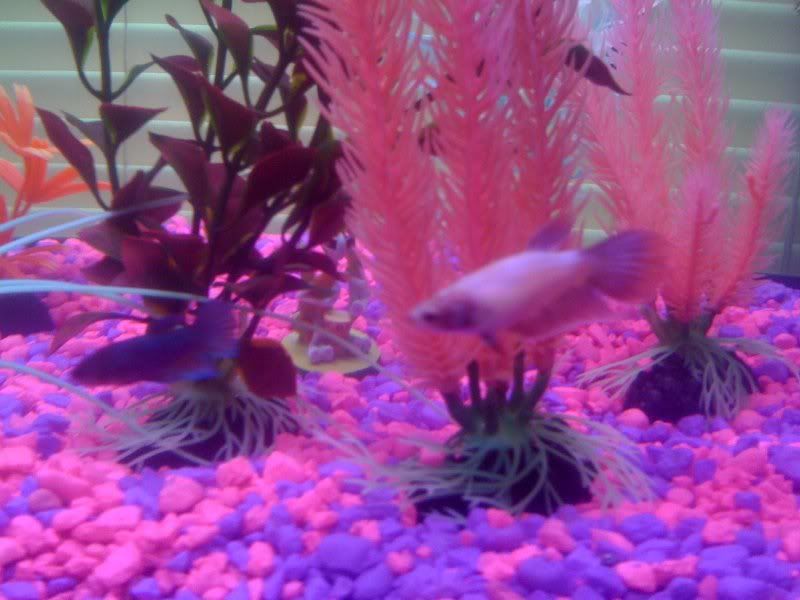 Maggielynn:
Used my imagination, since you didn't say whether you wanted colors or what name to use. ;)
Should be good to go, I kept it at 200x200 and less than 24.4 kb (which are the requirements if I recall).
fred.jpg
*to everyone, remember the clearer the fish the more options there are! :) Alpha masks and pastes are more doable if the fishie has clear edges around it; and there are no obstructions in front of it.
This is what is possible when the images are clear:
Original:
Created with mask:
---
Last edited by dragonflie; 08-11-2011 at

01:49 PM

.
Dragonflie, you're AMAZING! Please do mine.... looking for a good picture... I'll be right back.
Thank you, and no problem! Be sure to give me as much information as you can so I don't end up making something you won't like. :)
Could you do this one? I know it's not the clearest picture ever, but it's the best I can do with my crappy camera. Plus Zircon (the fish) likes posing for pictures!
Could you crop it and make it smaller (obviously :D) and... idk. You can do whatever you like with it, but I think it would look nice like the sort of of thing you did with buttercup, but instead of the leaves, the fish is coloured.
If you don't want to it that way, then you don't have to, but I know it'll turn out awesome anyway :)

EDIT: DANG, WRONG PICTURE!
Haha sorry, this is the right picture..
crowntail 092.jpg
THIRD edit. You can do whichever you like, or whichever's easier :)
Similar Threads
Thread
Thread Starter
Forum
Replies
Last Post
Taking Requests!

MrVampire181

Betta Chat

18

02-14-2011

06:24 PM