I love the picture of Ra! I didnt notice he had a purple hue to him...I really appreciate it tho! And i hope you didnt take my question asking about them being up as pushy or rude. I was just curious if i was blind and didnt see them.

Thank you very much again tho! <3
---
Baldwick male (VT)<3
Nem (Bombay) & Bert (tabby)

RIP: Chum-Fu (betta), Gary (snail), Misty(ferret), Capt Nemo (algae eater), Ra (betta), Nikee (ferret)
Oh no, I didn't think you were either pushy or rude. :D' I know sometimes pictures don't show up on the thread from either not loading right or a bad link.
Really, I just felt bad I had to post the pictures late.

I love seeing every little detail I can, especially in references I'm given. While sketches aren't meant to be completely totally color-accurate, I do like adding easter eggs. c:
Ra being named after an Egyptian god (correct me if I'm wrong), I thought of royalty, really. And purple is the color of royalty... so I couldn't help but notice it. :D

I'm really glad you like it! I've just really gotten started coloring on your commission, too, just to let you know~
---
That is exactly who he is named after ^_^ the egyptian sun god
And im excited to see how that one turns out as well! <3 Take your time as always tho!
Quote:
Originally Posted by
BlakbirdxGyarados
View Post
Oh no, I didn't think you were either pushy or rude. :D' I know sometimes pictures don't show up on the thread from either not loading right or a bad link.
Really, I just felt bad I had to post the pictures late.

I love seeing every little detail I can, especially in references I'm given. While sketches aren't meant to be completely totally color-accurate, I do like adding easter eggs. c:
Ra being named after an Egyptian god (correct me if I'm wrong), I thought of royalty, really. And purple is the color of royalty... so I couldn't help but notice it. :D

I'm really glad you like it! I've just really gotten started coloring on your commission, too, just to let you know~
---
Baldwick male (VT)<3
Nem (Bombay) & Bert (tabby)

RIP: Chum-Fu (betta), Gary (snail), Misty(ferret), Capt Nemo (algae eater), Ra (betta), Nikee (ferret)
---
beautiful drawings =D by any chance can you draw luna and lunar?
Luna:
she is a bi-color, with blue rays, and she is a comb tail
Lunar:
he is a DBT steel-ish blue with a light tint of green, he has red splashes
thx if you can, and have time =]
---
[CENTER] Cherry Pop, Gus Gus, Gaia
@Bettalover1507, I just temporarily closed off all new requests. I've got GunsABlazin already, so you'll take the second slot. :D

I'm going to start up these requests again in two weeks after I finish the last list. I remember you did want Luna and Lunar, though! I'm happy to draw them, but I've got to use the two weeks to finish the commissions I have.

PS. AMG, I love Luna's colors! I've never seen a female like that.~
---
I can't edit my last post, so I'll have to post again. :P


To Everyone Who Wants A/Another Drawing From Me
I'm temporarily closing free sketch requests because I need to take a little time to focus on the commissioned work. I will reopen it October 10th no matter if I get the commissons done or not. Fell free to post reference photos on here, and as soon as they re-open, I'll get straight to work on the requests in chronological order.
COMMISSIONS ARE STILL OPEN.... :D

With that said...

UPDATES:

Commissions:
Potential4Evil - DC - 100% lineart, 15% coloring, 0% detailing
OFFSITE - Tiger/Fox HC - supplies are supplied, cutting patterns/wondering how the heck I'm going to sew all those dang stripes...

Current List (These are to be finished before I focus on commissioned work):
WiccanWisom - DS - sketch done, coloring imminent
Ritotini - DS - sketch half done
Flaretacious - DS - not started

Restart List:
GunsABlazin
Betta Lover1507


Key: DS - Digital Sketch, TS - Traditional Sketch, HC - Hoodie Commission, DC - Digital Commission, PPC - Pencil and Paper Commission, APC - Acrylic Paint Commission, WCC - Watercolor Commission, ECC - Sand Commission, SpC - Special Commission

For information on commissions, feel free to message me or click the link located on the first post. ;)
---
thx also luna is a bi-color, and am not sure on her finnage i think she is a combtail, she is very big, compared to straw berry 0_0 but she is like 8 months old or so i had her when she was very small from petco. lunar came from the same store. sorry i was going over-board about luna's story, but thanks can't wait =D
---
[CENTER] Cherry Pop, Gus Gus, Gaia
I'd love a sketch of Missy when you get back to free sketchs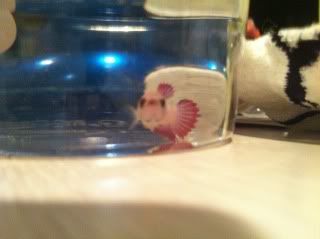 ---
Bettas:
Females: Morgana (CT), Gwendolyn (CT), Amethyst (CT), Hebe (CT), Iris (HMPK), Amphitrite (HMPK), Artemis (HMPK) Dottie (?), Lulubell (CT), Mirabell (CT) & Jubilee (HMPK)
Males: Cronus (CT), Tian (OHM) & Anubis (OHM)

Dogs:
Zeeva (Siberian Husky)
Binky (Samoyed)
aww she is soo cute, did you just got her or you had her? she is beautiul >w<
---
[CENTER] Cherry Pop, Gus Gus, Gaia
I got her yesterday. She's so adorable.
---
Bettas:
Females: Morgana (CT), Gwendolyn (CT), Amethyst (CT), Hebe (CT), Iris (HMPK), Amphitrite (HMPK), Artemis (HMPK) Dottie (?), Lulubell (CT), Mirabell (CT) & Jubilee (HMPK)
Males: Cronus (CT), Tian (OHM) & Anubis (OHM)

Dogs:
Zeeva (Siberian Husky)
Binky (Samoyed)