lol :) guilty as charged. Darn tablet pen!! Jeez, the requests just won't stop. "accio tablet pen!" o.o loves a bit of Harry Potter
---
"Education is the most powerful weapon which you can use to change the world." -N. Mandela
To my journal!
http://www.tropicalfishkeeping.com/j...ourami-592858/
DSC04243.JPG
if you have time :)
His rays are an electric blue.
---
Betta-less at the moment :(
"Some people are like slinkies... completely useless. But they still bring a smile to your face when you push them down a flight of stairs."
I is GaB. Blessed Be. (GaB is a girl)
---
Quote:
Originally Posted by
BlakbirdxGyarados
View Post
Sorry to hear that about the babies, bl1507. D: Was it their first spawn together?
In any case, it was fun drawing them. You're very welcome!
they all died and yes that was my first spawn i hear that is normal though..
---
[CENTER] Cherry Pop, Gus Gus, Gaia
---
wow he is gorgeous 0.0 i used to have one like that *sigh
---
[CENTER] Cherry Pop, Gus Gus, Gaia
If I had to run here literally to update this, I'd be so out of breath....
I got one done. Can anyone say "Yya, tablet and computer issues"?
I really hate Dell. Sorry if a few others here like it, but I wish I got a different brand laptop as a graduation present. xP
Anyway,
Curly Joe! I had a bit of fun with the colors... and making the reflection work (though the perfectionist in meis still not satisfied, lol)
More soon.
Yesterday I was busy running around at a football game with the Air Force. Yay for DEP call.
Today I'd been working all day at the pet sore, I mean, store. Yay for an extremely tempting CT that I'm almost regretting not getting.... Monday maybe... maybe... G'AH, NO MORE FISH, I CAN'T... I mustn't.... give... in.... XD;;
---
I wish I could edit that last post. This morning as I was working on one of the other drawings, I realized that I accidentally hid one of the layers on Curly Joe. Here's the picture again, but now
completely
done and with all the layers. :D;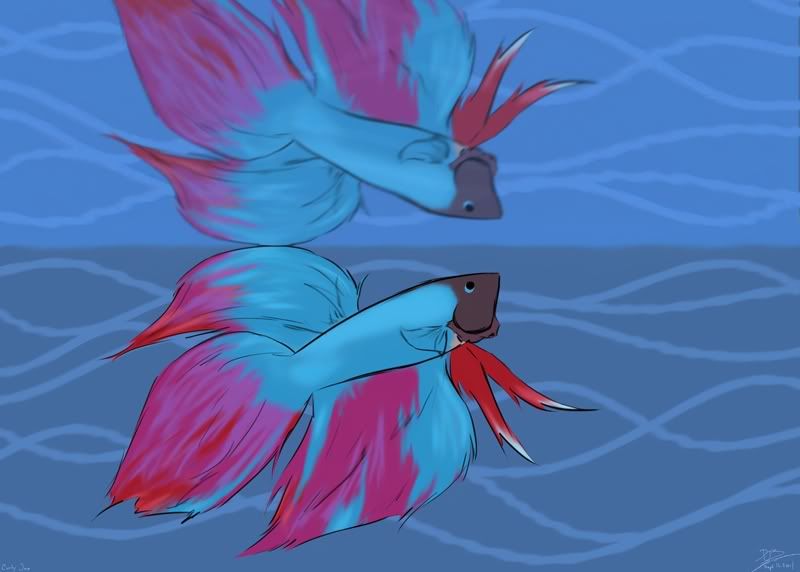 I thought he looked a little off to me, lol
---
---
Last edited by BlakbirdxGyarados; 09-11-2011 at

08:27 AM

.
0.0 soo pretty your very good artist (i mean it!)
---
[CENTER] Cherry Pop, Gus Gus, Gaia
:D Thanks Bettalover.

I always did prefer my sketches over my completed works, though I have weird reasons why, since my cleaner works are prettier and... well... cleaner.

In any case, I could still do better. But thanks so much! <3
---