Photo Editing
---
I can do some photo editing for your betta pics. For free! It is a first come first sreved basis. I will take the first 10 people, then maybe take more. I will need a sharp, clear picture please! You can choose any of the following effects:
Cartoon:
Ex.
Pencil Drawing:
-Cross hatching
Ex.
-Outline drawing
Ex.
Charcoal:
Ex.
Oil Painting:
Ex.
Mosaic:
Ex.
---
From: Blackberry
I don't really want any edits done, but I wanted to comment on this because I think Cobalt just found his long lost twin. Cobalt's the betta in my profile picture
---
Cobalt
-
Whoah! They are like twins! Mine even has that white/clear bit at the end of his tail if you look at him from above. But he has started tailbiting so I am trying to stop that!Where did you get yours? He is a cutie!
---
From: Blackberry
I picked him up from Petco!
---
Cobalt
-
Cool! Mine is from Petsmart!

*Sorry everybody, I just realized how big those picture examples are....Oops....*
---
From: Blackberry
Can you do a Mosaic one of Mr. Plum? Thank you!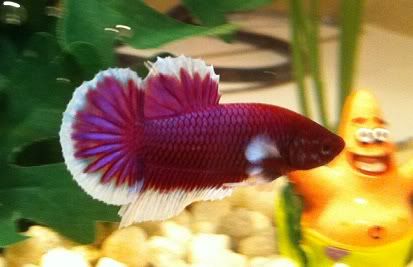 ---
Sure! I will get it to you tomorrow if that's okay? I am on my iPod right now and I can't do it from here. I gotta busy afternoon today, totally cleaning and preping a 10g for a betta. I'm excited but dreading the cleaning at the same time! Lol
THE LIST:
1. ArcticRain
2.
3.
4.
5.
6.
7.
8.
9.
10.
---
From: Blackberry
Okay, here you go ArcticRain! Hope you like it!
---
From: Blackberry
---
Last edited by BlackberryBetta; 12-30-2011 at

05:49 AM

.
Ahh the example pictures aren't showing up for me, are they showing up for anybody else?
---
From: Blackberry