Quote:
Kfish, here's your Sky: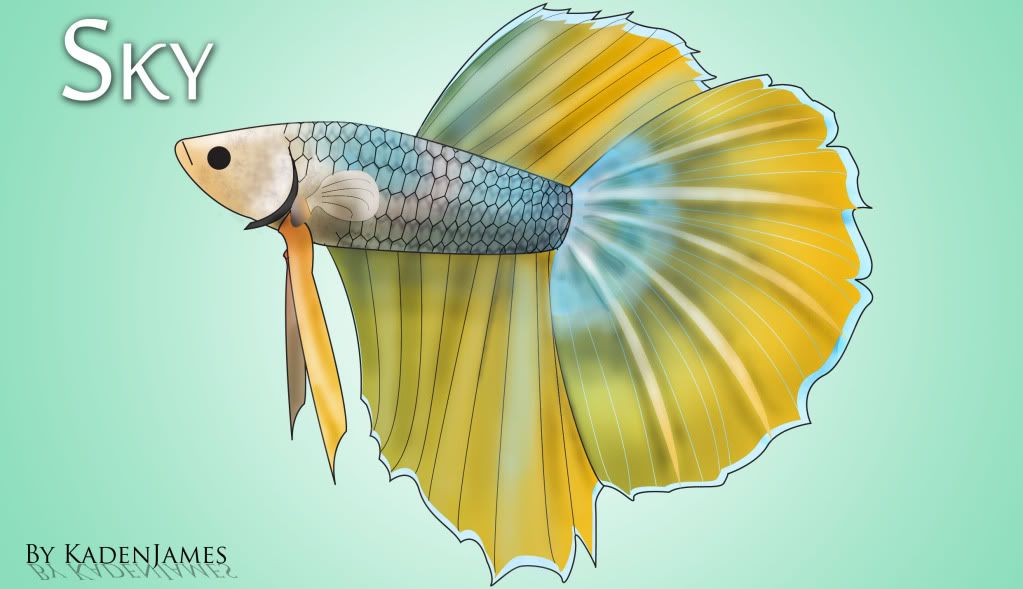 YES! I love it! I've been so excited for this!
---
Pascal 8.27.14
Sky 3.14.11-11.17.12
Mr. Fish 8.19.10-8.18.11
do naru?
---
i would love it if you could do on of my little Naru. i loved him greatly.
---
my little naru ~<3 left this world 4/27/2012 I miss you so much.
If you are still doing these, well, I'd love one for each of my boys, but I only have a good picture on hand for Chicory
They are lovely, I really like how you do them!
*note to self, take more pictures of the fish*
chicoryclose.jpg
---
The Boy Feesh: Indigo CT, Lavatail CT, Ghost CT, Chicory HM, Redfish VT, Magic DT
The Girl Feesh: Christmas CT, Shine VT, Snowflake CT, Stripes VT, Midnight CT, Grif VT, Tangerine VT, Wraith CT, Amethyst VT, Ice CT, Poe CT, Turquoise II CT
Quote:
Here you go:
He was extraordinarily difficult to make. Turns out there's no "clear" color. xD
aww, looks like him
sadly he ain't feeling well right now :( and he is marbling on me
---
[CENTER] Cherry Pop, Gus Gus, Gaia
Everyone,
thank you for the interest in my art!
It really means a great deal to me.
However, due to the constant number of requests I've been receiving and never being able to catch up, I'm going to ask a $2 commission for every piece requested, beginning with BeckyFish97's request. I feel bad for keeping everyone waiting for so long, and I don't want to start rushing through the artwork.
If you pay the commission price, I will give you the option of having the piece printed on photo paper and mailed to you. Your $2 will go towards the cost for postage and print.
I hope everyone understands, and again THANK YOU for the interest. If you've previously requested a piece and still want one, please repost the picture
after this post.
I accept paypal, my account email is
bajistock@gmail.com
. PM if you have any questions! :)
You deserve money for your time... I will have no prob paying ya.
Starting with me?Is that including me or the ones after me?I really can't afford it right now, so if it is starting with me then please don't do my gandalf, all my money has gone into breeding him!
---
BeckyFish97
Proud mum of : Gandalf, Lily,(ohm bettas)
Pineapple (male betta)
Jade, Indigo (hm bettas)
a few platys, a few guppies,
a few shrimp,
and whatever else sneaked into my tank while I wasnt looking
If it moves. . .BITE IT!!!
Sounds fair to me... They are really nicely done. I need to find a good pic though.
---
1 Lovebird-Littlebird
2 Dogs- Frisbee (lost Frisbee 7/31/12 age 14
) Rose
3 African Greys-Max, Sammy, and Magic
4 Chinchillas- Freckles, Curly, Buddy, Baby
5 Bettas- LuckyBlue, LittleBlue, Nebula, Ember and Anderson
:)
These are certainly awesome enough to pay for! I'm thinking about paying $2 for mine to get a printed copy. :)
---
Pascal 8.27.14
Sky 3.14.11-11.17.12
Mr. Fish 8.19.10-8.18.11
Wow these are AMAZING!!! I know you have a long list but when you get a chance if you could do my pretty boy
Wolverine
or
Fable
---
One hand reaches out and pulls a lost soul from harm. While a thousand more go unspoken for, they say what good have you done? By saving just this one... It's like whispering a prayer in the fury of a storm. And I hear them saying... You'll never change things...
MoonShadow Betta Fish Rescue
Saving the world one innocent life at a time