Absolutely gutted
---
Just lost one of the nicest bettas I have ever owned right out of the blue.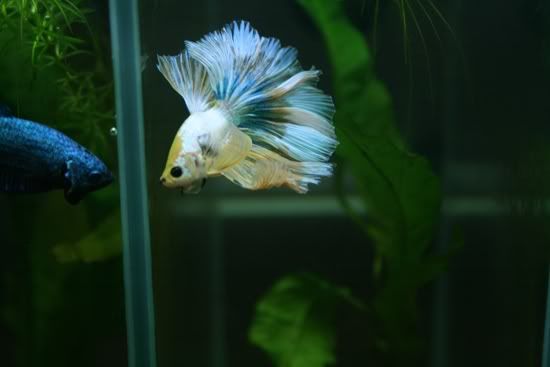 He got badly mauled by my sorority when the breeders' net he was in for a couple days (was making space in my barracks for him) fell into their tank. This was maybe 3-4 weeks ago now.
He battled through having all his fins torn off and was starting to regrow and was perfectly fine, flaring and eating. Yesterday he was a bit lethargic and today I went down and he was lying dead on the bottom.
I still have his genes in the form of a sibling female but he was just so gorgeous it is such a shame. Hopefully one day I can find another male as nice as he was.
---
Member
Join Date: May 2011
Location: Elk Grove, California
Posts: 10,782
I'm so sorry, LittleBettaFish. He was very gorgeous and I'm so sorry you lost him so suddenly.
He was lovely. I'm sorry for your loss.
Posted via Mobile Device
Damn.. he was a very pretty fish, LBF. And after pulling through for so long..
I'm sorry you lost him.
At least you do have those genes, though. Perhaps his sister will produce some youngsters that are as lovely.
Similar Threads
Thread
Thread Starter
Forum
Replies
Last Post
Absolutely Amazing

LittleBettaFish

Betta Chat

8

06-27-2011

01:14 AM