New Member
Join Date: Jul 2012
Posts: 2
Poor Gulliver
---
I am new here. I feel so bad about my little buddy and I just needed to somewhere to grieve where people understand.
I received Gulliver (we called him G) last March as a gift from a friend. I've owned Bettas before but he was the prettiest and had the best personality. He was a dancer, knew my face, listened to my voice, and would literally sit and stare at me as long as I would return the favor. I have a big soft spot for bettas, but Gulliver was like a pet I could actually connect with.
Well I was pretty lazy this week. His water had started to get dirty a little sooner than usual but I paid no attention. He had had slightly dirty water before and been fine. I made up some new water and was set to change it the next day. Yesterday morning I woke up and went to greet my little buddy before the water change. He was completely vertical at the bottom with his face up. I got his attention and he swam around a but and tried to be strong but he kept returning to that position. I quickly and as gently as possible removed him in a small cup and cleaned his tank as fast as I could. I put him in the clean water and he swam for a second. Then he just sank to the bottom. He laid I watched him there laying on his rocks breathing heavy for 10 minutes. It was heartbreaking. I then got a call from work that my morning appointment had arrived. When I got done with my appointment I raced him but it was too late. He had mustered enough energy to move to a small crevice in the rocks and pass away.
Yesterday was bad for me. I cant not blame myself. I took great care of him and just didnt possibly think a couple days of slightly dirty water would amount to this. I buried him this morning in a small bowl with some of his rocks and his little treasure chest that he loved to sleep behind. R.I.P G. You had more years in you but I hope the life I gave you was a good one.
Thank you for taking the time to read. I snapped a picture before I went to work yesterday when he was breathing heavy so I would never forget him.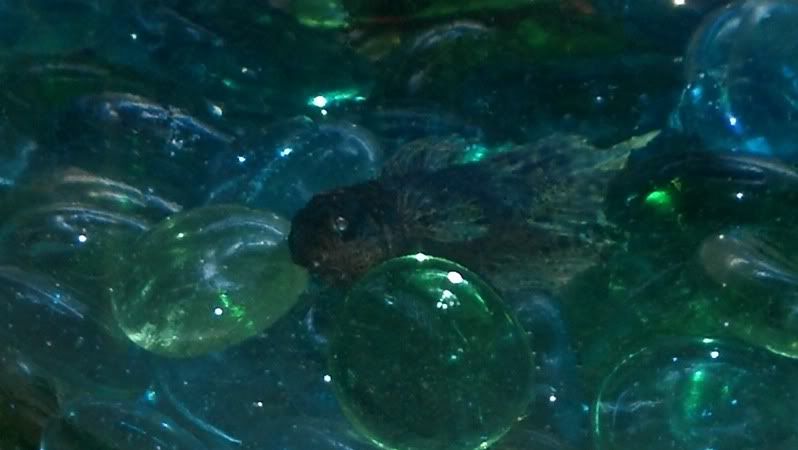 That's so sad.. I'm incredibly sorry for your loss :(
I'm sure he was happy.
---
♥ RIP Sprinkles ♥
Current owner of Rocket :)
that sucks I am sorry.
---
Feel free to message me any questions, I'll try to help the best I can!
Spike- Cockatiel
Rummy- Mini Rex Rabbit
Diz jr- Betta
Yoshi- Crested Gecko
I'm sorry:(. I don't think he could've died from a bit of dirty water, though. Did you see any signs of sickness before he died? I just think it's a little odd that he died just because of a few days of dirty water.(not that you weren't responsible or anything)
---
"Until one has loved an animal, a part of one's soul remains unawakened." -Anatole France
New Member
Join Date: Jul 2012
Posts: 2
I paid pretty close attention to him. Nothing really seemed off. The day before he died he was peppy and active like he always was. No discoloration or anything noticeable. You can see the picture.. he is as beautiful when dying as he was ever.

This one has kept me sad more than most.. he was a pretty unique fishy.. and he was so healthy and never had the slightest problem.

He would even eat too fast sometimes and would get what I thought was a form of fishy gas. In his resting position his belly would float up and he would have to shake himself back down. It was pretty cute and funny.
Aww..so sorry to hear about your lil fishy~ These lil guys touch our hearts in a way that is not expected, and like any other pet the loss is heavy.. Sounds like you had a very special connection with him, I know I feel the same, We do the best we can, sometimes fate intervenes.. He had a happy life with you, may he SIP under the Rainbow Bridge~(Swim In Peace)
---
Banned
Join Date: Jul 2008
Location: Central Texas
Posts: 27,607
I'm so sorry for your loss.
Similar Threads
Thread
Thread Starter
Forum
Replies
Last Post
Ugh Poor boy

Gnome507

Betta Chat

10

05-12-2011

08:43 AM