Duckie learned to fly ....
---
I knew something was wrong when I woke up this morning. Just knew it. I'd forgotten to place a lid over Duckie's 1g hospital tank and I just broke down when he wasn't in there. I searched frantically through the carpet and found his poor little body ... quite mummified. There was no hope of revival.
Dammit.
I adored this guy, though he was with me for not even a week. He was so neurotic though ... his tail was obliterated yesterday even though I did what I could for him. He just wouldn't stop destroying his tail. He also was one of those bettas that was constantly dancing and flaring and just being super energetic .... So I guess curiosity got him in the end.
Swim to the Waters of Heaven, dear one.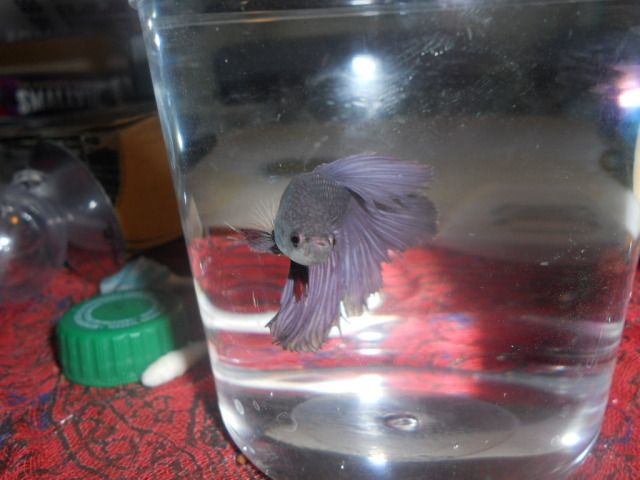 ---
SAPPHIRE (Blue Mustard Gas OHM) / Quill (Brown Tabby and White Pancake Monster)[/FONT]
Rip
---
Open your eyes
Now is the time
To rise up
With darkness we'll still shine

I'm so sorry for your loss.
---
"Some people talk to animals. Not many listen though. That's the problem."
― A.A. Milne
__________________________________
Espeon female halfmoon / 10G

Jolteon male dumbo plakat / 10G

Woh. He bites his own fins? And I know how it feels to see a dead one on the floor because the owner forgot to put a lid on it. Same thing happened to me with my female Betta. Woke up, took 30 minutes finding her on the floor. Found her in the corner of the cabinet floor with water fried right out of her; though, lucky for me there was one more sibling in the jar.
Aw... I'm so sorry for what happened... S.I.P. Duckie. :'(
---
Over hundreds of bettas die in their small, dirty cups each day. Only you can help them live. Research and then save them, today!

Banned
Join Date: Jul 2008
Location: Central Texas
Posts: 27,607
I'm so sorry for your loss.
Poor fish... and he was energetic too... to me those are the best betta fish... SIP Duckie, May he go to fishy-heaven :)
---
Tail fins and dorsal fins,Spread, expand, as well as sail,When flying in full mass,They captivate like nightingales,Attempting to breed baby fry,Their actions may surprise,For how betta fish procreate,Differs from routine rise...
Similar Threads
Thread
Thread Starter
Forum
Replies
Last Post
Learned a lesson

Shirleythebetta

Betta Memorials

7

06-19-2012

11:01 PM

What I've learned

enixrayne

Betta Chat

2

01-07-2012

03:00 PM