Swimming In Peace
---
So last night my dear Piebald took a flying jump out of his tank on my side table. I did not realize until about half an hour to 45 minutes later when I looked into his tank and couldn't find him. Sometimes he'd wedge himself between ornaments and I wouldn't find him until I moved and he saw me. So I moved to try to find him and even moved the lid thinking he'd come out with the sound but he didn't.
I was confused until I saw this little black line on my carpet in front of my bureau. I quickly went to scoop him up until he flopped around, scaring me out of my wits because I was honestly NOT expecting that!
$
So with a net I was able to usher him into, I took a cup full of his tank water and plopped him into it hoping that the carpet fuzzies would come off with the water. I lowered the water level and floated him in his tank.
He was unresponsive to any movement so I was wondering if he'd gone blind from his eyes drying or the fuzzies in his eyes. I floated some bits of Anacharis in his little cup to hopefully help him stay afloat a little better and I went to sleep hoping for the best.
This morning I woke up to a very dead fishy. Piebald had died sometime during the night, at least I can say he died from one Amazing Leap of Faith rather than some disease that I left untreated. He was a good Betta and very responsive to me so it is sad to see such a personable fish leave.
Swim in Peace Piebald!
When I first bought him a month and a half ago: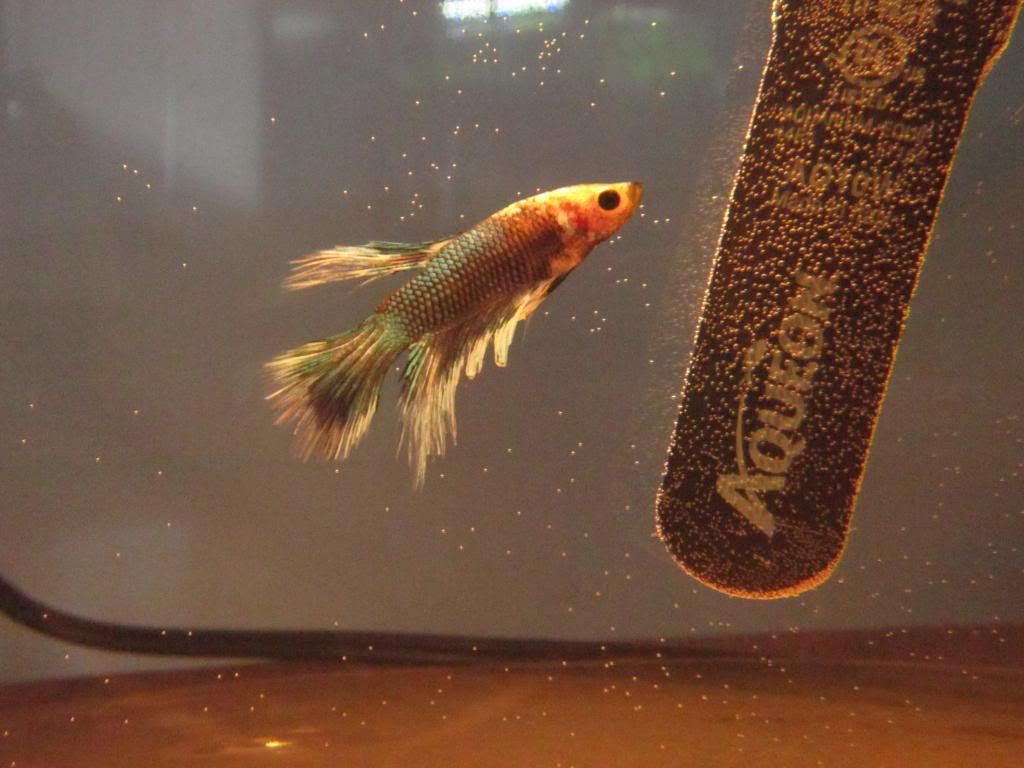 Two weeks later the fungus over his eye was gone and healed up. Fins were starting to regenerate and he was active again.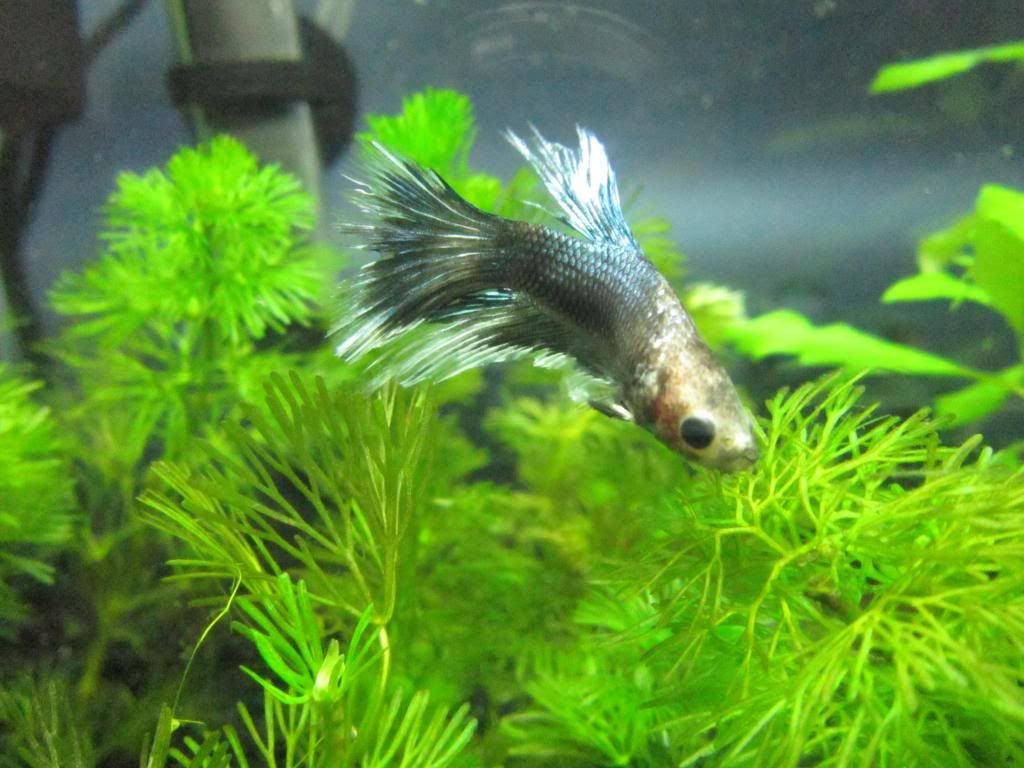 Just last week, he was starting to turn his piebald head brown!
Fin growth coming in clear: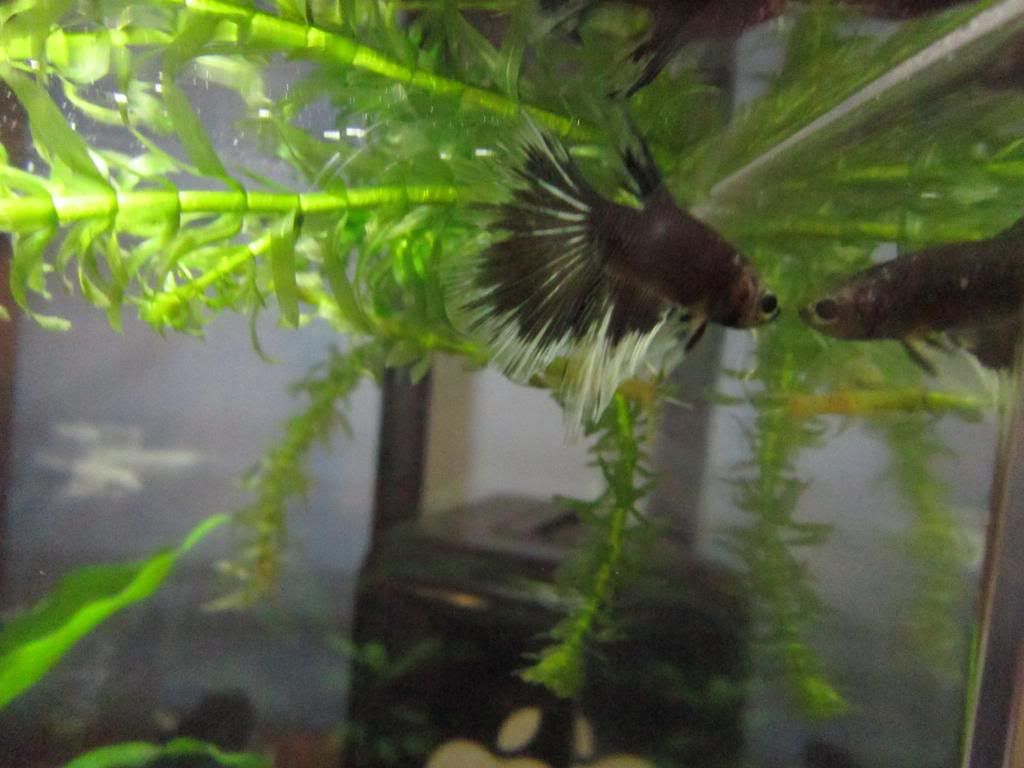 Pictures taken just last night: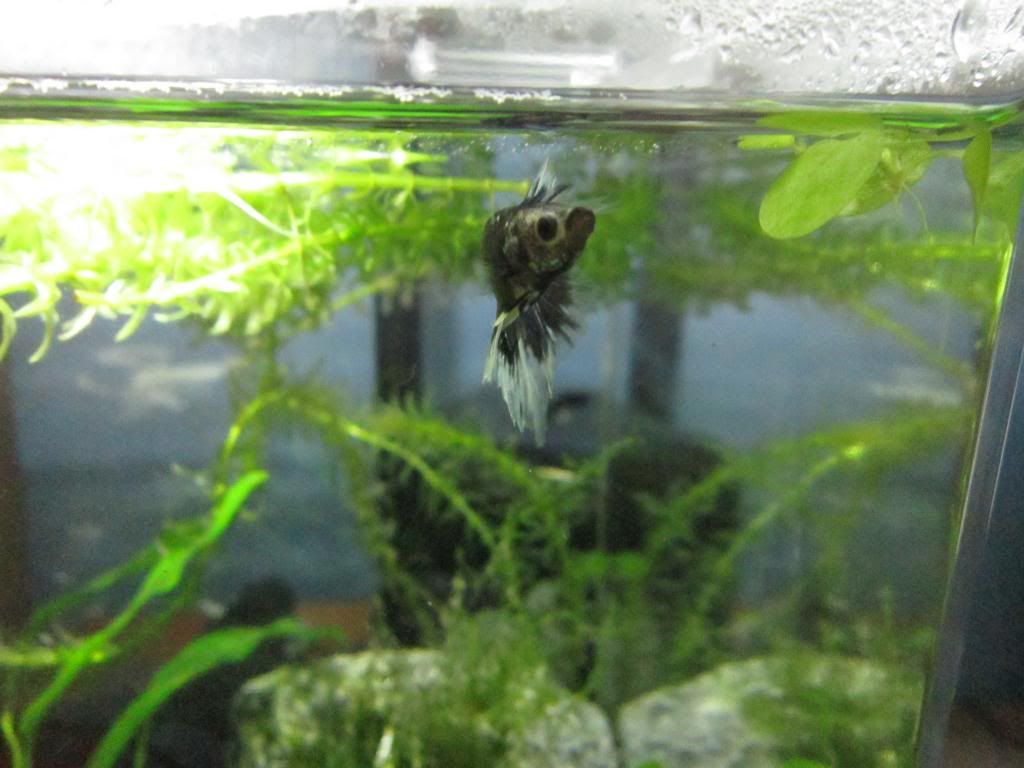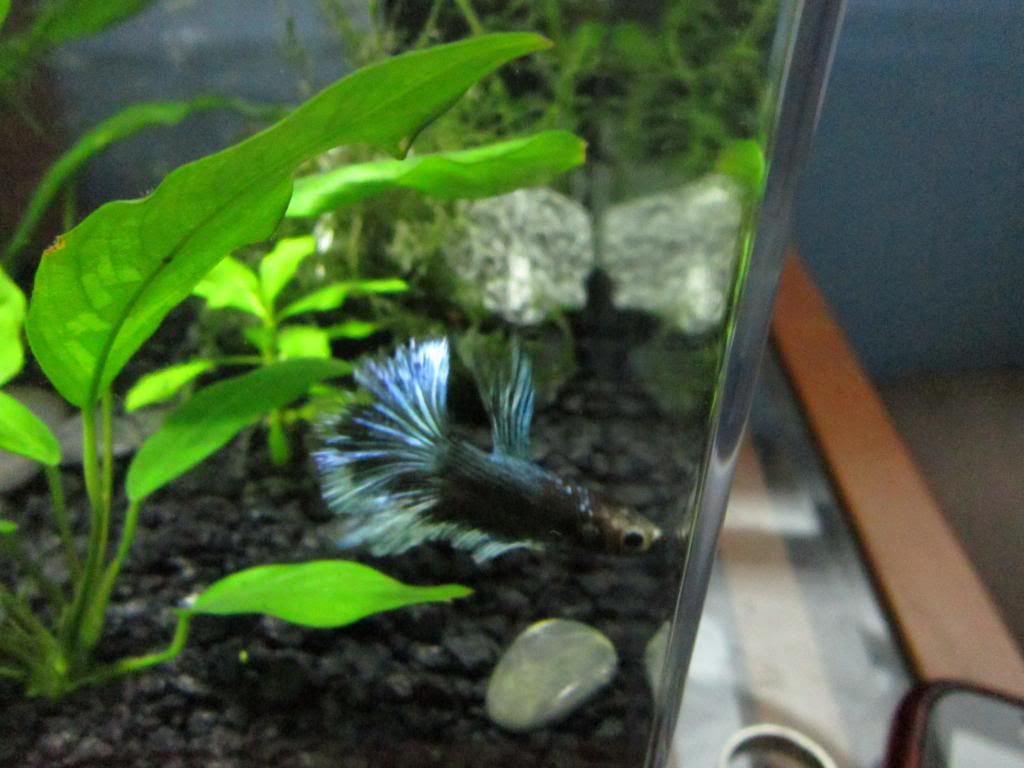 ---
Rembrandt II, Suiché
Leopards: 1:4 Hawkeye, Luna, Astrael, Dorian, Cullen
Gargoyle: Cloudjumper and Toothless
So sorry for your loss. Sip piebald.
I am extremely sorry for your fishy.

I had two danio's that I couldn't find in time when they did that.

However I was told some time later, that when they are out of the water that long, yet still moving, you should gently put your fingers and hold there tail, moving them back and forth. To get them to breath again. Its kinda like fish CPR. Because the movement of the water when you do that, makes water flow through there gills.

Don't beat yourself up. It happens to everyone. I had a cory cat jump. Lucky for me they can last quite a while with out water.
---
5gallon, One male betta
10 gallon, full of baby fry/ one baby betta
34 gallon:2 peppered corydoras, 2 upside down catfish, 2 cherry barbs, two danio's, 2 platy's, 2 high fin platys, 2 red swords, 2 angelfish, 1 dwarf Gourami, 3 black skirts, two diamond tetra's and 2 gold Gourami.
And going to get, 2 cory cats
That's good to know about the tail! Hopefully I won't have to use it in the near future but good to know nonetheless.

Apparently I'm sort of insensative to most things, even deaths of pets or large events like bombings and whatnot. Like, it makes me sad but I'm not one to cry over things like a lost Betta, I know I gave him a good life :) Especially one out of a jar and into a proper house. He enjoyed his time and I was fully aware of it :)

But thank you for the kind words, I do appreciate it :)
---
Rembrandt II, Suiché
Leopards: 1:4 Hawkeye, Luna, Astrael, Dorian, Cullen
Gargoyle: Cloudjumper and Toothless
Aww, I'm sorry for your loss lilnaugrim. :(

May he SIP tonight.
---
"In a completely sane world, madness is the only freedom."
J. G. Ballard
My betta(s): Mr. Violet(Dark red and blue VT)