Plum D...
---
Plum D was my third betta, a white w/ purple veiltail male. I had to move to a new apartment which meant taking him out of his tank and setting it up all over again...My other bettas handled the move fine. But Plum D got a bad case of Ich which I did not notice on his white fins until it was too advanced, I treated him right when I noticed it but he died on treatment day 4. I kick myself that I did not see the Ich spots sooner.
I am sorry Plum D, I tried to make it better but I acted too late...
Here is a picture of him in his better days. He was my only betta that loved the camera.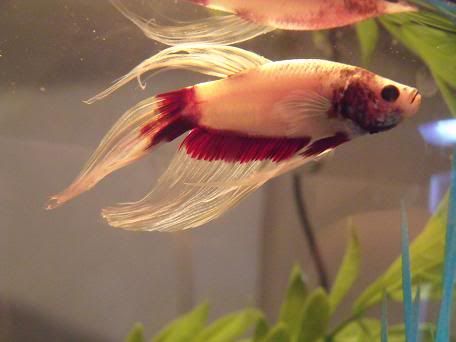 Plum was really gorgeous, very unique!

Sorry for your loss. =[
---
Sometimes goodbye is a second chance <3

"We got our backs against the ocean, it's just us against the world. Looking at all or nothing, babe it's you and I"


He was hansome. I have yet to see a betta that resembles him. The closest I have seen was one with blue fin boarder enstead of purple. Plus, he was the biggest betta I had ever seen! Quite the attention hog too.
Banned
Join Date: Jul 2008
Location: Central Texas
Posts: 27,607
Sorry
He was a nice cambodian butterfly though!
---
I only have 1 betta left, but he's a cool blue marble!
皆さん、こんにちは!私は一匹のベタを飼っています。
Sorry about Plum. You tried your best, though.
---
Puck (Yellow koi HM king) / Scar (White HM) / Salt 'n Pepper (Silver HMPK) / 'That fish' (Copper butterfly HM) / No name (White DT) / No name 2 (Turquoise/white marble HM) / No name 3 (Lilac HM)

Bo Peep (Cambodian VT) / Goldilocks (Yellow VT) / Joie de Vivre (Multicolour VT) / Lil' Peep (Blue VT) / No name (Dalmatian VT) / No name 2