RIP Janus
---
He wasn't looking good this past week, I think it was because I was a bit late on the water change...plus, a few days ago, the coconut started to grow mold. So I did a huge water change yesterday and took out the coconut to clean, but I guess it was too late. I feel really terrible.
Sorry Janus...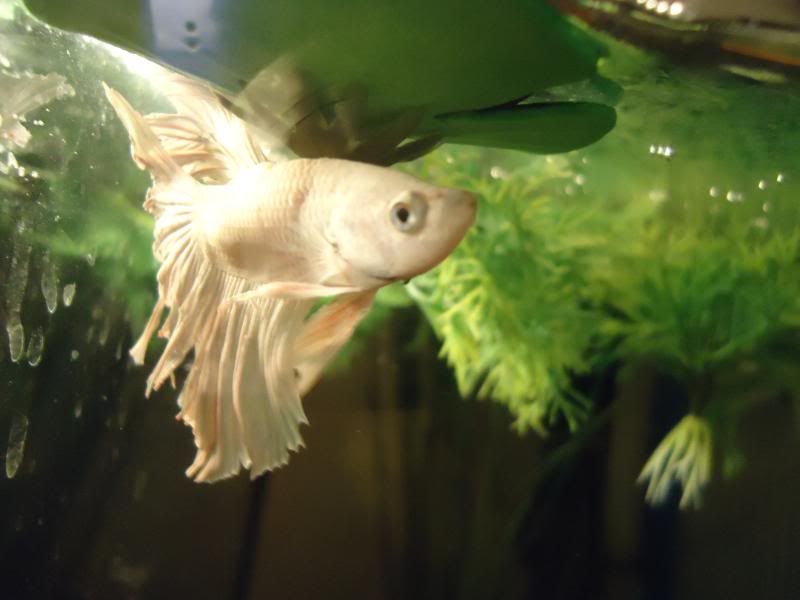 ---
Puck (Yellow koi HM king) / Scar (White HM) / Salt 'n Pepper (Silver HMPK) / 'That fish' (Copper butterfly HM) / No name (White DT) / No name 2 (Turquoise/white marble HM) / No name 3 (Lilac HM)

Bo Peep (Cambodian VT) / Goldilocks (Yellow VT) / Joie de Vivre (Multicolour VT) / Lil' Peep (Blue VT) / No name (Dalmatian VT) / No name 2
Aww, I'm so sorry Jupiter. He was a beautiful guy. :(
---
Addicted for life
Oh no ... :( I'm so sorry Jupiter. He was so gorgeous.
---
/ Quill (Brown Tabby and White Pancake Monster)[/FONT]
I'm so sorry. He was quite the looker!
---
Sequin (m), Shortcake (f), Westley (m), and Sir Righty of Walton (m).
Sorry
---
I only have 1 betta left, but he's a cool blue marble!
皆さん、こんにちは!私は一匹のベタを飼っています。
I'm sorry. =[
I know you really loved him.
---
Sometimes goodbye is a second chance <3

"We got our backs against the ocean, it's just us against the world. Looking at all or nothing, babe it's you and I"


Banned
Join Date: Jul 2008
Location: Central Texas
Posts: 27,607
I'm so sorry! He was beautiful.