Albatross...
---
I just came home and found him dead.
He tried his best to fight whatever was wrong with his face...but it seemed to get worse everday. I wish I could have done more for him, though.
I feel pretty down right now. I had him for such a short amount of time...he really should have lived longer. I don't seem to have much luck with the handsome ones.
RIP Albatross, you were a great betta.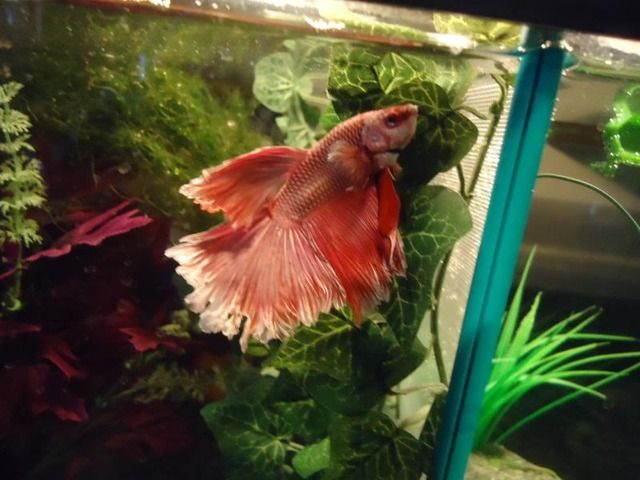 ---
Puck (Yellow koi HM king) / Scar (White HM) / Salt 'n Pepper (Silver HMPK) / 'That fish' (Copper butterfly HM) / No name (White DT) / No name 2 (Turquoise/white marble HM) / No name 3 (Lilac HM)

Bo Peep (Cambodian VT) / Goldilocks (Yellow VT) / Joie de Vivre (Multicolour VT) / Lil' Peep (Blue VT) / No name (Dalmatian VT) / No name 2
I'm so sorry ! :(
---
5 gallon,natural planted tank with 1 betta.
20 gallon community tank.
6 gallon guppy fry tank.
I'm sorry for your loss :( You did what you could to save him.
---

In the hobby for 9 years.
OOOOh noooo how sad :'(
Atleast hes no longer suffering from what ever was on his face.
---
Live, Laugh, and Love.
I'm so sorry! He was a beautiful little guy and he had a great home with you.
---
Babadook (Copper Yellow Marble HMPK) / Quill (Brown Tabby and White Pancake Monster)[/FONT]
Member
Join Date: Jan 2011
Posts: 297
Oh no D:

Im so sorry, he was such a handsome little guy
I'm so sorry you lost him. He was lucky to have someone who cared so much about him, and tried so hard to save him.
Sorry you had to go so soon Albatross, you were a beautiful boy! Take comfort in that you gave him such a wonderful home, he could have spent his life living in a cup if anyone else had bought him.
AWWW! that is so sad :(
---
"They can kill me now.Go get the yellow tape.Put me 6 feet in the ground and watch a great escape! I promise there aint a 6 shooter that can keep me down.My God is so official it's a technical foul."<Lecrae
Banned
Join Date: Jul 2008
Location: Central Texas
Posts: 27,607
Oh, no!! I'm so sorry! He was a beautiful boy.
Similar Threads
Thread
Thread Starter
Forum
Replies
Last Post
Albatross!

Jupiter

Betta Fish Contests

6

01-28-2011

10:00 AM