Pierre
---
Poor babe
I can't even begin to tell you what happened to him because I don't know. I just came home now after a long day and fed the fishies .... Pete was laying in a corner, barely moving his gills. I tried offering him a pellet but he refused to eat. Fins were clamped and shrivelled, and he just wasn't himself .... I had to put him to sleep because I knew he was suffering.
I loved this little guy with all my heart, and I will miss him dearly. Rest in warm waters Pete.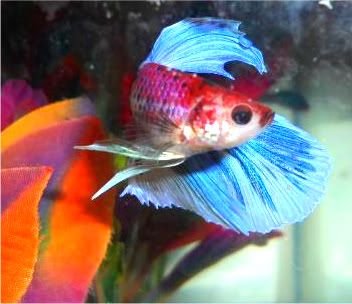 ---
SAPPHIRE (Blue Mustard Gas OHM) / Quill (Brown Tabby and White Pancake Monster)[/FONT]
I'm so sorry! He was such a beautiful boy! But I understand what happened because the same thing happened to Alakazam. He was fine one day then he just suddenly clamped and wouldn't eat. he died soon after naturally. </3

He's with The Lord now. <3
---
I'm a girl! =]
Fish:
Firedrake<3
R.I.P.
Noface/Alakazam </3
Firefly </3
Genie </3

Member
Join Date: Nov 2010
Posts: 3,651
Im sorry :'c Now you have the chance to heal your new boy and give him a good life like Pierre, who knew to the end you loved him <3
Same thing just happened yesterday with Octavian. Sorry about Pierre.
---
Puck (Yellow koi HM king) / Scar (White HM) / Salt 'n Pepper (Silver HMPK) / 'That fish' (Copper butterfly HM) / No name (White DT) / No name 2 (Turquoise/white marble HM) / No name 3 (Lilac HM)

Bo Peep (Cambodian VT) / Goldilocks (Yellow VT) / Joie de Vivre (Multicolour VT) / Lil' Peep (Blue VT) / No name (Dalmatian VT) / No name 2
Awww, I'm sorry Jupiter. RIP Octavian.
---
SAPPHIRE (Blue Mustard Gas OHM) / Quill (Brown Tabby and White Pancake Monster)[/FONT]
RIP Pierre! he was giving you some extra time and patience to help take care of your new boy =)...he had his good life. He's in the big awesome betta ocean in the sky now =D
Banned
Join Date: Jul 2008
Location: Central Texas
Posts: 27,607
I'm so sorry about Pierre.