I give up.
---
Ever since Bacardi died in February, I have had such bad luck with fish! Skrillex died 4 days after I bought him because of the stupid filter in the tank. Now today I just went upstairs to turn on the lights in their tanks and I came to find DJ had passed. I have NO clue how or why. He was just floating on his side in the tank. I posted a thread a week after i gotten him asking if maybe he wasn't happy? But i thought it was just cuz he was sorta new.. well turns out he was sick i guess...
RIP DJ. Im sorry we didn't get to know each other better.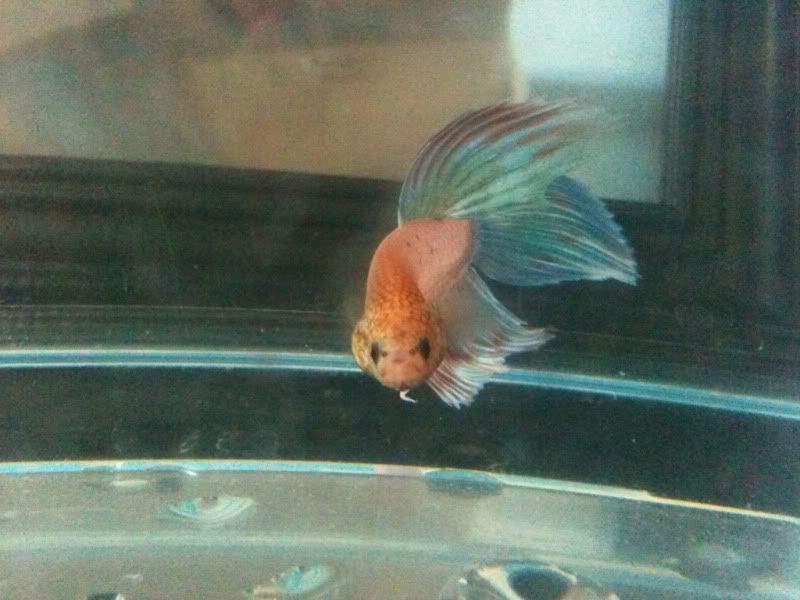 ---
TOMMYTEE- The HM 5Gal
SPARTACUS- The HM 2.5Gal


RIP BACARDI & GOOSE<3
I'm so sorry. He was very pretty. RIP, little guy.
---
Sequin (m), Shortcake (f), Westley (m), and Sir Righty of Walton (m).
Banned
Join Date: Jul 2008
Location: Central Texas
Posts: 27,607
Aww, I'm sorry! He was a cute little guy. Do you think something could be wrong with your tap water?
I'm sorry for your loss, he was a very handsome fish
aww sweetie dont give up. some fish are meant to be with us for a short time while the others for a long time.
I felt like giving up when Dastan was so sick off and on it got to the point my bf groan every time i went near Dastans qt tank. But i have 17 other fish who rely on me and in turn I on them :/

Many fish will come and go but their memories will remain forever <3 <3 <3 <3
---
Female Bettas:Gaia,Bubbles,Tabitha, Rani, Kelsey, 4 unnamed Male Bettas:Oscar, Spyro, Cookie Monster, Kermit The Frog, Grover II, Alvin, Archillies, Moostash
Snails: Yoshi,Peach,Lugi,Mario
Others:Quismodo, Esmerelda, Lavern, Banch(<Guppies) 2 unnamed bristle noses, 2 unnamed reticulate "yoyo" loaches
Furbabies: Kobi & Beau
M F S ˙ʇƨσן ǝƨσɥʇ σʇ ǝɔɐǝԀ ʋƖ ʇƨǝᴚ
"Can never have too many fish"

Similar Threads
Thread
Thread Starter
Forum
Replies
Last Post
AH! How do I not give in?

puppyrjjkm

Betta Chat

16

03-04-2010

09:54 PM