มาลี and Avalantic; Twice the Grief
---
While I normally come up with something elaborate and beautiful for those I've lost to various accidents, diseases, sicknesses, etc.... I can't really bring myself to do it for มาลี (pronounced ma-LEE, with the "ee" sound cut short) and Avalantic "Sparrow". I'll just tell generally who they were and how they were... and probably come up with something decent later on.
To be honest I feel so much grief over both deaths around the same time that I don't feel like doing anything at all. But I do owe them this, at the least....
มาลี
Mali was the second oldest female I've ever had. She was just a plain old pet store betta fish; a dark blue with a bright metallic blue sheen. Like the oldest Leliia, her colors changed, but it was based on where the light hit her. Sometimes the metallic was a green or purple color... all in all, a very beautiful girl.
She came home as tiny as an inch, maybe a little smaller. For several months she stayed around the same size... and to help her grow up a bit and stop being so timid, I released her into the pond with the guppies and other betta fish. I let a month... or was it two? go by before I decided I wanted to bring her back... She was obviously more attractive to the male (he built a bubble nest, and her fins had ripped the worst out of the other two girls) than the others, but I was stunned by how much larger she got.
I had just set up the 10g for a group of five bettas. I already had Avalantic (Ninja's destined mate) and Northern Lights, I just had to go buy two more girls. Even compared to Avalantic, Mali was much bigger compared to her. She must have been a little past the full size a regular breed of betta should be. She was definitely full of eggs, too.
In short, the sorority got together... and while Mali had definitely gotten more mean and less timid, the five got along very well.
I don't know what caused her death. I don't know when she died, but I know it must've been around the first week or two of August, when I had already left on a plane to take my 6-year-old halfbrother back to Illinois for school. I'm very sad to lose someone who grew up with Leliia, but I do still have jade, and I'm even happier that, while she was alive, I did what I could to care for her and her "siblings". I only wish I could say goodbye.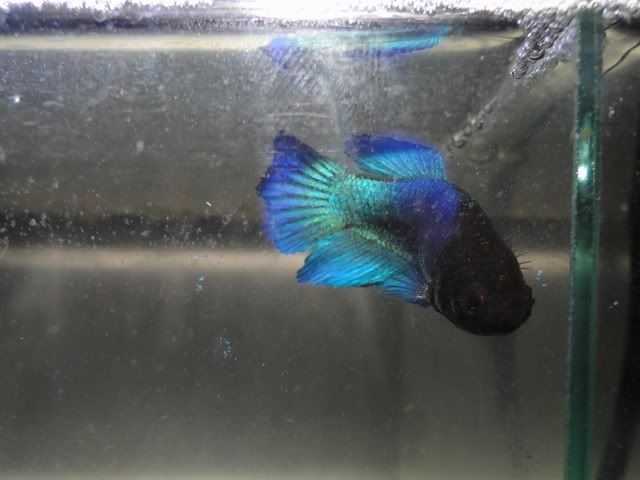 (More photos of her [though sadly I never got any of her after she came out of the pond] available here:
http://s1185.photobucket.com/albums/z356/djblakbird/Siamese%20Fighting%20Fish/Mali/
)
The second entry will be for Avalantic, which I'm working on now.
---
---
Last edited by BlakbirdxGyarados; 08-31-2011 at

07:02 PM

.
Avalantic
I called her Sparrow for a nickname, simply because of her ventral fins that were shaped as a bird or bat's wings. Sparrow sounded as graceful and peaceful as she was, so that stuck.
Her name, however is a mesh of words: Avalanche and Arctic. Her dragon pattern reminded me of my mother's dog Oliver, who rolls in the snow madly when winter comes and the snow sticks all over his sheltie fur and face. Avalantic's patterns seemed as if she, too, had rolled in the snows.
I bought her as Ninja's destined partner... I love dragons immensely, and I wanted to breed them first. Initially I chose a different female, who strangely looked as if a stroke of white paint on her sides. Sadly she leapt out of her tank the night before as the seller went to pack her up for me. I chose Avalantic as the replacement... I will never regret having her.
Sweet, calm, and the most non-aggressive Thai fish I've ever seen, Avalantic earned the second nickname "Angel Wings." She was never one to start, finish, or even be in a fight with others... only when she was truly cornered did she dare fight back, and furiously enough to scare off the other.
She was also very camera shy.
I wish I had taken more pictures of her before dropsy and fin rot took her away... I more wish that I asked the caretaker to do a water change for my tanks while I went on my 3 week trip, but I know now to never assume they will do so for you without your asking.
In any case, I did my best to help recover you, though I felt it was hopeless.
Perhaps, somehow, you weren't in pain...? I've never seen a fish with dropsy be as active as you were during your last few days. You even ate the medicine-food I supplied.... None of my grandfathers fish would eat, move, and they'd barely breathe....
Avalantic and I are very alike in that we're just as shy as the other, and when we have to fight back, we'll do so strongly.
Mistakes are made, and I never make one twice. You taught me more about you and your kind, and how to be stronger even when there is no hope left of life. You never had a voice, but you taught me to be a little louder.
No one can say anything about how "stupid" it is a fish taught me what I aforementioned. You were and are not just a fish. You were my sweet shy angel with the strength to move during the last hours....
Thank you for letting me pet the top of your head last night. It was nice to say goodbye....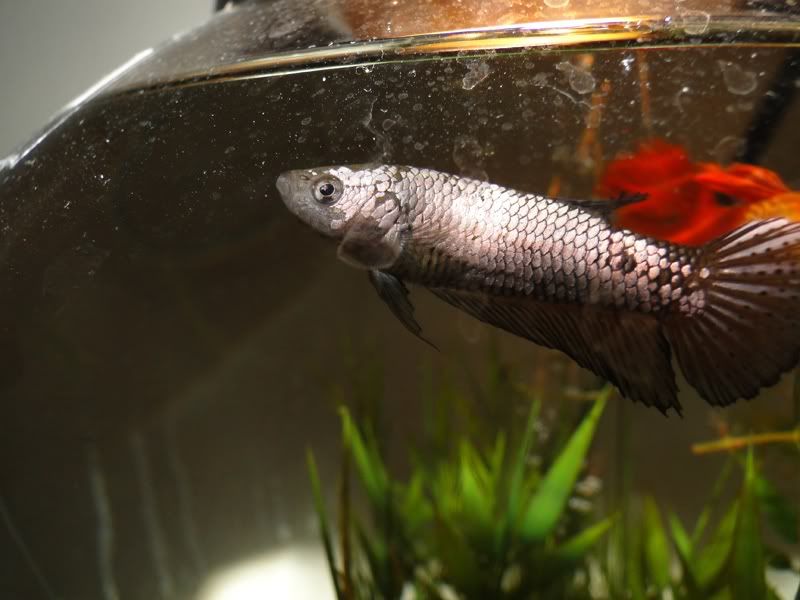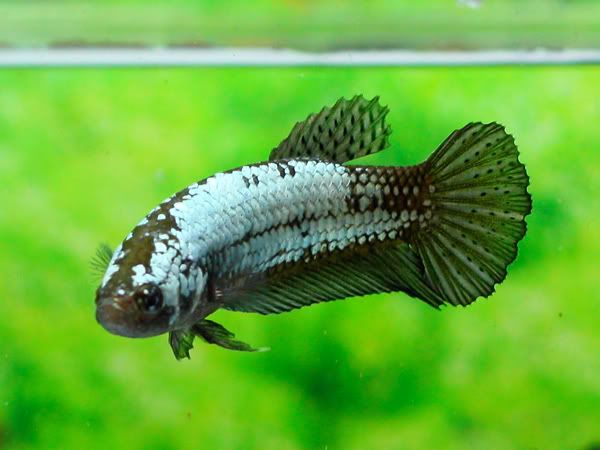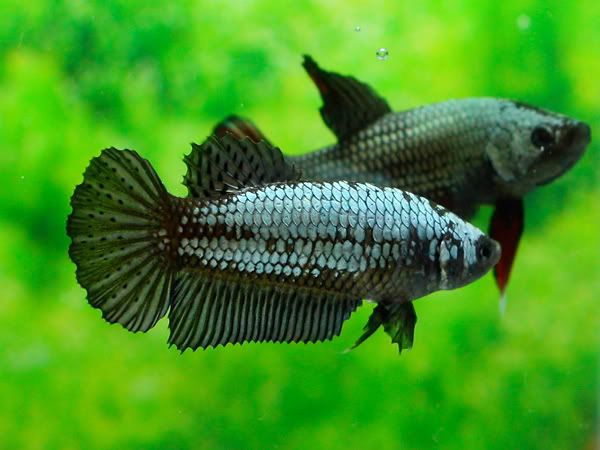 (For more photos of her [though sadly I barely have any...]:
http://s1185.photobucket.com/albums/z356/djblakbird/Siamese%20Fighting%20Fish/Avalantic/
)
___________________
"If angels do exist, as animals rather than just humans, then I know that I'm surrounded by them."
Avalantic "Sparrow" "Angel Wings" Warner
April 21st, 2011 – August 31st, 2011
___________________
---
Add-on to Mali's:

"They say you shouldn't underestimate the quiet ones.... Once they get a chance to toughen up, they get mean with it.... But they're still the cutest and sweetest things, at the same time."
มาลี สีน้ำเงิน วอร์เนอร์
เจ็ดของเดือนมีนาคม 2554 - ช่วงต้นเดือนสิงหาคม 2554
(March 7th, 2011 - Early August of 2011)
---
yea the quiet ones are the best...im sorry for your loss and my heart grieves for them.
Augh... adding Bandit to this.... She somehow flew out of the water, through the hole in the lid (where the filter is) and landed on the floor where she ended up drying out....
Bandit, I didn't know you for long... I had to leave for a trip right after I got you and safely established the sorority. Coming back, I hoped to get to know you more, but I already lost two girls, so it just didn't work out....
I hoped you'd find a good home with someone who doesn't travel much, has a sorority, or just has a place in their heart for you. I suppose the gods have quite a sorority, though... and you're always well taken care of there.
All I can ask is you find Leliia. It's hard not to see her, there aren't very many pink and metallic light blue hmpk bettas around. She'll be the one with Avalantic, มาลี, two veiltails and a cellophane halfmoon. (One vt is a lovely sky blue with white, the other is red-finned with a striped body like yours.) You find them, and you all stay together... I miss you already, but I'll see you all one day, too....
"Not much can be said about that one... No one knew 'im well, just kept to himself, all quiet-like.... Heard he was a nice guy, though. Didn't hurt nobody. What's with all these recluses? Ain't they heard nice people are treated nice? Get out here and join the world, we need you."
Bandit Raccoon Warner
July 28th, 2011 - September 1st, 2011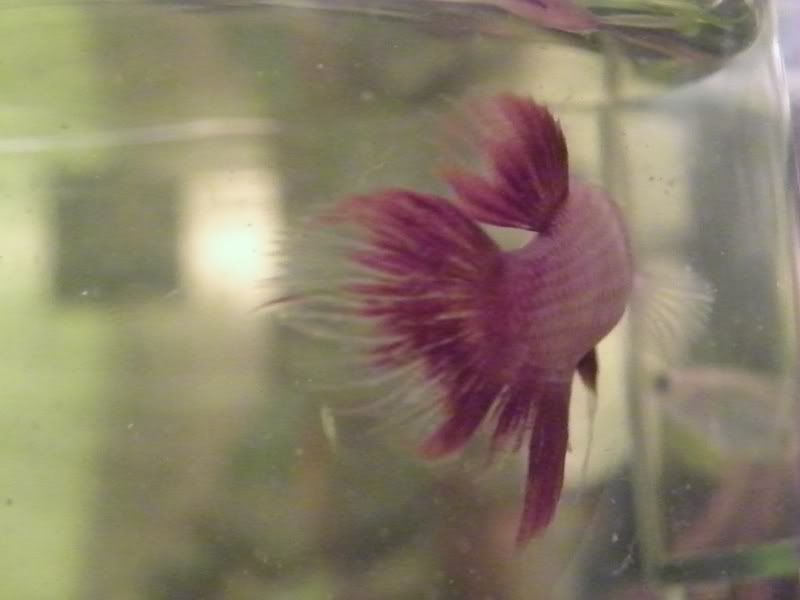 ---
---
Last edited by BlakbirdxGyarados; 09-01-2011 at

11:16 AM

.
I'm so sorry for all of your losses. :( They all sound like amazing fish, and they are very beautiful. -Hugs-
awww... thanks for the hug...
I really took a hit on the sorority.... Thankfully I still have the divider for the tank so the last two don't kill each other, but still...
I'm more surprised that all the deaths are unrelated, but I still lost so much....
---
I've already said it, but I'm really sorry for your losses. :C These girlies were gorgeous and I'm sure they loved the home you provided for them.
---
Boys: Ichabod, Canary, Perseus, Louie, Cherokee, Rojo

Girls: Marie, Hilda, Pixie

Rest in Peace: All of my former fishies. <3

I did my best for them as well as I could. They all seemed like they liked where they were and how well I took care of them, so that makes me happy at the least. :)
---