Mo's "For Sale" Thread
---
Well. Now that I've relized I'm posting auctions daily on AB. I though I would give the forum first grabs at whatever I have and a discount. Everything is 10% off for the forums.
Micro Worms
5 Dollars USD - 4.50 - FREE shipping - Total Cost - 4.50 USD
The name MircroWorms can confuse you a little bit. The "Micro" part makes sense as they are very little, but the "worm" part won't, as they are actually nematodes. Other foods such as banana worms and vinegar eels are nematodes too. Microworms are great little first foods for fry as they are highly nutritional, and make fry exhibit the natural hunting behaviour as they would in the wild. Betta Splendens fry are one of those fry that require live foods, microwoms are great for feeding these litle fry, aswell as many other types of fry. You will be recieving a ready to feed culture, once they settle they can be fed within hours. Shipping is of course, FREE. Under one rule, dont complain about minimal alive microworms if you are the one who left them in the mailbox in the heat. With your culture you will also receive directions on raising and cultivating them, unless you want me to send that information in an email
Banana Worms
5.00 Dollars USD - 4.50 - FREE shipping - Total Cost - 4.50 USD
Ooo. I love bananas, but these little worms do too. Lol. They are called banana worms for a reason. They have to have a slightly mashed up banana in there food culture. They are amazing little creatures that are great for feeding to young fry such as guppies, killifish,
Bettas
, Platies, and Swordtails. I personally use these to feed to my fry with much sucess and would consider them a need for raising Bettas. Since they can be fed at the free swimming stage they are extremely useful. Along with the microworms. These are also ready to feed, and will be shipped absolutely free. Shipping is on me. Directions on how to raise, culture, and cultivate them will be included on a small slip of paper with the shipment, unless you want me to email it to you so the culture is ready for them. All you have to do it plop them in. Lol
---
Hornwort
Amount : Handful
Price : 2.00 (discount is already incorporated)
Shipping : 5.50
Total Price : 7.50
Hornwort is a very easy plant to take care of that has a beautiful apperance with minimal specialized requirements, it is very hardy and has always thrived in low light with no added nutrients for me, I have some in every one of my tanks because I love it so much and it grows so fast. I love having them in my tank for many reasons, fast growth, beauty, readily available and because it's hardy. This is the only plant that didnt die on me when I first started with plants, I was basicly a plant killer but this one always thrived. I thought I would share it with some of my fellow fish keepers.
---
Aquatic Plants
Species - Hornwort, Anacharis, Micro Swords, java moss, willow moss, Argentine Swords, Rotala Indica, and water Poppy
Price - 2.00 (Discount Already Incorporated)
Shipping - 5.50
Total Cost - 7.50. This is a great deal. Most sellers are way higher than this for an equal or even smaller amount of not as healthy plants
All plants come directly From my disease free tanks, I am not encountering any diseases right now and rarely do. You will always get clean, and disease free plants that are extremely healthy and are grown under my watch, I always manage growth and only send out healthy plants. Your orders will go out on Monday's, Tuesday's, and Wednesday's. All payments are due Wednesday 10:00 AM for it to be sent out that week. Your shipment will be shipped through Priority mail and will always be double bagged to prevent any leaks. All of these plants being offered are extremely easy plants that I've had success with in low light setups with minimal or no fertilizers. I would recommend each and every one to experts, and Beginners, anybody who is interested in plants only needs water and fish to successfully grow these plants, they thrive under my neglect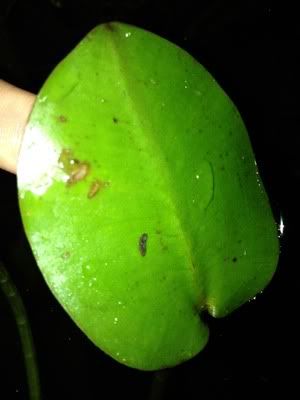 ---
---
Last edited by Mo; 06-24-2012 at

09:29 AM

.
Nice Mo, probably later on i'll buy some micro worms :)
---
[CENTER] Cherry Pop, Gus Gus, Gaia
I sent you a PM about buying some plants! : )
Availability of evrything will be updated on a daily basis : Micro Worms, Banana Worms, Hornwort, and Misc. Aquatic Plants Are all available
---