Betta's for Sale/Adoption
---
***NOTE: ALL BETTA'S WILL BE SHIPPED AFTER FOURTH OF JULY WEEK***
***My betta's are kept in very soft, acidic water. If you have hard or alkaline water I would acclimate them slower than usual.***
As I have been organizing my fish room I have come down to deciding whether or not who will need to be re-homed so they can get the love and attention they deserve for being the awesome bettas they are. I have three wonderful, healthy boys who I would like to find homes for.
Shipping Prices for the boys goes for 10$ for Priority and 28$ for Express.
Rusty
Type: Traditional Copper HMPK
Age: 6-7 Months
Price: Free
Rusty is a very laid back boy who doesn't flare at anything, not even a girly betta. He eats pretty much anything you put into his tank and loves to blow bubblenests all day long. He is active and would probably thrive in a large tank.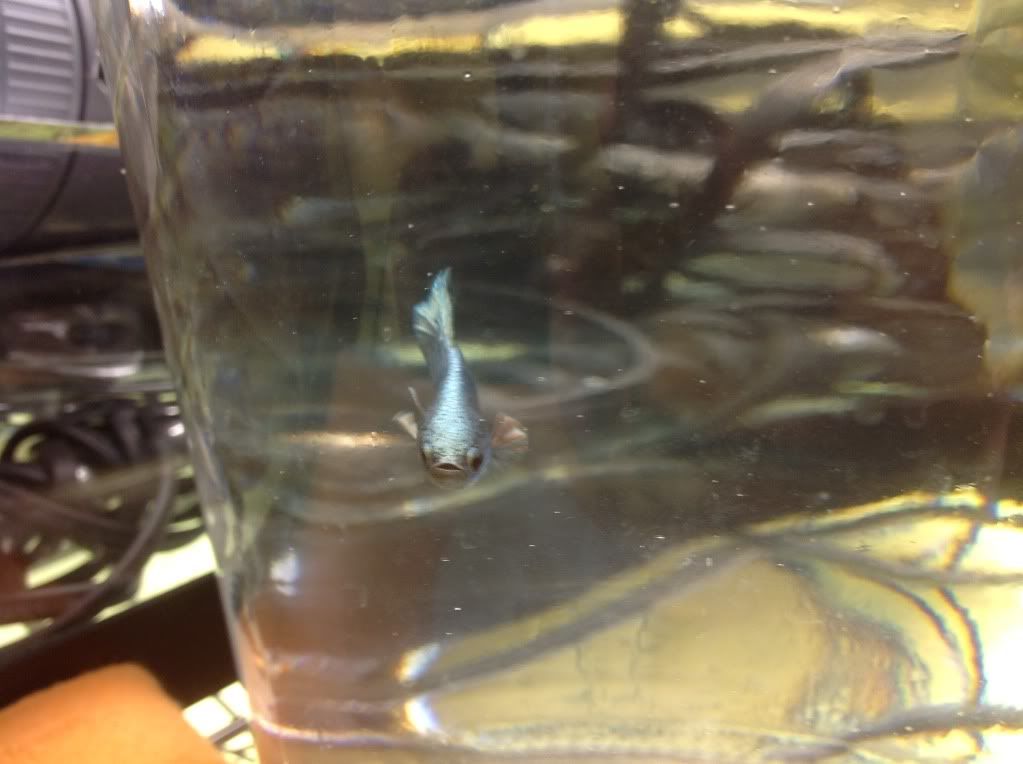 Patch
Type: SD Cellophane with red/blue marbling on fins
Age: 7-8 Months
Price: Free
Patch is my nervous boy who would do better if he could have his own tank and peace than be in constant contact with other bettas. He will flare at other boys but keep sessions short because he is a tail biter and chews his caudal to pieces. As you can see it is regrowing back from his last snack on his tail. He makes little bubblenests but not like the constant nest's Rusty makes.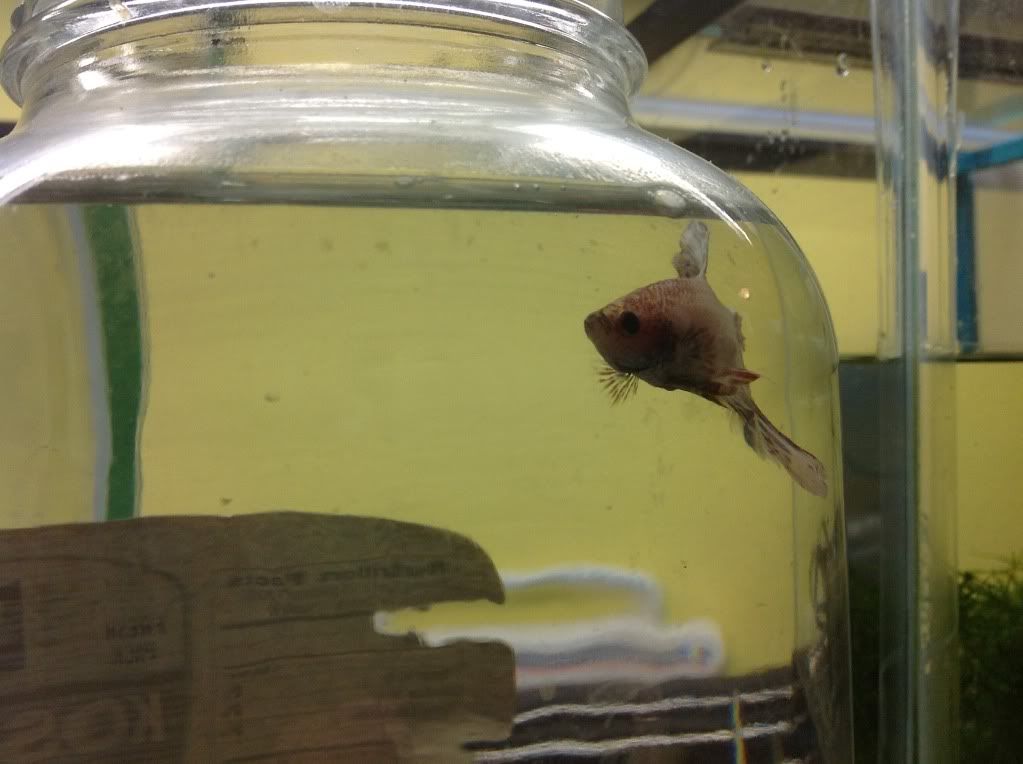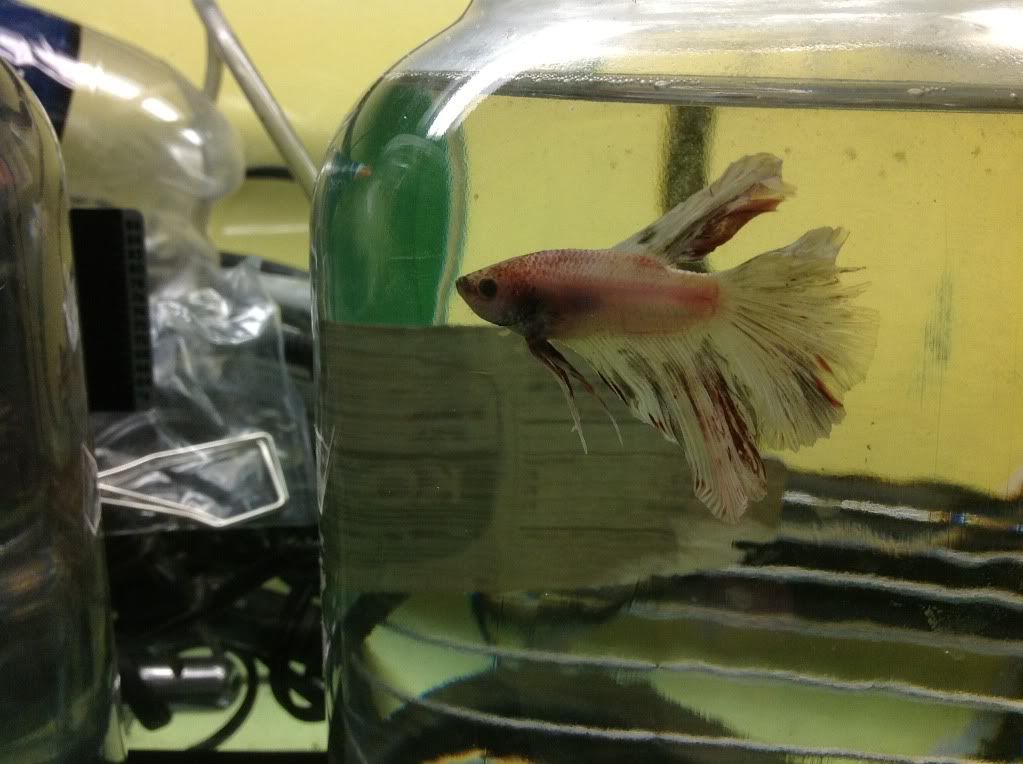 "The Cuteness"
Type: Purple/Black Dragonscale HM
Age: 5 Months
Price: 15$
Yes his name is The Cuteness, because this little man is my baby boy. I have raised him since he was a little fry when a spawn my friend had suddenly all passed away except three remaining babies. The Cuteness being the only male out of the three, his sisters still live at my friends house in a sorority. I would prefer him to be housed with other betta's such as a divided tank or daily exposure to other boys (The remaining babies had stunted growth and he did not start growing out until he was three months old prior to that he was presumed a girly and was in a sorority. He is still growing his fins in as you can tell from the incomplete coloring on the caudal.) Pictures do not do him justice, he is a dark purple in person and is still coloring up. He LOVES to flare and never gets tired of it, makes bubblenests and try's to coax Wicca through the divider to have babies with him (She of course, wants nothing to do with him and instead makes her own bubblenest and try's to attack him through the divider. Don't worry, I am moving her soon back into her own jar
)
ANYWAYS, as you can see I am very attached to The Cuteness and I would prefer him to be shipped express. Because he is purple and I have not seen any betta colored like him before, it could be a interesting project to try and preserve his color by breeding him to a Dark Blue Dragonscale female (Both his mom and dad were Dark Blue Dragonscales so maybe he is a dark enough blue to become purple?) He has a great caudal and body shape, he has a few things to fix in his dorsal and anal. So a person who would be interested in breeding him would be considered first for a home before a being assigned a pet home.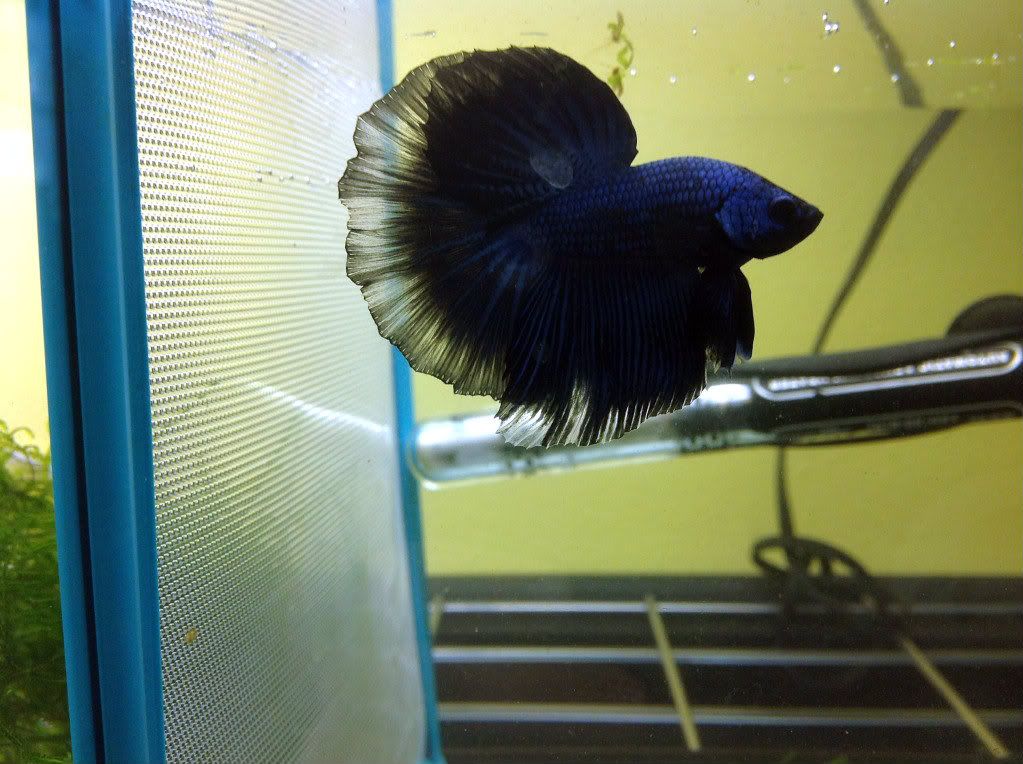 One more time if you just looked at the pictures, THEY WILL BE SHIPPED AFTER THE FOURTH OF JULY WEEK.
I hope to find these boys their wonderful, forever homes soon!
-Sincerely
Rusty and Patch have found new homes!
The Cuteness is adorable so round and dare I say.. cute lol
---
Blog of my Betta endeavors:
http://moonshinesbubblenest.blogspot.com/
Take care of the water,
the fish will follow
All of my boys have found new forever homes!