Dragons & Marbles for sale
---
First off I want to state that these are NOT my spawns. I merely paid for these guys to rescue them from the terrible conditions they were living in. The spawn was between 200-300 and she had them ALL (minus a few males she decided to jar) in a 55 gallon tank together. Needless to say they were getting beaten up pretty badly. I do not need these guys so i was hoping someone would want them! They are not bad quality fish, just bad conditions they were kept in. They are not sick and they do not have any disease or fungus. They are approx 5 months old, some are still on the small side
Parents- Father is a blue bodied HM dragon w red fins. He is a Rosetail. Mother is a HM white, orange & blue marble dragon.
Please excuse the pics, I was in a hurry to get them up on here.
#1 short finned male
#2
#3
#4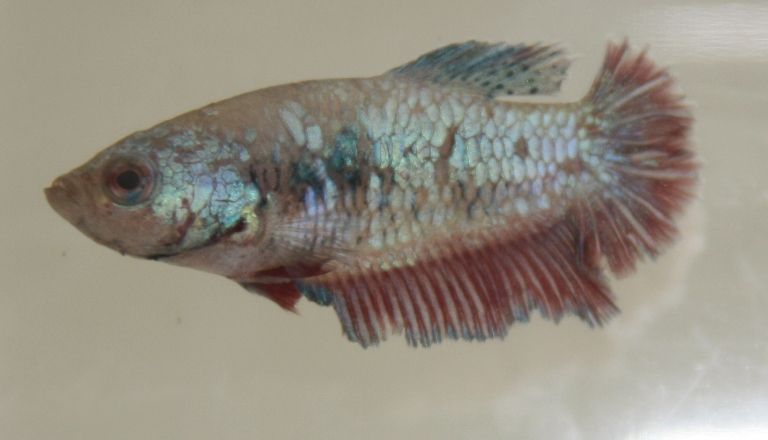 #5
#6
SOLD! Thanks MO!
She is SO PRETTY Im having a hard time letting this one go but she cant stay since I have NO place for her to fit in my spawning plans. :(
#7
Im only asking what I paid for them and help w gas so I think $6 each plus shipping is a fair price. I think I can ship up to 6 for $10. Im not responsible for lost mail nor DOA. I will do my best to safely package the betta(s) so they will arrive to you alive and well.
Please guys help me get them good homes ASAP! I hope to be posting pics of my own spawns tomorrow that are for sale. :)
Thanks
---
Last edited by Timberland; 07-16-2012 at

06:50 PM

.
Which ones were you interested in Mo? Ill PM you my paypal. :) Thanks!
congrats Mo, she is very pretty.
---
In Loving memory of:
Male VT(pink)-Magenta-2 years with me
Male HM(blue)-Lucky- 2 years with me
Male VT(blue)-Raven-3 years with me
???? ?? (blue)-Cookie Monster- 2 days-rescue baby
Still enjoying:
Male SDT- Dakota-8 months so far
Baby betta- Comet-1 1/2 months
Female 6 was bought within 10 minutes...Oh yeah and thank you! Im exited to see her!
---
you are very welcome! Thanks for helping me out! :)
wow, that male is gorgeous. too bad I have no room.
---
Elrohir the plakat
Galah cockatoo & African Grey
If only I had a pay pal account
---
Open your eyes
Now is the time
To rise up
With darkness we'll still shine

Similar Threads
Thread
Thread Starter
Forum
Replies
Last Post
Dragons for Sale

DarkMoon17

Betta Fish Marketplace

77

02-26-2012

03:59 PM

The joy of marbles...

Learn To Fly

Betta Chat

8

10-05-2010

05:43 PM

Dragons

xswornxoffxjello

Betta Chat

2

07-21-2010

09:12 PM