S> Light/Hood for 2.5g or 5g tanks
---
I bought this hood from Amazon, to provide lighting for my 2.5gallon Aquarium. However, since I have a Hob filter, it really gets in the way aesthtically.
And if one has to go, it's the light.
It's a pretty nifty little light, perfect for the standard glass 2.5gallon or 5gallon tanks. It has one regular light socket, in which I just bought a 6400k 18w CFL light for.
Used over the glass top that comes with the 2.5 tanks to guard from water
$15! includes shipping and free cfl bulb! I've barely had it for half a week :O USA and Canada only... if canada.. I might have you pay a little more if shipping costs drastically more.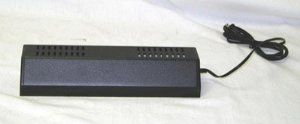 oh and dimensions...
12''h x 4''w
are you sure it will fit regular 5 gallon aquariums ?
:O I dont know. lol it's not like a lid... it's like a light that sits on top of the glass......
I think i'm interested in it, sometimes these lights for the 2.5's are hard to find