Poor fish jerky. Guess i'll go pick up some medicine to treat him with when he gets here too. I'm glad I have my extra tank now though.
---
Malcom || Eko || Fish Jerky
My spoiled monsters
all my fish are recovering already...
even the poor big momma fish who have been writhing around for days...

if you really must medicate... I'll recommend kordon's ich attack. it is all natural... and in a quarantine, i'd recommend half a capful every time you remember and a 100% daily waterchange...
Fish jerky also doesn't mind his water warm. I was heating him with a heating pad and couldnt really control te temperature. so It range amywhere from 84-88... he still loved to hang around closer to the pad where it was warm... (probably around 90)
That's good to know! He's going in the side with the heater. I got coppersafe earlier this morning. One of my other guys has a brownish grey raised bump. He's by himself and i've been washing everything down woth a vinegar solution between tanks.
---
Malcom || Eko || Fish Jerky
My spoiled monsters
i dont really like copper since it really does a lot of damage too T_T
but fish jerky's a strong fellow!
Hmm. I didn't know that. I added less than the suggested amount. It said 1 teaspoon/4 gallons and I did about 1/2 teaspoon for the 3 gallon tank. I'm also going to do daily water changes and am treating with aquarium salt.
---
Malcom || Eko || Fish Jerky
My spoiled monsters
Eko has a weird spot on him. It's on both sides and I thought it was coloring at first, but it's raised. It's gotten more gray since this picture. It's that spot right where his body meets his tail.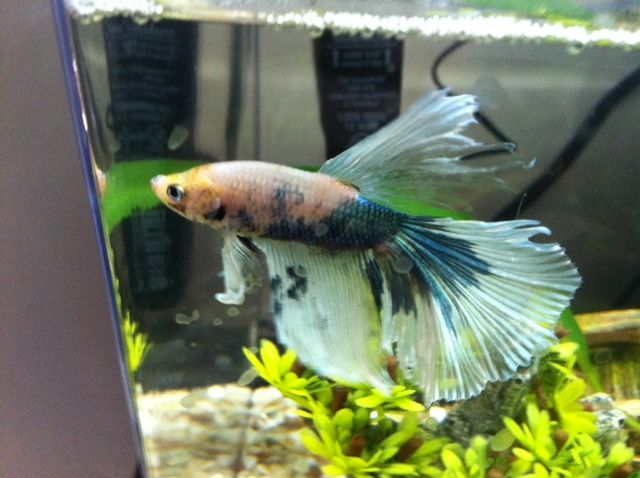 ---
Malcom || Eko || Fish Jerky
My spoiled monsters
:/ shouldnt you try a more conservative method...?
Is he still actin normal?
I tried the salt first for five days, today was the first dose I tried the copper, and there was no change in the spots. He is rubbing against plants and will rub on my hand when I'm doing water changes, but otherwise he seems to be perfectly fine. He still eats well, is playful and dances around his tank when I come in the room. I've been extremely careful with the tools. Nets, vacuums and my treat wand immediately go into a vinegar and hot water solution before coming anywhere near the other guy. My other one doesn't show any similar symptoms. If you have another idea of how I can treat him, I'm all ears, but I'm just trying to help him out.
---
Malcom || Eko || Fish Jerky
My spoiled monsters
poor thing D: i wonder what's making him itchy... all the best to your handsome little guy :O
Similar Threads
Thread
Thread Starter
Forum
Replies
Last Post
Half Moon?

Alienchick017

Betta Chat

8

07-13-2011

09:53 PM

My first half moon!!!

lilchiwolf

Betta Chat

2

01-16-2011

03:47 PM