Vinegar eels, giant duckweed, water sprite, and walter worms -
---
Hey crazy betta people! I'm trying to raise some money for jars/containers for my orange HM spawn, so here's what I've got:

I've got an overabundance of vinegar eels, so I'm sending out 3 oz starter cultures for $2.

Its time to reculture my walter worms, so starter cultures of these will be available also for $2.

My giant duckweed is growing like, well, duckweed. I love this plant because its nearly impossible to kill, provides great cover for fry, makes a nice snack for my snails and goldfish, and absorbs ammonia. 2 tbsp portions, maybe a little extra: this is the perfect ammount for small tanks, and it will multiply rapidly. $2

My watersprite has also taken off. I grow it as a floater: it has many of the same benefits as giant duckweed, but doesn't have that nasty habit of spreading to tanks you don't want it in. 2 medium size plants and 3-5 smaller ones. This plant is also a pretty fast grower. $5

All plants may have some little ramshorn hitchhikers. I'll try to remove as many as possible, but I'd still recommend some anti-snail measures if these bother you. There have been some very interesting ramshorns showing up in my tanks: reds, leopards, and brown.

However, if for some reason you WANT ramshorns, I can send you some of those, too. Just let me know how many, what sizes, and what colors you want.

I can ship any of the above (or all) for $5, USPS Priority. (USA only)
---
Solstice - cellophane HM female

I'll take some water sprite!
---
10 HM, 3 HMPK, 5 HMPK fry
8 German Blue Ram, 5 Green Dragon BNP, 4 Albino BNP, 4 Calico BNP, 6 Red BNP, 5 Kuhli Loaches, 2 ADF, 7 Peppered Cories, & 6 Tiger Endlers + Fry
12 full time tanks, 4 NPT, 6 QT/Breeders
Member IBC
Water sprite, and snails, and vinegar eels. Snail colors? hmm... blue, red, pink, bright. What is paypal address?
---
Last edited by Aahnay; 11-20-2012 at

02:10 PM

.
LOL, I had my plants misidentified: what I've got is actually water wisteria. It behaves a lot like water sprite, but I think its prettier. You guys still want some?
Here's the ramshorn colors I have. These aren't my pics, found them on Google.
Brown
(got lots of these)
Spotted
(lots of these, too)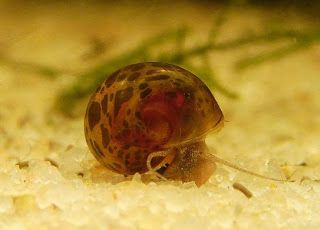 Red with a bit of a brown tint to the shell
(only have 2-3 of these)
I also have some baby golden apple snails,
Pomacea diffusa
, available. $0.50 each, and $6 for priority shipping.
(this
is
my pic)
---
Solstice - cellophane HM female

---
Last edited by Maddybelle; 11-20-2012 at

04:33 PM

.
Waiting for my padded priority envelopes to get here. Depending on when they arrive, I'm planning on the first shipping day being Nov. 26.
---
Solstice - cellophane HM female

yes, i still want them, whats the paypal? i sent you a mail.
Alright, all the water wisteria and the red ramshorns are spoken for. I still have: lots of brown and spotted ramshorns, lots of giant duckweed, lots of golden apple snails, and the walter worms and vinegar eels.
---
Solstice - cellophane HM female

I just realized that I didn't put a price on the ramshorns! Oops. These little guys are $0.50 each. I also misspriced the apple snails - $0.75. When you order snails, I have to use a box, so shipping for orders including snails is $6. I also found a few jade apple snails lurking at the bottom of the tub. These have a black body and a yellow shell - they're the same price as the golds.
this is what the jades will look like all grown up. I've only got 2 of these.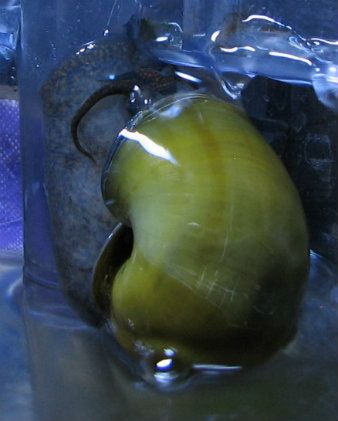 (not my pic)
---
Solstice - cellophane HM female

I already PMed you, but please change one of my golden apples to a jade!
---
Remember that the tank your fish lives in is his or her's
whole
world. Ask yourself this question, and answer it honestly: would you
choose
to live there?
Updated list
---
Here's a list of what I still have available, and a couple new things.

Apple snails
I have maybe 5-7 golden apple snails left, and 1 jade. $0.75 each

Ramshorns
I have 7 or 8 brown adult ramshorns. $0.50 each


Cultures
3 starter cultures of vinegar eels and 1 starter culture of walter worms. $2 each

Plants
1x 4tbs portion of giant duckweed. $2
3 strands hornwort. $1.50 each
1 portion mixed watersprite and water wisteria. $5

Food
2x 1oz bag of 200-300 micron Golden Pearls, perfect for fry eating BBS. $3 each
1x 0.5oz bag of sinking veggie sticks with extra calcium. Great for snails, shrimp, and plecos. $1 each

Shipping for dry goods/plant orders is $5 Priority. Shipping is $6 Priority for orders including snails.

---
Solstice - cellophane HM female

---
Last edited by Maddybelle; 11-23-2012 at

11:52 PM

.