Male Plakat with tank/acc. PU Maine only.
---
I have a beautiful male plakat betta. Hes a double tail halfmoon plakat. He was a lucky/healthy find at Petco about 4 months ago. I saw a very similair betta on ebay for $40! I paid $15 for this boy. Hes been very healthy, no issues, shy but has become much friendlier over time and is sweet to his nerite snail. He sells with his 10 gallon tank, filter, heater, 6500k bulbs and live plants. This is a pick up only in Southern/Central Maine. Everything along with the betta would total out to nearly $75+ but im just looking to downsize and would like to find a good home for him for just $15.00 (including him and everything mentioned). He's been very well cared for.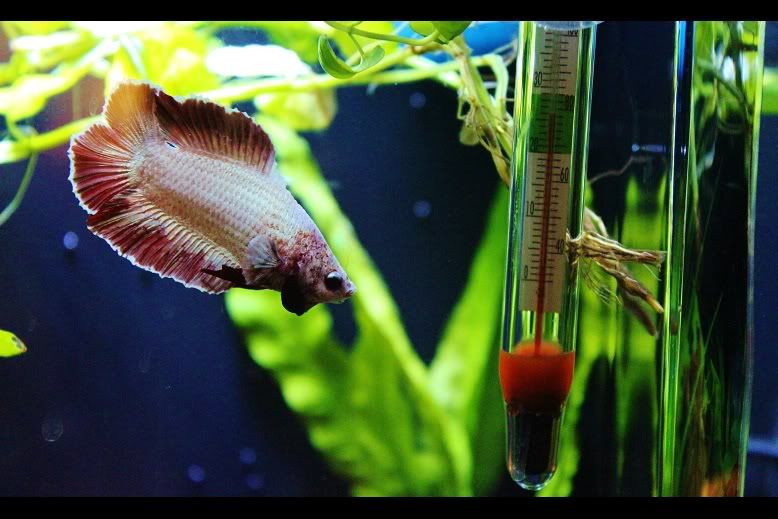 ---
Moonie - Miyagi
~ It's a betta life ~
This is really good deal and a way to help the betta... Whish I was closer
He's adorable, good luck!
if there's ANY possible way to ship him, i'd pay extra to get him to tennessee. wouldn't even need the tank, i've got a spare.
---
So remember, when you're feeling very small and insecure,
How amazingly unlikely is your birth,
And pray that there's intelligent life somewhere up in space,
'Cause there's bugger-all down here on Earth.

Godric/Eric/Sookie/Frodo/Sam/Vlad/Rasputin/Genghis/Hannibal/TARDIS/
LaVey/Crowley/Dahmer/Ripper/Al/Thor/Skadhi/Freija/Sunna/Mead/Mani/
Loki/Grendel/Gail/Beowulf/Camilla/River/Bathory/Arwen/Lafayette/Deb/Jack Skellington (soon)
Sorry but no I wont be able to ship him :/ .. Thank you for your interest though...
---
Moonie - Miyagi
~ It's a betta life ~
would take in a heart beat if I lived there!

darn south florida! lol
---
1 Doggy - 2 Kitties - From 1 Betta To 5!
Rehabber dealing with native florida wildlife
at The Sawgrass Nature Center and Wildlife Hospital.
Its only a few states away! lol! We must not have a lot of betta people in Maine on here :/
---
Moonie - Miyagi
~ It's a betta life ~
i will take him if its not too far of a journey into maine,ill give him a great home,ive allready got 2 tanks up and running,im in mass,if the journey would be no more than 40 mins each way i would be able to go pick him up