Beautiful boy: cheap!
---
hey everyone!
So I have gotten into rescuing babies...I am starting up a sorority tank with the females. Anyway, this little guy turned out to be a male, and I feel like if he got a home with one of you guys it would be better for him. I don't have much extra room for him and I think he could get more attention from someone who doesn't have a miniature 'betta farm' upstairs
Some information on him: I rescued him maybe a month and a half or two months back. He was very sick and lethargic, tiny and skinny when I got him and he has turned into a beautiful boy, still growing. He is still somewhat small, but big enough to where he is ready to move to a new permanant home with someone else. Not sure on his tail type yet, maybe he will turn out to be a veiltail...not sure...but you will get to see him finish growing up...and he has blue lipstick!
He gets fresh BS, SBS, or bloodworms twice a day (when he was younger he got it 3-5 times a day). He is currently in about maybe a two gallon planted tank right now with sunlight for his light. He is a very friendly guy and always comes up when I walk up. He builds bubblenests ALL the time and is in VERY good health...very active.
So here he is: he is a little more than an inch and a half from head to tail. He is a very beautiful blue (with blue lipstick), and his pelvic fins are a deep red tipped with white. That same deep red runs a little bit along his underbelly as well. There are colors and patterns in his finnage that you can't see as well in the pictures as you can in real life.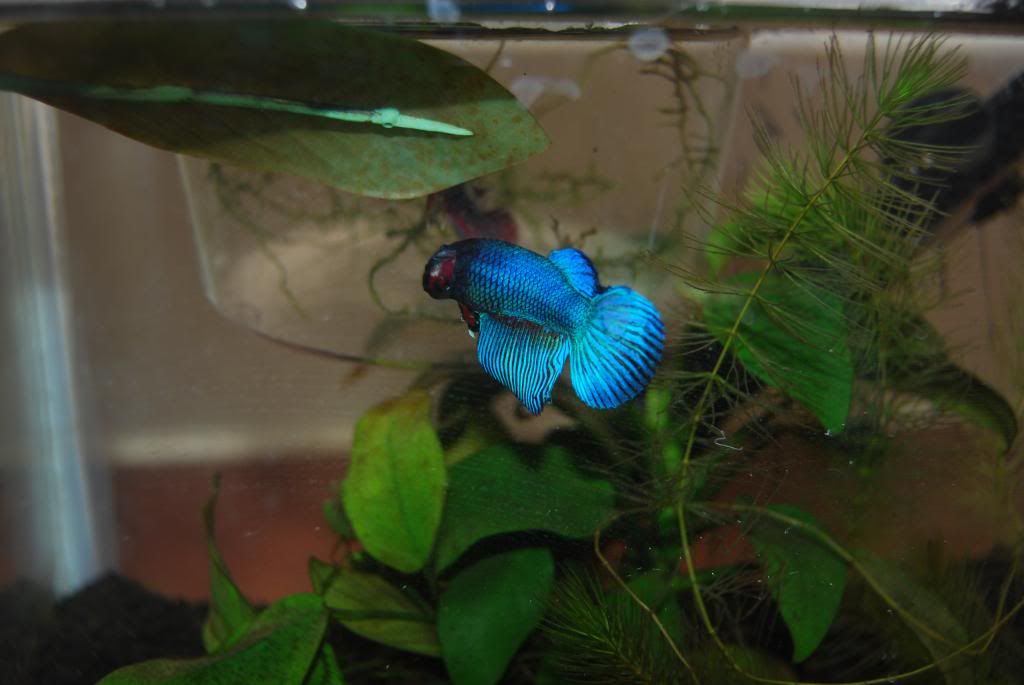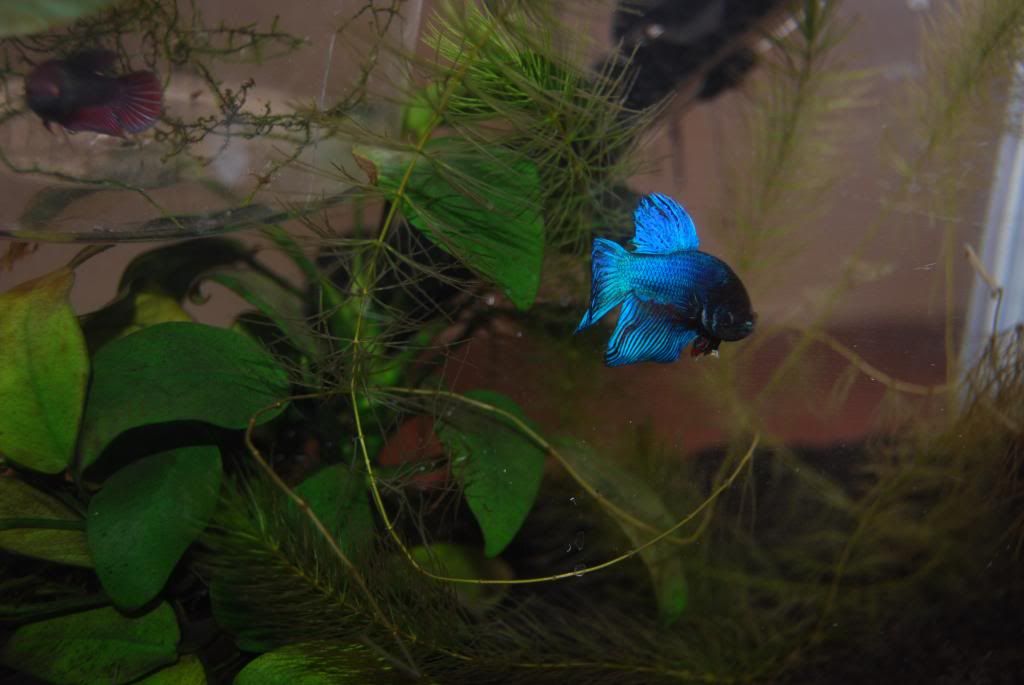 All I ask for him is $5...and this is only so I can continue to rescue them. It is only to cover the original cost of him and all the food that I have to buy.
If you are in the Phoenix area, that would be best as I have no experience with shipping and would hate to lose this sweet little guy.
Please let me know if you have any interest in him! The sooner he can find a new home, the sooner I can save more baby bettas from death and give them a better life!
Thanks for looking!
Meg
Banned
Join Date: Jul 2008
Location: Central Texas
Posts: 27,607
He's cute! I hope you find him a good home.
There is a thread about shipping bettas, you maybe able to practice packaging just water and shipping it to yourself to ensure nothing goes wrong. Somewhat a waste of money but you're able to ensure you can ship a betta =] LOVE his color. VT or not, beautiful fish. I'm going to try my hand at rescuing soon.


Edit: He maybe a round tail.
---

Dei Vallie ~ HM M Pinkster ~ VT M Rheya ~ CT F Stardust ~ CT M Koi ~ HMPKEE M Zippy ~ HM M Princey ~ PKEE M Zeke ~ HMPK M Toothless ~ HM M Celestial ~ VT F Frost ~ HMPKEE M Unnamed ~ DT M PeachyKean ~ HMEE M Pongo ~ HM M JellyBeanRayne ~ VT F Unnamed ~ DeltaTDS M
---
Last edited by hannah16; 12-27-2012 at

03:24 PM

.
Thank you! I know how to ship, but I would just hate to see something go wrong, especially after he almost died in the first place...

However, if there is a someone serious about him outside of the phoenix area that i can trust will take care of him, I might consider it....but no promises!

And I can defimitely say that rescuing is one of the most rewarding things...especially rescuing those poor babies from petco! In the past few months, I have had 6 live (one was adult), and 2 babies died...sometimes some of them were just too far gone...but they died in a better home!
---
Last edited by Meggie6347; 12-27-2012 at

03:25 PM

.
How adorable.. his coloring is just like my Jayhawk's was! Good luck!!
if you don't find him a home by next spring, i will take him no problem. i live in mn. too cold right now to ship. i have a 10 gallon he could share with shaloknir. his tail fin rays are straight compared to my baby veiltail, and don't come to a point. i think he is a baby delta.
---
bettas-goldfish-shrimp-snails-planted tanks
---
Last edited by sandybottom; 12-27-2012 at

07:38 PM

.
If I still have him by then I will let you know! Thank you!

If anyone else has a spot for him, please still let me know!
Member
Join Date: Nov 2012
Location: Illinois.
Posts: 1,556
ohh god.... im totally in love......I do have a spot, but since im in Illinois, you would have to ship. anyoo, how do we pay for him?
---
Boys: Rosewell and Ren

Girls: Juno, Circe, Iris, Rhea, Calypso
---
Last edited by bryzy; 12-27-2012 at

09:17 PM

.
Quote:
ohh god.... im totally in love......
Have any room for him?
hehe he is definitely a cutie! And he is so interactive with everything outside the tank
I wish I could give him for free, but unfortunately right now I don't have the money to keep buying them and the food they need and give them away...but he is about as cheap as they come!
Edit: sorry I didn't see the last part of that post...I will ask my mom if she is okay with me shipping him....if she lets me, would you be up for paying for shipping? I would have to buy the heat pack and such...and probably Paypal if she lets me ship him
Thank you so much! I will talk to her and let you know!
---
Last edited by Meggie6347; 12-27-2012 at

09:20 PM

.
Member
Join Date: Nov 2012
Location: Illinois.
Posts: 1,556
Oh yah, I totally have room. I'm going to talk to my dad as an early present for my bday in January. He has Paypal and I can pay shipping!
---
Boys: Rosewell and Ren

Girls: Juno, Circe, Iris, Rhea, Calypso