Free weeds... and microsword.
---
I have some Microsword as pictured. Please know that these require medium-highlight to grow. No CO2 needed.
I also have a bag of mixed floaters (Azolla, duckweed, salvinia, frogbit) and a bag of mixed aquatic weeds (mostly mayaca fluitans...well some are not really weeds, but everything is just so tangled that I cant be bothered...)
Micosword must be shipped priority. $6.50
Weeds can be shipped $3 snail mail with no tracking
or priority $6.50
You can also take everything ... shipped priority...
paypal gift payment and continent US only. Thanks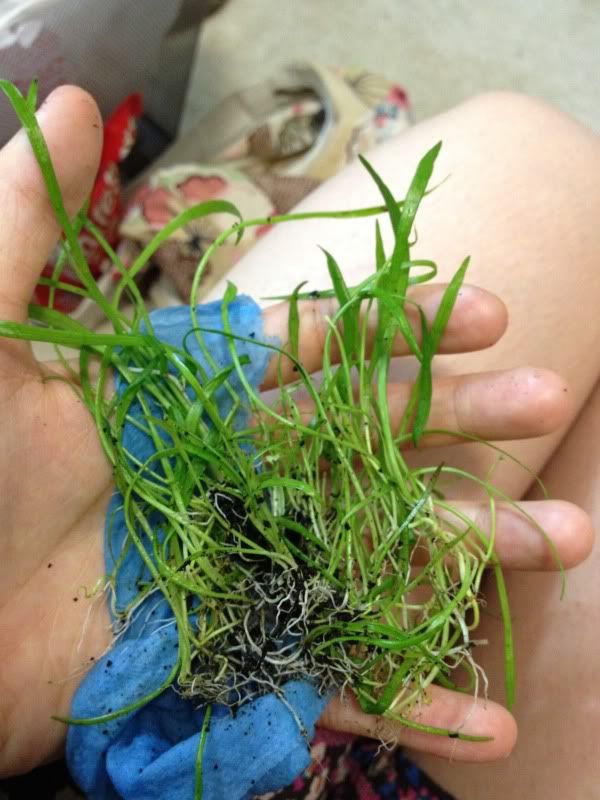 ---
Last edited by ao; 07-03-2013 at

05:59 AM

.
Member
Join Date: Jul 2010
Posts: 3,026
Aokashi, just a question about micro sword......I bought some from Petco and it has been doing OK for me for about a year now but it doesn't spread, is it supposed to spread? How to propagate it? Latin name was crypto wendii or some such name.
Crypt Wendtii is different from a microsword. This is a crypt wendtii green.
This is a microsword -
(Pictures borrowed from google image search for illustration)
---
Last edited by peachii; 07-03-2013 at

08:39 AM

.
I would dearly love some microsword, azolla and random weeds but no extra money at the moment.

Next time you trim these, could you let me know?
Member
Join Date: Jul 2010
Posts: 3,026
mine look like this only not so thickly growing:
Looks more like the microsword! It won't spread :(
That looks like a wendtii :) I think if you spread them out a little instead of clumping them, they will do much better :D
I would love to take all of it off your hands for the priority shipping price. :D If you will pm me with your paypal addy, I can get you the payment as soon as possible.
---
Wild Betta Breeder