plants trims & extras (canada)
---
Hey fellow canadians (sorry can't ship to US ;_;).
I have a small pack of plant trimmings and extra betta things for sale, (though I'm practically giving them away, price only covers bags and envelopes)
small starter pack of plant trimmings - $2 + shipping
(contains floating, midsection and foreground plants :D )
2 pieces of water lettuce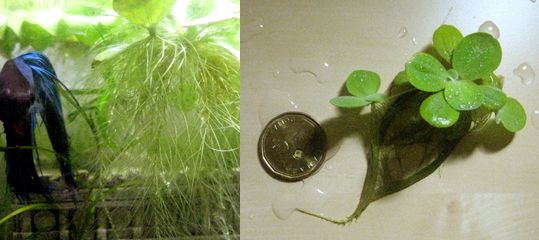 Info: All contain runners so more like 5-6, roots are super long and very healthy. Any leaves submerged may end up yellowing, trim yellows regularly.
12 giant duckweed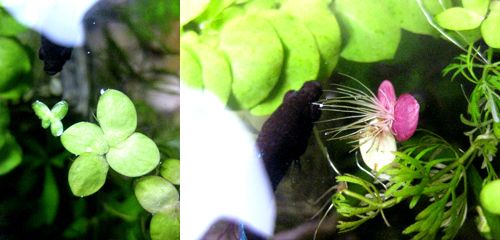 Info: These giant duckweed are extra big with long roots and pale due to my strong light, the underside also turned bright pink. It will become dark green again and the pink will go away under lower lights. The photo also shows it next to a normal duckweed for size comparison. They do not reproduce as quickly so it won't smother out the light, one of fav floaters!
2 pieces of dwarf hygro
Info: this is a fasting growing plant, will turn 'sunset' under stronger lighting. will have smaller dark green leaves under lower light. Mid to top plant, the lowest leaves often will fall off if too dark. this plant is indestructible, a tiny piece of bare stem will grow leaves.
5 strands of guppy grass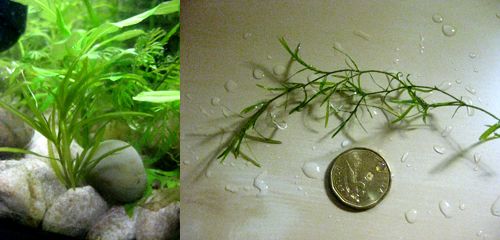 Info: you can't really kill this plant either. you can either grow it long as a mid plant or you can cut it into tiny pieces and place at the bottom of the tank, then it looks like real grass.
2 chunks of creeping jenny

Info: this is a bog plant, can grow in or out of water though the transition sometimes fails so I don't recommend you try to grow these pieces dry. My tank is very shallow so this plant did very well at the bottom. if your tank is tall or bigger, I recommend you either float it or tie it midsection. because its a bog plant, its happiest in a shallow tank or close to the top. it grows fast in good light, slow in low. it has lots of roots so easily tied/planted though I accidentally ripped out a bunch when removing it.
Betta Extras - $1 each + shipping: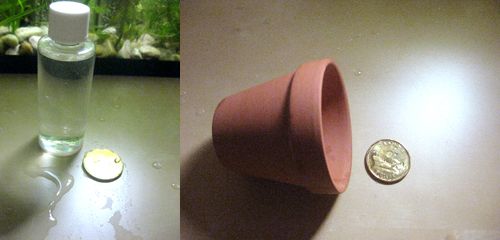 I also have mini bottles of pure ammonia, I have a huge jug of it. One drop is 1ppm in a 1.5 gallon. also have 3 mini terra pots that is betta sized, great for smaller tanks. unfortunately I can no longer use mine because I have too many plants.
First come first serve. PM if your interested. :)
I never shipped before so I have no idea how much it costs, I will go to the post office to get a estimate tmr. i assume its roughly the same throughout canda. I will be using Canada Post, xpresspost,
I will ship only monday or tuesday to make sure it gets to you.
Paypal but if you don't have a paypal account and really want the plants/stuff, I will accept mailed cash.
Woo! Canada for a change! :D

Please reserve them all.
Banned
Join Date: Aug 2012
Location: Hogwarts
Posts: 2,082
Aww, Matt why did you take them all?? Lol
I might need to steal some of your plants as you have way more than me now. xD
Lock your doors and window :)
Yea, I should be getting them when I get home, hopefully. When they grow in you can have some for sure.
watch out for the sunset hygro, i am not sure about canada, but in the US its extremely illegal to ship out of state.

soo check canada!