small plant/snail trade?(wanted: moss/floaters or offers)
---
So I have a couple tiny plants I'd like to trade for other plants(preferably floaters or mosses but I'll look at anything.
-1 water Wisteria, itty bitty thing
-1 bacopa Caroliniana(I think that's what it is)
-1 small red wendtii
maybe a Jungle Val too(not pictured)
all have roots
these would be nice starters for a small tank for those who want to add something to their bettas tanks.
for the past tree weeks they've been in gravel(the val and wendtii) or floating(bacopa and wisteria) in my guppy tank with just my room light for light, so pretty low maintenance and sure to do a lot better if given better care.
I put the bacopa,wisteria and wendtii in a betta cup for pictures/size reference.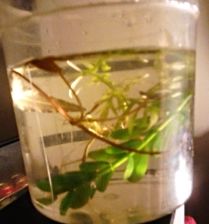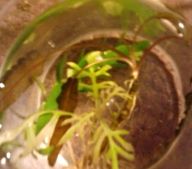 What I'm looking for in a trade is either some swords, or floaters, or moss(a nice bunch of moss would be preferable).
On my end the plants will be checked for any globs of eggs to prevent unwanted snails for you, but it's up to you if you want to treat them or not.
....I also have snails: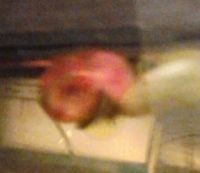 Most are brown some are pinky-red.
I also have a couple MTS(no pictures).
I have a female apple snail and I would like to get a male adult or few unsexed younger ones to put with her.
Just noticed,I think that's an antler fern in the photo,not water wistera(I have water wisteria too xD)
the antler fern is also available(I have 2).

also, New offer:
Free snail package, just pay shipping. xD
Quick glance at my tank and I'm thinking...12-15 need a new home.
They're small,cute,active and if you have puffers, goldfish, catfsh or the like tasty they make nice live treats.
colors are a mix,mostly red/pink and brown.

Small priority box is $5.80 flat rate, 2 day shipping. can try to fit a plant or something in the box too to make up for the cost.
I can try an envelope & first class shipping to cut cost but it would take 3+ days to arrive and I worry the snails will be smushed in transit.