Whoops, I'm so sorry! I missed your post completely.
Yes, five should be alright in a planted 10 planted gallon by themselves. The recommended is 2.5 gallons per snail, but a lot of people do keep them with fish.
As for breeding like crazy... Well, they are not asexual, so they won't be nearly as bad as other species of snails. And they take a while to grow and reach sexual maturity.
---
---
Last edited by Fenghuang; 10-06-2013 at

05:02 PM

.
hmm.... I'm trying to think of asexual snails....I don't know for sure what species are. But I would try to stay away from them. Unless you want 3,000 hungry mouths to feed. I am above culling them, so yeah.
Um, I actually don't know... I am not that familiar with other species, to be honest. There is a lot of debate about whether or not some species are truly asexual or hermaphrodites. It is hard to know for sure because when one snail gets into your tank from a plant, it is usually not the only one.
---
Ramshorns and pond snails are hermaphrodites... All are male and female, but two are needed to reproduce. MTS reproduce parenthrogenetically (self cloning), and I thing they might reproduce sexually as well.

Apples, mysteries, giant ramshorns, rabbit, etc are all either male or female, and require a mate of the opposite gender to reproduce.
Thanks Matts! I am breeding all of those species pretty much so
I did to know that as well! :3
Mystery snails are really, really easy to avoid having more than the ones that you want. If they lay an egg clutch at above the water line you just scrape it off and throw it away. They do need about an inch above the water line when they get to sexual age or they will crawl until they find a way out of the tank to be able to lay the eggs.
Okay, it's been about a week.
Here's a picture taken from roughly the same angle and position to show their growth rate so far.
Before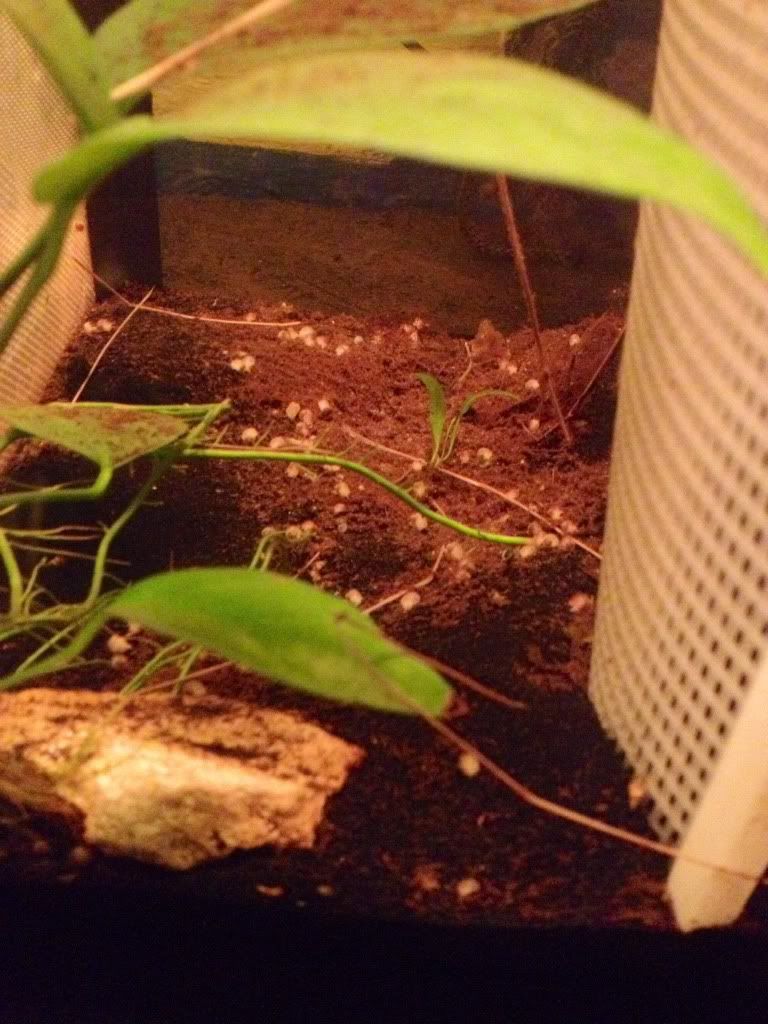 After
---
Whoa. Are they big enough to ship now? I can't buy any at this time, though.
Yes, the first batch of snails are ready to go, but we can definitely grow them out more.
---