Hey all!
I've been really happy with the response to this thread. I sent out a few plant packages over the past week, with a couple more pending for later this week as well. So, all is good, but I myself wanted to show viewers/possible buyers updates on the tank so they know that my plants, their colors, health, selection of species is not a "smoke and mirrors" ordeal. Besides, what better way to provide testimony than with pictures
So, here is the tank today: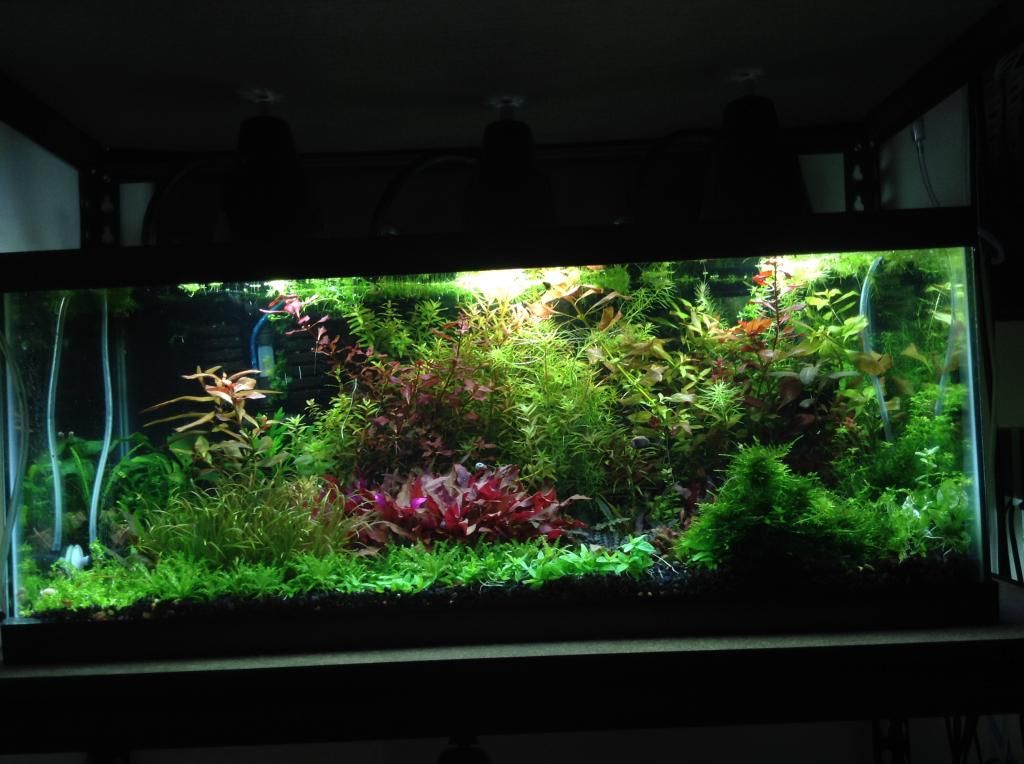 The rest of the rack looks like this:
I'm going to be selling my first proper high/med light + co2 plant package soon since the tank definitely needs a trim. Possible species for sale will be the Rotala araguaia, rotala rotundifolia, colorata, and H'ra, Ludwigia sp. red, Ludwigia Atlantis, as well as a stem or two of AR mini. I'll keep everyone posted on this upcoming package.
I'm interested! Your plants are gorgeous. Do you just use DIY CO2?
Quote:
I'm interested! Your plants are gorgeous. Do you just use DIY CO2?
Thanks you very much! Yes, I do use DIY co2 - 3 reactors on both of my bigger planted tanks. I will probably posting the med/high plant package deal tomorrow so stay tuned.
Alright folks!
Today's
(7/3/14)
Plant Package is a
MED-HIGH LIGHT PACKAGE
. This means that if you absolutely want these plants to thrive, try to have decent lighting and much more importantly, some sort of active co2 diffusion (excel doesn't count). I cannot be responsible for these plants dying in a setup that isn't catered to their needs. These plants are fast growing stems in such an environment and if you're a grower (i.e. "not a killer" - Tom Barr), you will love these plants and possibly get back on your investment, especially at the prices I'm offering.
The package contains the following (the prices listed next to the plant are the expected prices one would pay from an "a la carte" seller on other forums:
- 1
plant
of Hygrophilia Pinnatifida $3
- 1 NICE stem of AR mini (many rooted sideshoots) $6
-
At least
6 stems of Rotala Rotundifolia $4
- 2 stems Rotala Colorata $~2
- 3 stems Ludwigia sp. Red $3
- 2 stems Ludwigia Atlantis $4
- 2 sideshoots of Rotala Mexicana Araguaia $~5
- 4 stems Ludwigia Arcuata x Repens $~3
- 1 stem Lobelia Cardinalis $2
- 1 stem Downoi (if there any extra, I'll throw them in there as well) $2-3
If one was to get a stem of each of these plants like I did when I was starting out, they would pay a lot higher.
This package's price is $28 shipped.
If you always wanted to try a WIDE variety of sought after plants but never wanted to jump in, this is the time to do so. With good conditions, your stem count will double every 2 weeks.
*This package will NOT split up. The buyer can opt to add an Anubias Nana for $4 more (it's a 6+ leaf piece with a few small holes due to very hungry ramshorn snails).
Here are pics:
L. Red
L. Atlantis
Rotala Mexicana A.
AR mini
My plants arrived today. USPS was less than kind to the package, but everything arrived intact and vibrant. No melting - not even any dead leaves. Since I don't know all that much about plants, I gave umarnasir335 my tank specs and asked him to pick for me.
Here's my freshly-planted tank (it was empty of any decoration or plants before this):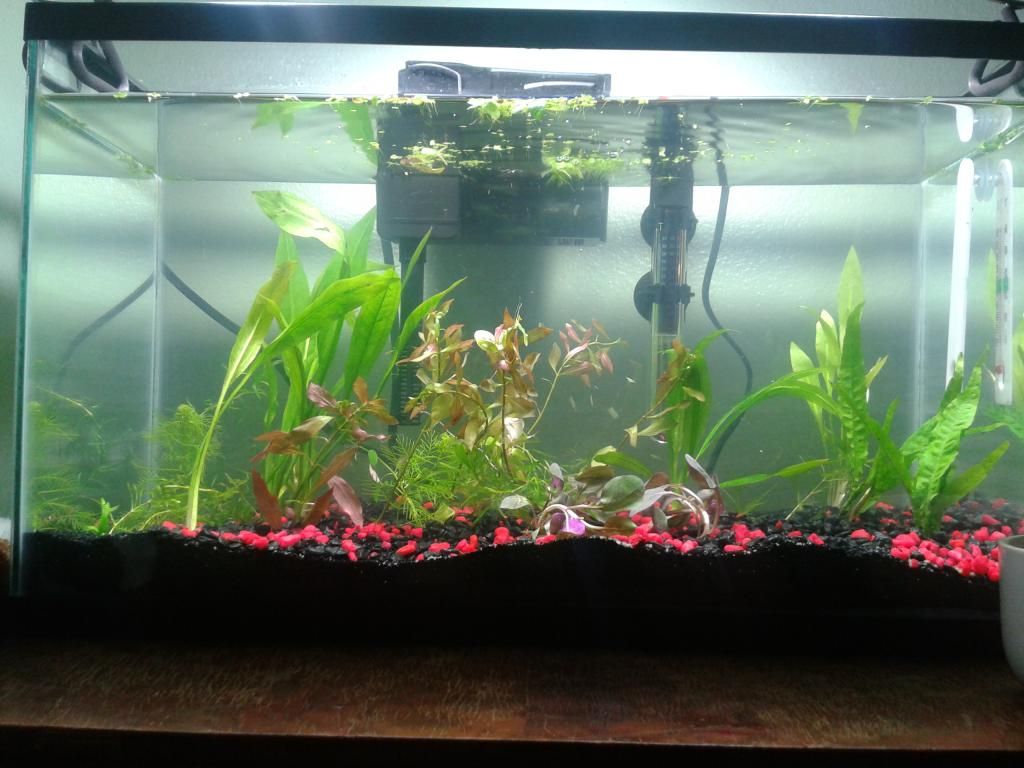 different angle: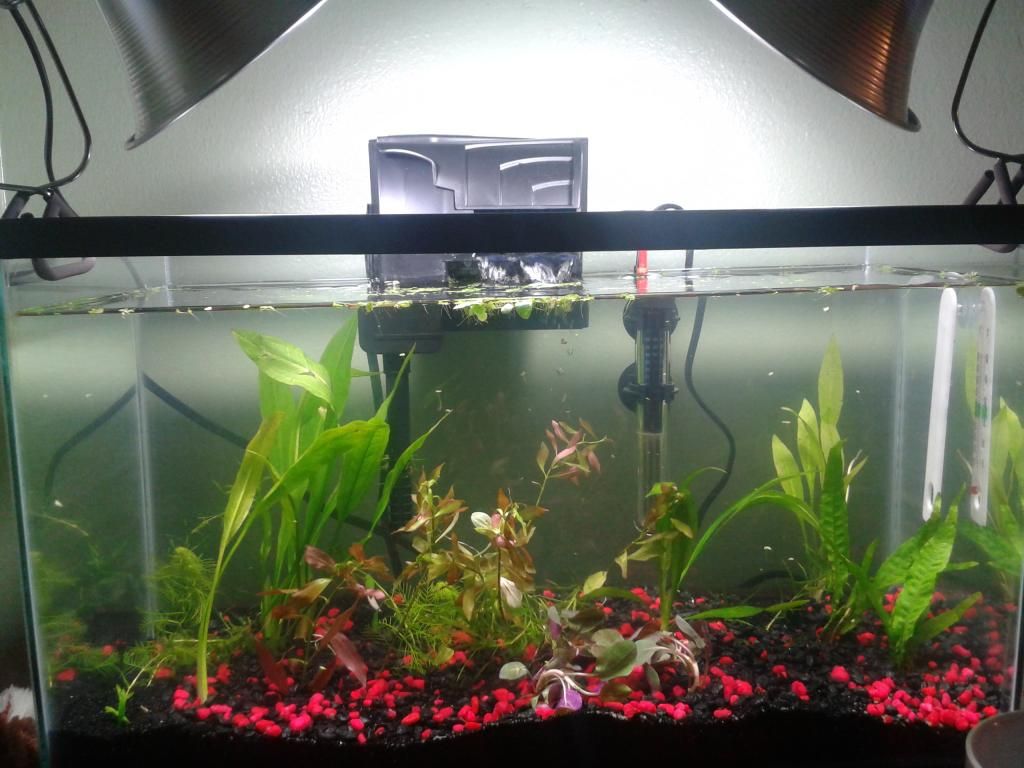 I also received my plants. Unfortunately USPS did a terrible job with the package, including losing it and getting the completely squished envelope to me two days late. This was in no way the seller's fault and I can tell that they were beautiful and healthy before the shipping ordeal. I have them recovering in my tank and already see some new growth, so they should be nice again in no time.
Due to USPS' recent negligence with my packages, I've decided to use Small Flat rate boxes now instead of the padded and insulated envelopes.

I like the envelopes because the insides are larger, allowing for more plants, and I can usually include greater insulation on my part, but unfortunately USPS has some "handling issues." I have used envelopes for multiple orders, but due to kittenfish's package mishap, I wont be using them anymore unless specified by the customer.

The usage of the box instead of the envelope may or may not affect shipping price, but even if it does, it will be very minimal (only a $1 increase).

I thank my customers for their testimonies. Remember - if something goes wrong with the plants, I usually try to do my part to fix the problem, but I cannot be responsible for how the mail carriers treat your package, it's just an awful reality that some of these workers are so negligent :(
Subscribing--your tanks are gorgeous! I'll have to keep an eye out for some sales that are lower tech (my main planted tank gets lots of light and ferts, but no co2).
Thank you for the nice comments! I appreciate anyone who checks out this thread, customer or not.

Here is TODAY'S PACKAGE (7/13/14):

- 3 stems Myrio Mattogrossense
- 6 stems Rotala Rotundifolia
- 4 stems Ludwigia Arcuata x Repens
- 6 stems Mayaca Fluviatilis*
- 1 Bronze Crypt wendtii
- A small handful of Guppy Grass
- 5+ plantlets of Dwarf Water Lettuce

TOTAL PRICE: $16 Shipped

* I haven't heard much about Mayaca around any of the planted forums recently. This plant deserves more attention: it's very easy to care for, grows very fast (think anacharis without the intolerance to excel and annoying leaf melt), and allows for a soft edge to your aquascape because of its fine leaves. Under high light, it will develop a pink-ish sheen on its tips.

As always, feel free to PM me with any questions. I will be shipping on Tuesday.
---
Last edited by umarnasir335; 07-13-2014 at

07:57 PM

.
Subscribed to this thread! tell me when you have those staurogynes for sale!!!!! Looking to buy from you in the future!
---
You can call me Blu for short!