Plant Sale!
---
Hello folks! I've found myself yet again run over with aquarium plants! So for just a few dollars, you can happily take them off my hands so I don't have to throw them out (Or as my mother forbids; set up another tank for them!
)
Shipping is
$6 for Priority mail
, shipping can be combined with anything, no extra charge. When receiving plants, make sure you will be home or they are brought in immediately; if they sit on the porch all day long I am not responsible for plant soup! Alternatively, you can have them held at the post office if you know you won't be home, just let me know!
I take Paypal payments and money orders, plants are not shipped before receiving payment.
Dwarf Water Lettuce
They are grown under Daylight bulbs and prefer medium-high light but will be fine in low light conditions as well though they may not reproduce as quickly. They generally grow fast and are easy to portion out unlike duckweed when they become too many.
I have three cup sized portions of these guys.
$2 a portion!
(There is some duckweed mixed in but I will gladly rinse out the duckweed upon request. No snail eggs.
My DWL: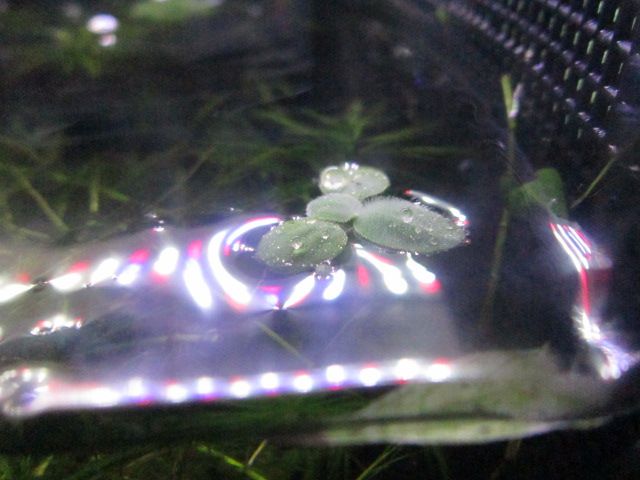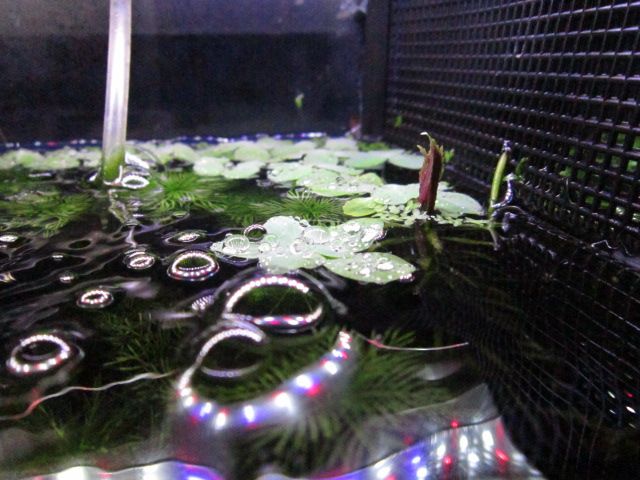 Myriophyllum Mattogrosense
Quick grower, prefers medium-high light but will be okay in low light conditions, it just won't grow as quick. Doesn't need CO2 but will appreciate Excel dosing and liquid ferts.
I have around 5-7 bundles, each bundle consists of 6-9 plant stems ranging from 3" to 12".
Each bundle costs $3.
There may be Bladder snail eggs, small amounts of hair algae but the algae is dying off so I don't suspect it will be any issue in your tanks! I use SeaChem Flourish and Excel.
Plants are coming from this tank, before the new scape: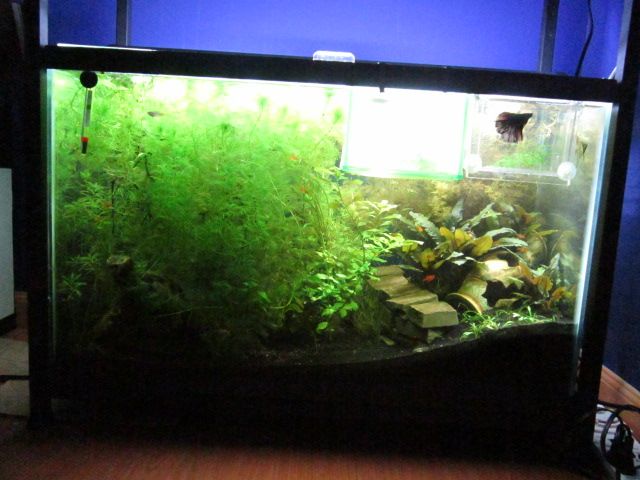 And after:
Myriophyllum Tuberculam
Stem plant similar to M. Mattogrosense but these need medium-high lighting, CO2 injection is appreciated but not required.
Plant bundles consist of 6-9 stem cuttings, ranging from 3" to 6".
One bundle is $3
Some of these stems still have some dying hairgrass but I will try to rinse off as much as I can. May have bladder snail eggs.
Pictured in the second picture of M. Mattogrosense in back right corner of tank.
Cryptocoryne Parva
A very small Crypt that prefers medium light. CO2 injection is always appreciated but not necessary. They do need root tabs as they are heavy root feeders.
I have two bundles, each consisting of 3-4 small plants. Plants are only 1-2" in height so please do not be surprised at their size, they are good for Pico tanks and Nanos.
Bundles are $2 each.
Sorry I don't have a picture but can take one if you want to see them.
PM me for a plant order! Shipping is always by Priority but if you want faster and will pay for it, I can ship out Express. Shipping days are Saturday, Monday and Tuesday generally. You can request a day over the other if you need to. I am not responsible for packages lost, although I will try to help find it if it does happen but I've never had a package lost yet. I am also not responsible for shipping delays caused by USPS or for packages left out in the sun.
---
Rembrandt II, Suiché
Leopards: 1:4 Hawkeye, Luna, Astrael, Dorian, Cullen
Gargoyle: Cloudjumper and Toothless
Crypt Parva are sold!

Everything else is still available!
---
Rembrandt II, Suiché
Leopards: 1:4 Hawkeye, Luna, Astrael, Dorian, Cullen
Gargoyle: Cloudjumper and Toothless
Hello! Do you still have the water lettuce and mattogrosense available? If so, I'd love to buy a portion of each!
Yup! I do, everything is still good to go other than the Parva. I'll PM you so we can work out details ^_^
---
Rembrandt II, Suiché
Leopards: 1:4 Hawkeye, Luna, Astrael, Dorian, Cullen
Gargoyle: Cloudjumper and Toothless