Rehoming Bettas :(
---
It is with a heavy heart that i type this... Due to illness and lack of funds, i have realized that i need to rehome a few of my bettas. They are getting less than stellar care, and deserve so much more. Once i decide who i will be letting go for sure i will post pictures of them up here. They will be for sale for $2-5 depending on tail type and size, plus shipping. I love these guys and want only the best, so i would like a detailed description of what YOU think is the best way to care for a betta, based on that i will decide if you are worthy, and if you will have to pay for the betta or just shipping.

Please let me know here if you would be interested in adopting one or more of my boys. thanks.
Sorry to hear you have to rehome some of your babies. I hope you find homes quickly.
Banned
Join Date: Aug 2011
Location: Central PA
Posts: 354
pictures will help, I may be interested in a few depending on there age.

All of My betta's are in 2.25 Gallon tanks, On Mondays they all get a 100% Water Change & on Thursdays evenings they all get 50% water changes. I feed My Fish pellets, and On Fridays they get Bloodworms as a treat. All my tanks have one silk plant for them to hide in, and several of my tanks have a cave of some sort. I also have 2 spawning tanks set up at all times as well, and 2 25 gallon growout buckets, with live plants.
---
Last edited by MMAsac; 09-15-2011 at

01:09 PM

.
I am hesitant to post pictures of all the ones i will offer, because i am not sure yet... But these are the ones that i will for sure be rehoming...:
Splatter, male marble VT: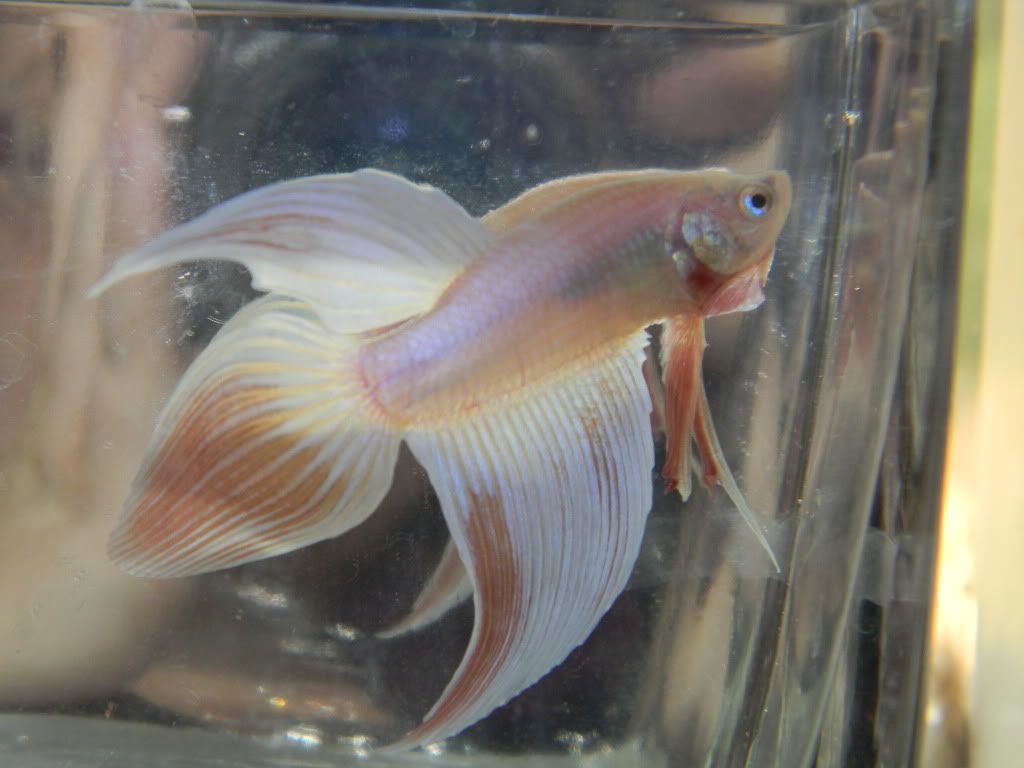 This was taken the day i got him, ha has colored up a little since then. I would take a new picture, but my camera is dead.
He has a little tail biting damage now, nothing serious, and it is free of rot, he just got a little annoyed at himself i suppose, silly kid.
Pollux, male HMPK: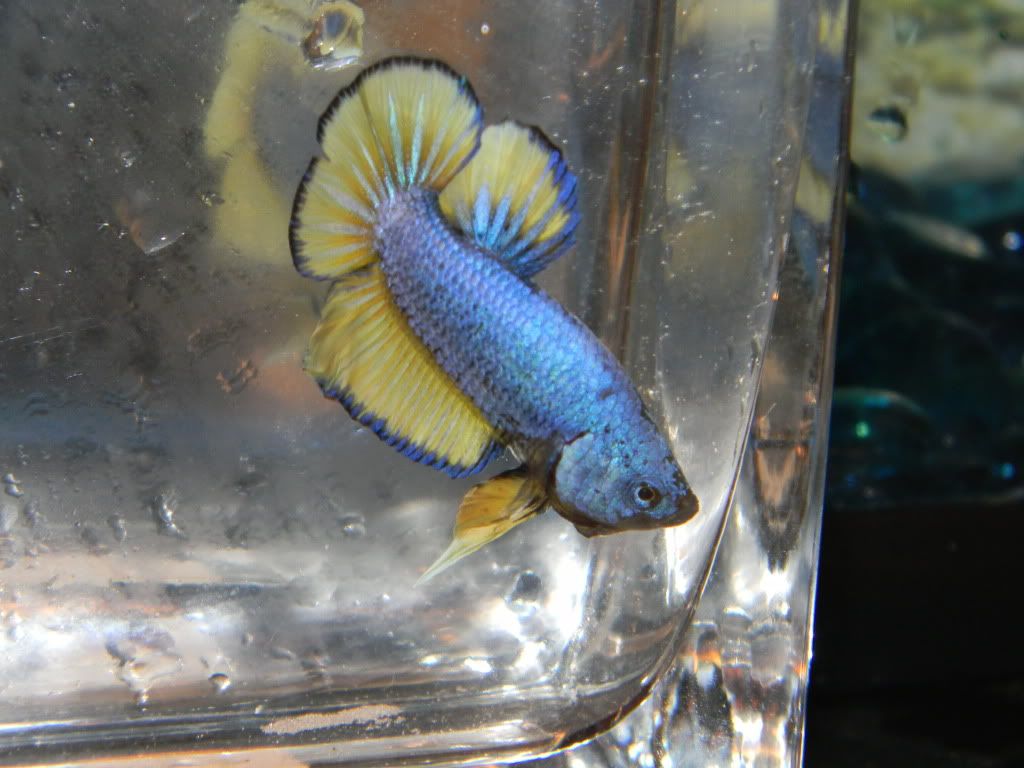 His scales have dulled a little, and seem a little rubbed off? I am not sure, but again, i cant get a new picture because of the dead camera. He eats well and is otherwise happy and healthy.
Judas, male OHM: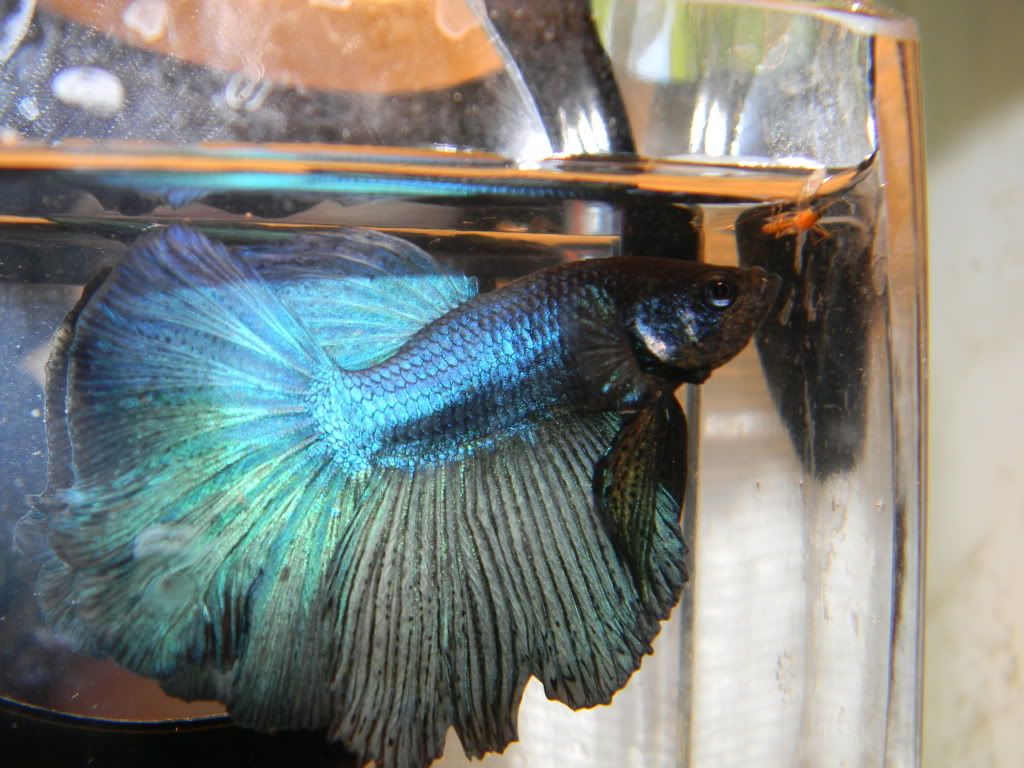 Judas has a teeny but of rot on his tail that i am treating currently, it has stopped progressing and is looking better. He will be free, with just shipping, because of this illness.
That is only a few, i am still fighting with myself over the rest that should go to better homes... Please be patient with me guys, i know what is best for the fish, it is just so hard to see them go...
Banned
Join Date: Aug 2011
Location: Central PA
Posts: 354
im really digging Pollux, for sure.
Really? That is great... He is a great boy with a lot of personality, i just cant give him the attention he deserves.

Do you feed frozen thawed, or freeze dried bloodworms? Because he has never seen the freeze dried kind, and i would prefer if he never did... I feed my bettas two small meals of pellets (4 each meal) every other day, and one meal of pellets and one meal of frozen thawed blood worms on the off days, they seem to thrive on this feeding schedule, and no, i dont fast. Never once have i had a problem with bloating. Pollus is used to not having a cave, so he should do fine without one.
Banned
Join Date: Aug 2011
Location: Central PA
Posts: 354
yes I do Frozen thawed. Once in a while say once a month, i'll hatch BBS and serve them up to all my fishies, to split.
@MMAsac: OMG, i am so sorry... But Pollux has been snatched by my sister... Is there any way i can interest you in another boy? I also have these two that i have decided i would like to rehome...
Endymion, male yellow butterfly HS:
He has started to marble a little and show pineapple coloring on his sides, very young boy, not fully grown yet.
Tybalt, male multi colored RT: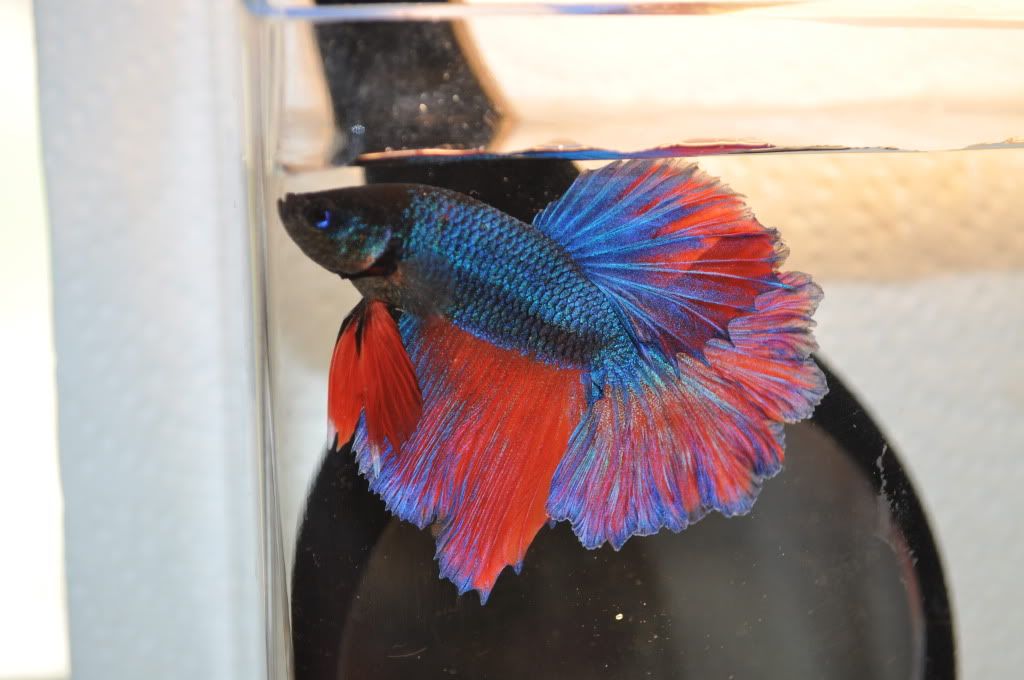 I wish i had better pictures of this guy, he is a pleasure to look at and watch.
Again, i am so sorry about Pollux being snatched up like that... >.<
Gizmo, I would absolutely love to help take in a boy or two. Of course, I don't have the room anymore... I've quite literally hit the limit. I'll ask a few friends if they want any, and for their paragraphs and put them here. Just to help you out...
---