Here they are in their one gallon QT tanks. I am planning on releasing them and my other two females into their permanent sorority tank April 1st. I know that's two days short of two weeks in QT but its the only day I'll have off again until I graduate (May 19th) and I trust that Chard has healthy fish with strong genetic backgrounds. My other two girls have been in QT for over two months because I had to get live plants and wait for some friendlier weather conditions. Chard had to wait a few weeks for the weather to warm up to ship my girls, but it was okay with me because I am more concerned about their health than my impatience, lol.
---
Veyron Sprite Ayala
S.I.P. Okami, Bahari, Lotus, Mercy, Daihatsu, Ascari, Kuraokami, DaBaDee, Zenvo, & Stella <3

Quote:
I am so jealous that your fish came today! I won three from Chard at the beginning of the month and am waiting (im)patiently for them to come!
Would love to see pictures of your new fishies!
Trust me, they are worth the wait! :)
He likes to play it safe and would rather wait for a break in weather than to risk his fish dying. Plus when the fish are cold, it lowers their immunities, you don't want that. Patience is the best thing you can have ATM.
Anyways, like I've probably said a million times, his fish are amazing! I've only been disappointed 1x and that was my fault, all the fish turned out to e jumpers and I didn't use lids in their QT's. trust me when I say, you will not be disappointed!
---
10 HM, 3 HMPK, 5 HMPK fry
8 German Blue Ram, 5 Green Dragon BNP, 4 Albino BNP, 4 Calico BNP, 6 Red BNP, 5 Kuhli Loaches, 2 ADF, 7 Peppered Cories, & 6 Tiger Endlers + Fry
12 full time tanks, 4 NPT, 6 QT/Breeders
Member IBC
Someone posted a picture of a Red Dragon female very much like the one Ayalacookiejar has in the first picture. They wanted to have it critiqued before bidding on it for $15 from an overseas breeder. I wanted so much to say something but bit my tongue. By the time they pay trans shipping fees, box fee; reshipping fees and whatever else is involved they could have paid Ayala's bill twice! I shipped Monday and Tuesday then my partner got me up at 8 this morning to go shopping for the 7 inches of snow we're supposed to get. I didn't go with her but I didn't do anymore shipping either. With all my orders backed up I have ran out of things to make up the insulated boxes, out of heat packs and certain size boxes after shipping for two days trying to catch up a little. I'll get yours (hopefully) next week Tabbie. And I know my camera skills are not the best but I'm working with what I can afford, which isn't much trust me. If you've ever tried catching that "just right, flaring in the sweet spot of the container with the right angle and lighting" Ah Crap! he moved. Try it and the neighbors will think you too have tourettes syndrome. Here's one I like I just took a few (hours) minutes ago. I have a hundred or more one month old fry from this Purple Delta so he'll be going up for sale on AB. I've introduced Halfmoon genes into this line twice in the last two generations so I'm hoping this time I'll see some in the offspring.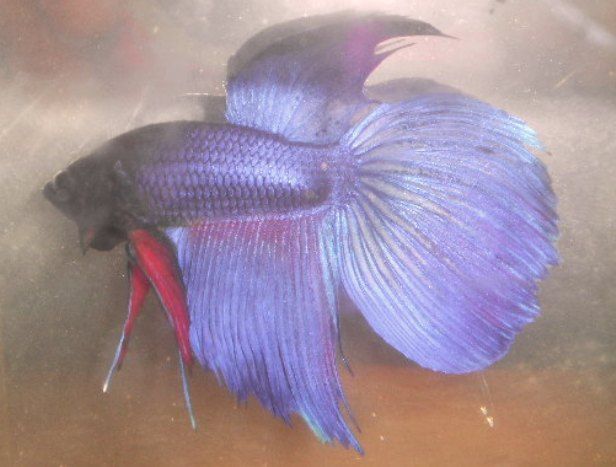 hey chad put me down for a pair of them old friend .You just get better all the time .
---
just remeber know matter how bad things get they could alway's be a lot worse.
Chard, i hate to say, but my favorite of the fish i got from you(the blue marble veil), passed last night. idk what happened. was fine yesterday.
he went through a big change, though.
hard to believe this is the same fish in both pics!
Oh, I am fine with shipping delays! The last thing I want is for the new boys to be DOA. I'm just so excited to get them!
Can't wait!
Ayala- Your new girls are gorgeous!
Chard- SEVEN inches of snow??
I am not at all a fan of snow. Good luck to you guys!
Luimeril- I'm sorry to hear about your loss. He was very beautiful.
---
My lovely bettas are: Dagger, Egg, Salsa, Marble, Augustus, Miles
Puddles, Oz, Nate, Monkey, Picasso, Feng, and Maui
You are on my list Andy. Not my bad list either. Ha ha! I've got another 8 or 10 orders to ship before I get caught up but I'll send you something in the next week or two. @ Lumeril, He was such a handsome boy and you've had him for quite some time now. It's too bad he's gone and don't beat yourself up over his mystery death. It happens more often to me what with 1,500 or so Bettas on hand but it still is upsetting to find one dead and not have a clue why. Never got that snow they talked about. I'm sure the bread and milk shelves at the grocery stores are empty anyway. Never fails. "Oh, no it's going to snow. Hurry let's go buy all the bread and milk we can carry!" Oh a different note. I need to take some pictures of the Doubletails I have growing out. Daddy was a Purple Big Ear HMPK I spawned with a Purple female from a Salamander Big Ear HMPK I crossed with my Purple line. Longfin being dominant but shortfin and Big Ear on both sides I hope to get a few Purple longfin Halfmoon EE (Elephant Ear) They are coloring up and most look like they are DT with a few singletails in the bunch. Purple ones and Green, Red or Black ones with a white band like Salamander. Even after 9 or 10 generations I still get different colors in the spawn but also no matter what I outcross to I still get Purple in the offspring. Very strange genes going on here.
---
Last edited by dramaqueen; 06-10-2013 at

12:26 AM

.
Wow those purples are gorgeous! Will you have purple females in a week or two? I'd love to get one for my sorority I'm setting up. I'm also completely in love with that lemon dragon girl you have on aquabid!
---
Betta Boys- Bayard, Absolem, Kingsleigh, Nivens and Draco
Betta Girls- Petunia, Dahlia, Daisy, Lily, Lotus, Lavender, Honeysuckle, Orchid, Tulip, Peony, Bellflower, Poppy, Buttercup, Iris and Magnolia
My jaw literally dropped at those beautiful purples!