Ohmy..the female is..<3 <3 I want to see a spawn log aswell.xD
---
My wishlist:
-duckweed- -black and white marble, anything but VT-
-javamoss- -koi marble, anything but VT)
-hatchable brine shrimp eggs-
-indian almond leaves-
-Melano Halfmoon male-
-steel blue or royal blue CT or HM female-
Quote:
I hope to see a spawn log soon from those two. Is that a possibility?
Definitely is, they are so perfect for each other :D I want to wait until my fry are a little older and stronger first. It's amazing how fast they develop from tiny specks.
---
Elrohir the plakat
Galah cockatoo & African Grey
I'm going to have to stop posting some of these and keep them for the next generation.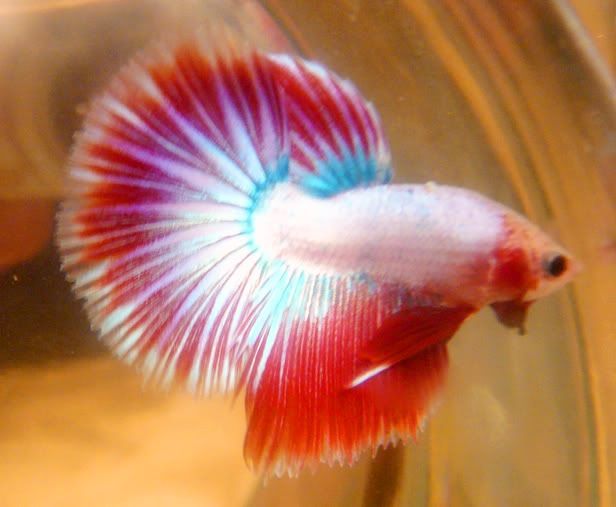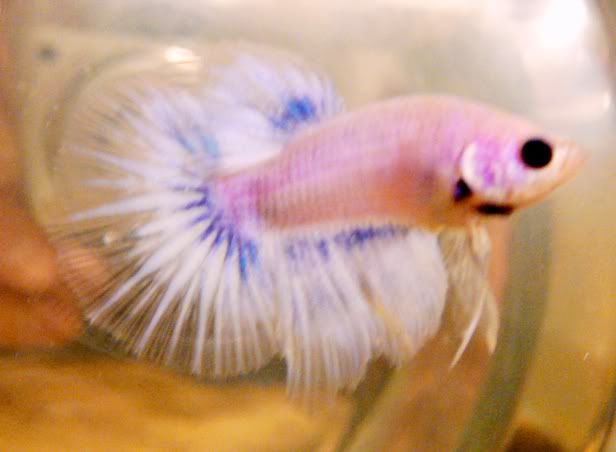 You rock with colors!

Wow, I wish I had a warmer reptile room right now. I can't afford to get a bunch of heaters. Wish I had a heated room for them. C: Someday, someday.. This self forced break from fish is getting more difficult with all these pretty fish.


But who knows. I didn't ask for much this christmas. Maybe I'll get a lot of money C:
---
i got a pair of girls from him just last week. one was a beautiful blue girl i got for my mom, the other was a beautiful.... i don't even know how to describe her colors! both are super happy girls, and the blue i got for Ma, is just so happy! hhmm... photos. i need to take new ones, but here they are!
her name is Lillia Fishy Fishy. :T and Ma thought Cup was a strange name.
this is Medic, my girl. :3
that's one thing i adore about Chard's bettas. not only are they beautiful and uniquely colored, they're FULL of personality!
these are very pretty but i only have 20 but i don't see something i really like, you know what i mean? am looking for a HM girl, maybe a green marble? or just a solid green?

a betta i reallly like was a orange and black butterfly dragon (to specific)
---
[CENTER] Cherry Pop, Gus Gus, Gaia
---
Last edited by betta lover1507; 12-25-2011 at

11:40 AM

.
---
My wishlist:
-duckweed- -black and white marble, anything but VT-
-javamoss- -koi marble, anything but VT)
-hatchable brine shrimp eggs-
-indian almond leaves-
-Melano Halfmoon male-
-steel blue or royal blue CT or HM female-
I usually make allowances for buyers if they are forum members and quote them a better price than most of my auctions on Aquabid.
i would totally take her but .... from my research in bettysplendens, that halfmoon females have more of a pointy like edges on the tail fin and many people could confuse a super delta as a halfmoon. i don't want to make myself rude to you chard but she dosen't look halfmoon to me, maybe get a photo of her flaring?
also she is very very pretty but i don't think she is what am looking for, i really cannot explain it well i don't want to sound offensive either
---
[CENTER] Cherry Pop, Gus Gus, Gaia
I know of people that have beautiful Halfmoons lines with gorgeous 180 degree caudal spreads in the males that haven't had a female with a 180 degree spread in 5 or 6 generations so I don't put my faith entirely in the assumtion that females have to have a full 180 degree caudal spread to pass on the Halfmoon genes. I try to breed my male Halfmoons to females with 8 or more ray branching but with all the Rose tails, Feathertails and X factor fish already out there the more ray branching the female has the more of a chance you have of getting those deformities. I don't want to sound insulting but just because you read the results of someone elses experiences doesn't mean that will be the results of yours or anybody elses for that matter. Especially when it comes to colors. The different colors and tailtypes have been cross bred so much the general rules of inheritance no longer apply!
---
Last edited by Chard56; 12-27-2011 at

01:14 PM

.