Hello guys and girls
---
How is everyone today/night
ill be honest i was lurking the site lastnight and though about joining, so i did
a little bit about myself, my name real name is Allan, and i m 21 years old, i live in florida, and while growing up i have had a 1 or more fish in the house, my first fish was a betta and then gold fish and some molly after that, and its sad to say but while growing up with the betta mom would have them in small bowls or holders, but all that is changing now, this is Dennis, i was in petco walking around and he caught my eye, i looked around the store and at the other fish but something about this one got me.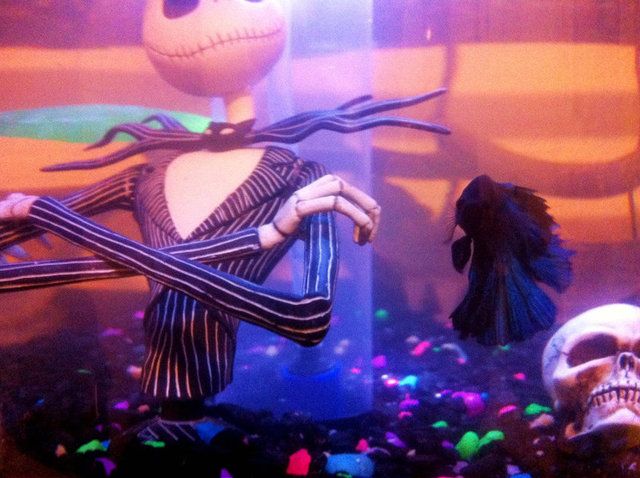 right now i have him in a 2.5 tank,untill i get paid from work and set him up with a 10g tank
sorry for the bad photos, they dont get his color, just blue
[QUOTE=bocareject;1074490]How is everyone today/night
ill be honest i was lurking the site lastnight and though about joining, so i did
hahahaha WELCOME!! I lurked for about a week before I joined so you're not alone. I LOVE the Tim Burton figure haha so awesome and ur little guy looks great too!
Welcome to the forum, if you need any help just let us know!!!
PS:that tim burton figure...its awesome.
---
BeckyFish97
Proud mum of : Gandalf, Lily,(ohm bettas)
Pineapple (male betta)
Jade, Indigo (hm bettas)
a few platys, a few guppies,
a few shrimp,
and whatever else sneaked into my tank while I wasnt looking
If it moves. . .BITE IT!!!
Where did you find that jack figurine for the tank?! That's so cool! And welcome! Are you using a aquascene 360 tank too??
i got it as a gift, i dont know sorry :/ and the tank is the petco 360 tank
Welcome aboard..;)..I noticed yu have the tube in the middle..does it have an air stone in it? I have the Kollercraft 360 3 gal tank..for our lil guy!!..great decor..adorable fishy:)
yea, i turn it on to mix the air in the water, and for the top so when he goes up for air its somewhat new air
Welcome! I have the same tank as you. :) Dennis is handsome!
---
Torch - (Technically sister's) - Male HM multicolor
Zane - Male DBHM White/blue-green marble
Regina - Female Delta Purple/red grizzle multicolor
Holding a grudge is like swallowing poison and expecting the other person to die.
RIP Nightmare!
Member
Join Date: Mar 2010
Location: USA
Posts: 10,951
Welcome to the forum and to the wonderful world of Betta keeping....

Look forward to hearing more about your Betta keeping adventures and seeing more pics....

Enjoy your stay...

Be sure and post questions in the proper section for best response.....
Hi, welcome to the forum.