Meet Moonie and myself!
---
Hi everyone,
My name is Jemma, im in my mid 20's and everyone around me thinks im crazy because im getting back into fish and I already have a crazy number of farm animals, cats and a lizard..no im not a hoader lol, i just really enjoy animals and they are all over the top well cared for and great members of the family :) ...I know I have my hands full but I just couldnt help but get back into Bettas...I also have a 14 gal tank of 8 beautiful male guppies! My newest betta is Moonie a double tail halfmoon Betta I got at Petco the beggining of last week. He is in a 5.5 gal tank with a filter and heater. My filter is a bit harsh, i noticed some of his fin curling on the bottom so I am looking to move him to a new 6.6 gal bookshelf tank i picked up at petco with adjustable filtration probably by the end of next week or start of the week after...im not rushing as I want to get some plants for the tank and allow it to acclimate a little before placing him in there. I hope his fins can take the rough water for a just a little bit more...so anywho here he is!
He doesnt have much for decor yet since hes moving so i hope you dont mind the barish look..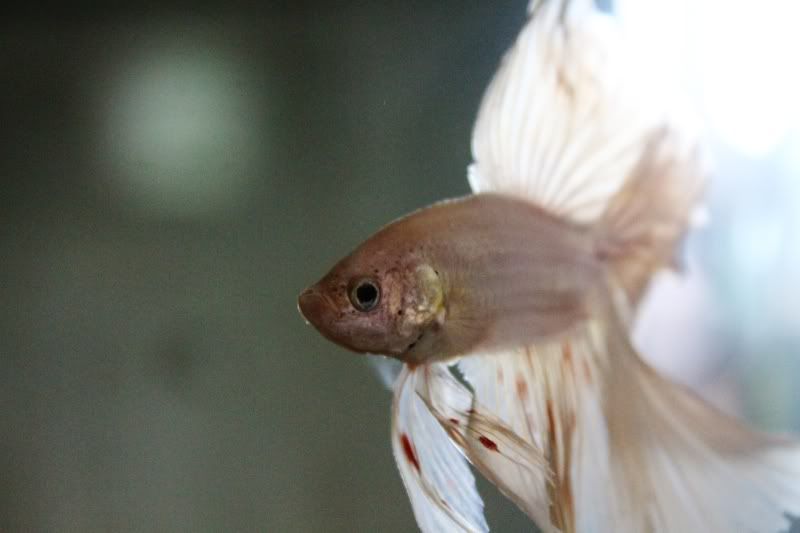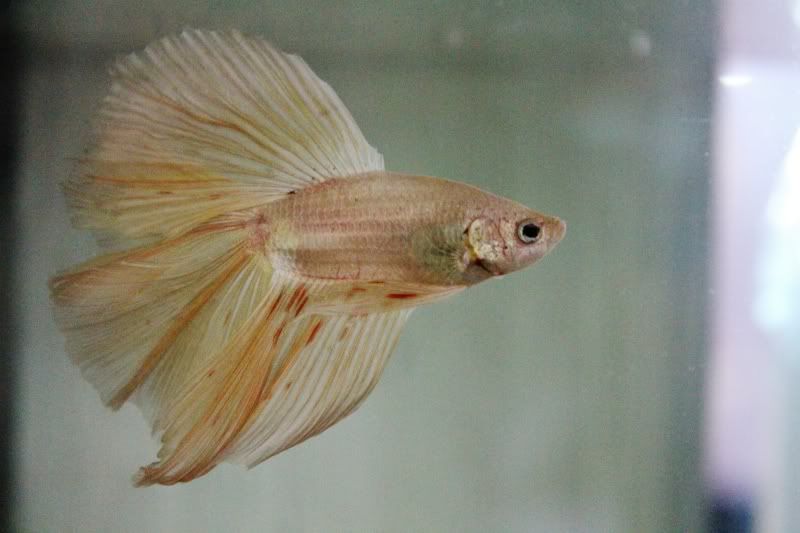 Hi Jemma, welcome to the forum. ..... say hi to moonie for me (he's gorgeous). LOL

I once dreamed of having a small private zoo. You're lucky to actually have one.
welcome :) and omg Moonie is so pretty :D
---
•~Moonlight~• RIP <3
*~Bubby~* RIP :')
Hello and welcome to the forum ! Moonie is a beauty and love this last picture !
---
Remember the Light at the end of the tunnel may be You.
Hi Jemma...welcome to the forum..great fish!
---
*Buddy Blue CT *Beau Bryce VT
*Brady Bliss VT *Bayou Beck OHM
*Benjiro Baha DTHM *Kahuna Kai HM
*Kyoshi Kano Dumbo SD
Thanks for the greetings everyone! glad I found this site, it has so much info!
Wow he is a very pretty boy! :) Welcome to the forum!
As for the filter, what type of filter is it? It might help to baffle it (shown here;
http://www.bettafish.com/showthread.php?t=30139
)
and put aquarium sponge/foam or pantyhose around the intake. :)
---
"Some people talk to animals. Not many listen though. That's the problem."
― A.A. Milne
__________________________________
Espeon female halfmoon / 10G

Jolteon male dumbo plakat / 10G

Thanks Teenythebetta! thats great info! I have been curious about how to baffle a filter :) ...luckily I have to excitedly update, moonie is moved into a new 6.6 gal bookshelf tank with a new aquaclear filter set at its lowest setting and with all that room I dont think i will need to baffle it but i do have my guppy tank which has a rather large crazy filter that could be baffled! They keep getting whipped around in the current. Thank you for sharing :D
Banned
Join Date: Jul 2008
Location: Central Texas
Posts: 27,607
Hello and welcome to the forum.
Hello and welcome to TFK!
---
You will always be my best friend,
.